Lugo, starting point on the Guaguas roadmap to the Superliga title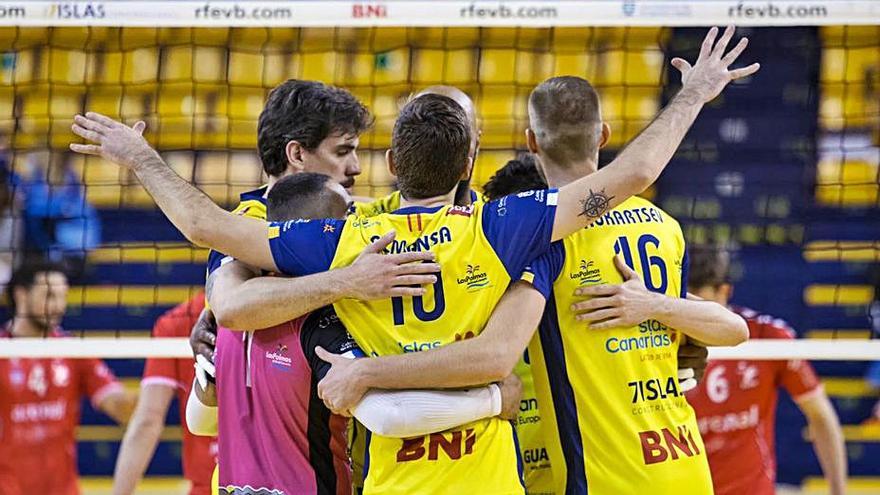 Already with the title of the Copa del Rey, Guaguas begins the final sprint today to try to achieve its second great goal in the season of its return to official competition. The Gran Canaria team begins their way in the playoffs for the title of the Men's Volleyball Super League in Lugo, where they meet the surprising Arenal Emevé in the quarter-final series, the best of three games. Sergio Miguel Camarero's men, as leaders of the regular phase, will have the home court factor in their favor in all the qualifying rounds.
Without yet knowing the defeat so far this year, the island team intends to continue this afternoon, starting at 5:00 p.m. in Galician lands, demonstrating its hegemony against an opponent whom it already defeated in the duels of the first league phase, and both times for the same result: 3-1.
The slogan of the yellows is to try to solve this quarter-final tie on the fast track. With a victory today in the Lugo fiefdom, they could seal their pass to the semifinals on Saturday next week at the CID and thus not have to go to the third and decisive match, which is set for Sunday 28.
The Gran Canaria club announced yesterday that in these clashes in which it acts as a local there will be no public in the stands of the pavilion on Avenida Marítima, due to the passage of the island of Gran Canaria to Level 3 of epidemiological alert since Monday.
As for this afternoon's duel against Emevé, Alejandro Fernández, one of Guaguas' outstanding props, warns of the danger of a rival who in his opinion "has had an incredible season so far."
"It's going to be a very tough game. Of the top eight, Emevé is one of the best teams; our two games against them have been very difficult. It is going to be an exciting challenge. We want to continue in the same line as in the regular league now that the most important moment of the year is coming ", he points out.