Losantos surprises by putting Santiago Abascal in his place: "It is an irresponsible position"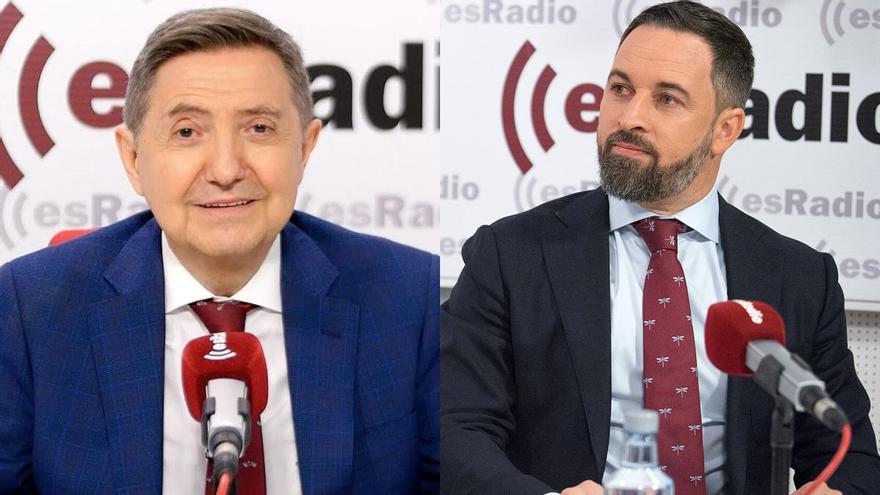 Santiago Abascal, President of Vox, has sat down this Friday before the microphones of EsRadio. The politician has visited the program Federico Jimenez Losantos, who has ended up abroniendo him after refusing to reveal if he has been vaccinated against covid-19.
A scene that occurred after Losantos and Abascal teamed up to jointly attack Pedro Sanchez. "Cursi", "monjil" and "chulo beaches" are some of the disqualifications that have been heard in the station's studio, as the program has shown 'Everything is a lie' during the afternoon of this Friday.
However, the course of this relaxed talk has been diverted after Eduardo Inda will throw a question to the guest: "Have you been vaccinated?" "I'm not going to answer that question because I think that, in front of all those who have said that getting vaccinated is an act of patriotism or love …", answered Abascal, unable to finish the sentence due to the interruption of Losantos : "Not about all that, but it is an act of public health".
"I think that Spaniards have to be free to get vaccinated or not to get vaccinated," insisted the far-right leader. An argument that did not convince the announcer: "Spaniards are free to be vaccinated or not vaccinated". Immediately afterwards, he has reproached him for his attitude towards this matter: "Honestly, as I say one thing, I say the other, you have a responsibility. There are millions of people who vote for Vox and I think it is a very irresponsible position."
"Someone cannot enter this company without vaccinating, because if it infects me, I run out of writing," the journalist continued: "Those things that in theory look good, in everyday life you have to negotiate with reality. Negotiate with reality. it is vaccination. Since there are vaccines, not a single health worker has died in Spain. They will be doing something good. " However, he has made it clear that is "sure" that Abascal has received the vaccine.