"Lorca is the best playwright of the 20th century and the best poet"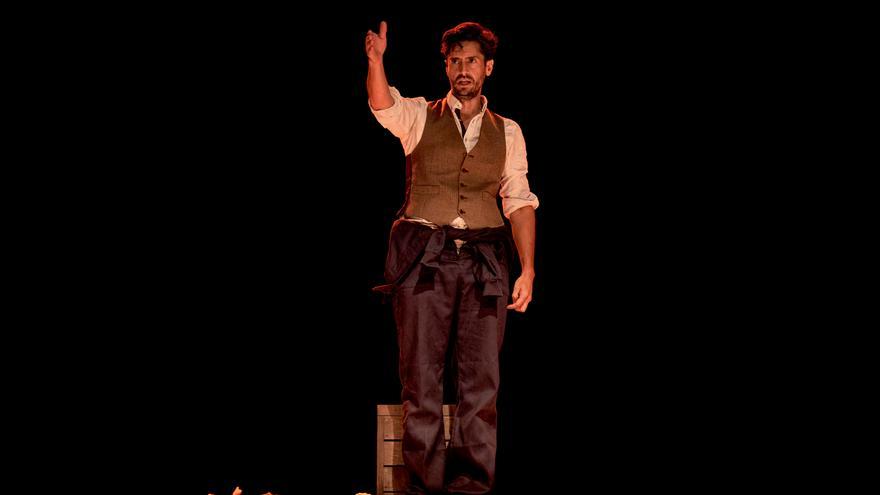 Juan Diego Botto is on tour with 'Una noche sin luna', a monologue that collects the lesser known aspects of life and the texts of Federico Garcia Lorca and, at the same time, a lively, daring and dynamic piece in which through his creations and his world we get to know our own reality.
-You just made a movie, right?
-Yes, it is a film by Félix Viscarret based on a novel by Juan José Millás, 'Desde la sombra'.
-But let's talk about 'A night without the moon'.
-It has been a very long process. Since I sketched it and told Sergio Peris-Mencheta about it, three years have passed. We wanted to mount it before, but my dates and his did not coincide: I had a series and he lives in Los Angeles. When we were finally able to coincide, a universal pandemic broke out. Peris-Mencheta returned to Spain for a month. At the same time as this, he had his own montage ('Castelvines y Monteses'). One of its actors tested positive for covid and had to be confined. He kept directing me, but by Zoom. He would come into the room, set up the scenery, and turn on the computer. It has been the most surreal and complex experience of my life as an actor.
-I imagine.
-The day of the premiere the illuminator and I were there We hung the spotlights and he would say, "A little more blue, a little whiter." It was a difficult experience in this sense, but easy in everything else. Sergio Peris-Mencheta saw very early the work that I had in mind; better than me even.
-Focuses on Lorca.
-I focus on a series of decisions he made in his life that led to the execution of August 18, 1936. I remember ethical, aesthetic, artistic, sexual aspects … But it is not a biopic. He had originally planned a recital for me, but I went deeper into his lesser-known work, in interviews, at conferences, and I discovered that his decisions, that his life still resonated today. Like him, we live at a crossroads where the political and social model is changing. That was what prompted me to write.
-Take pieces from here and there of Lorca and spin them yourself. Peris-Mencheta said that the poet's own thing was not noticeable
-Whoever knows Lorca's work will distinguish it from afar: all I do is marry these fragments together using metaphors and symbols that he could have used
-The man or the work?
-I got involved in this project, as I told you, through his work to later enter his life. Lorca is the best playwright of the 20th century and also the best poet. He took risks that very few people took. It is a true example.
-He wrote 'An invisible piece of this world' and now 'A moonless night'. Does the theater have more to entertain?
-The theater always goes beyond the stage voluntarily or involuntarily: I do not understand theater without narration and narration without a message, but it also has to entertain. It is not a homily.