Loquillo: "There are artists who are witnesses of their time, but I like to be the protagonist"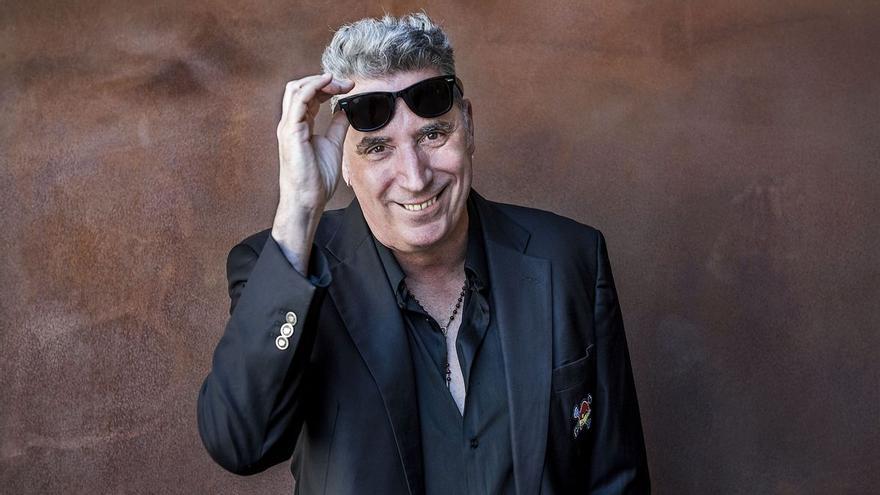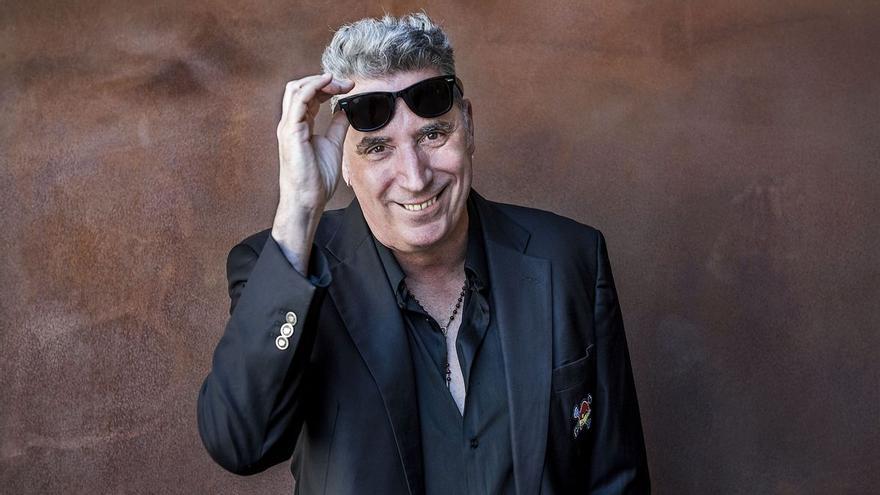 We are in Espacio Las Armas, in Zaragoza, the headquarters, headquarters of its 'management', a crossroads between Madrid, Barcelona and the Basque Country. "A perfect place for me." The band gets in tune for the start of the 'tour': last Friday in Peñíscola and this Monday at Barcelona's Pedralbes Festival. During a break, we sat down to talk while Igor Paskual drained the last 'riff'.
-He comes from San Sebastián, the city where he lives.
-For 15 years. Josu (García) is born in Donosti, raised in Zaragoza and lives in Madrid. Igor is from Gijón. Then there is the Madrid section, and Pablo, a Uruguayan, who has joined the group to do us a great favor. Alfonso Alcalá was at the UVI and it has been very hard for everyone. One more of the things that have happened to us. The pandemic started a week before rehearsals began and I have not done a rock concert for 975 days. Last summer, since we couldn't rock'n'roll, I called Gabriel (Sopeña) and we decided to defend our craft and hit the road with a poetry show at the worst possible moment. I wasn't going to degrade my rock repertoire by hanging out with an acoustic guitar and a zambomba. I want to thank the artists who dared to go out, like León Benavente. Showcasing your face cost a lot. I live with a risky person, and Gabriel was out at the end of the tour and spent a month in the hospital. And that coincided with a situation of mine, a tremendous scare. I had the good sense not to say anything.
-A scare? What was it about?
-Some lumps that appeared on my neck. They were next to the vocal cords and the first option was to operate. That meant they could be brushed against me and I still had no voice. So before I said: "gentlemen, we are going to record." I thought: "If the throat is going to shit, I will have made one last great album. Luckily, those lumps disappeared. It was a self-nurturing goiter, a result of stress, I suppose, from the blow I suffered from the suspension of the tour. From one day to the next, 35 people had stopped working, all with their families… But life is a pitched battle, and when you fall, you get up.
-The pandemic has not led to introspection or melancholy.
-I was more afraid of silence than of the pandemic, and what I did was put everything to work. I called the most important songwriters in my life, Sabino Méndez, Gabriel and Igor, and we got to work on a record. The idea is to get it out at the beginning of next year. It is not an album about how bad I have been in the pandemic, but rather the one that an artist with 60 years has to make.
-But now he's going on tour with the album 'The Last Classic', published in November 2019 and which he never presented live.
-That's just the name of the tour, because what I was going to do could no longer be. Whoever had an image of me from March 2020, let them think that that image no longer exists. This is a kick-off tour and those who stay tuned will see it. There is a band in progress and a different artist, and at the concerts there will be songs from the album, but everything has been blown up. I feel a bit like in a Jacques Tourneur movie: a trapped panther, a zombie between two worlds, someone who has a past.
-How does it feel different?
-I left the towering pavilion on the 40th anniversary tour, and after that you start from scratch. I see it as a third chance. The first one is given to you; You have the second because you screwed up in the first, and the third is because you did the second well.
-What themes is the new album going towards?
-My theme is individual freedom. I am a libertarian. We are concerned about the consequences of what has happened. We are not masters of our destiny. It is the first time since the military that I am not. There are artists who are witnesses of their time, but I like to be the protagonist. Where the mess is, there I am. Now I fear that there is a residue left, something to which we have to adapt. I am concerned with individual freedoms, and politically correct, and the culture of cancellation. Those things to which most of the musicians have kept their mouths. When I see an interview with Jota, from Los Planetas, or Kiko Veneno, I read it and say "thank goodness!" Because I still don't agree with them, but they say what they think. The new album has to do with this, and not so much with "peace, love, brothers, what a bad time we've had ..."
-Man, for something it comes from punk and not from hippies.
-Our profession has to take note. We have not deployed the Artist Statute for about three years and the Patronage Law is pending. When aid has been requested, they have told us "pay an ICO credit". I say this from a working class point of view, because I am working class. It is not true that the activity is opening and "how good everything".
-I was talking about the culture of cancellation. He already lived it many years ago with 'I will kill her'.
-'I will kill her 'began as a song awarded by' Rockdelux 'and Radio 3, which denounced gender violence, and one fine day it was decided that it meant the opposite. 'Cancellation' is an Anglo-Saxon concept. Here we change it to 'paseoíllo'. We are used to that.
-In your case, we are talking about the rock'n'roll artist, a musical genre or aesthetic of which funerals are sung. Do you feel that the figure you represent is threatened?
-Look, since the 80s, everyone loves the aesthetics of rock'n'roll. Everyone wants to be like us: from the singer-songwriter who gets electrified to the ragman who loves the excesses of rock stars. And the politician, who thinks he is a 'rock star'! I see it from the outside and I break. Has anyone stopped to think about C. Tangana and Ramoncín, who have so many things in common?
-And a rock song with glam glitters goes and wins Eurovision.
-I thought I was there playing Igor! And then, the most loyal public that exists is the 'heavy'. I am amazed at how little coverage is given to the 'heavy' festival in Santa Coloma (Rock Fest) and how little electronic music festivals have. Why is that excluded? And why has it taken 50 years to make an exhibition of the counterculture in Barcelona? And I was from 'Star' and not from 'Ajoblanco', huh? It says a lot that they try to hide all that. But then you see the fashion ad with some 'teddy boys' in frock coats. So maybe magazines like 'Ruta 66' or 'Popular 1' set more trends than others.
It is getting late and Loquillo is urged to finish the interview, but there are still fringes to play. There is, first of all, that new version of 'La mafia del baile' for his talk show of the same title, on Rock FM, through which Marc Ros (Sidonie), Ramoncín or Alfred Crespo (co-director of 'Ruta 66 '). Tribal revision of the subject, very Bo Diddley, with which it has taken revenge, 35 years later, of the unsatisfactory original production. And we must talk about his relationship with Barcelona, ​​after Madrid has seen so many ostentatious in recent times, such as those packed in Las Ventas and the Wizink Center.
-Has he moved away from his city?
-Man, I put 10,000 people in the Palau Sant Jordi, something that I had not done in my life. I am the artist with the most themes about Barcelona, ​​although I started doing my career in Madrid. There are signs that you have to go, and I think I did it at the right time. I don't look back, nor do I have a sense of nostalgia. I am from Barcelona and I go to Barcelona to see my family, the people I love, and the city is present in my songs.
-But, does it feel more 'underground' in Barcelona than in Madrid?
-The word 'underground' has always seemed strange to me. I make popular music, and I want my songs to be sung by everyone. Sometimes those who hide in the 'underground' do so because they are unable to make songs that everyone will like.
-The worst thing is being a cult artist.
-No kidding! Cult artists are usually guys from good families. We are clear that we are workers. This band is like the 101st division, you throw it anywhere and it does its job, and where the worst is me. I have always tried to work with the best, and to be the worst, and it has been very good for me.
-Before you referred to the consequences of the pandemic, which are yet to be seen. What seems clear is that we will never take anything for granted again.
-But, look, my father was in the Civil War and I was educated for tough situations. I did not grow up among cottons, but sleeping on a sofa in the hallway at home. We have lost too many people and it seems that now we have to party. And no, I'm not partying, I'm screwed. You have to break stone and convince people who are afraid to go to concerts.
-You haven't answered political questions in interviews for a while. Will you never give your opinion again?
-It's not my business. There is only something worse than a politician pretending to be a rock star, who is a rock star pretending to be a politician. Point. I insist on that: it is not that I am not going to speak again, it is that it is not my business.