Lobete gives victory and leadership to Real against Mallorca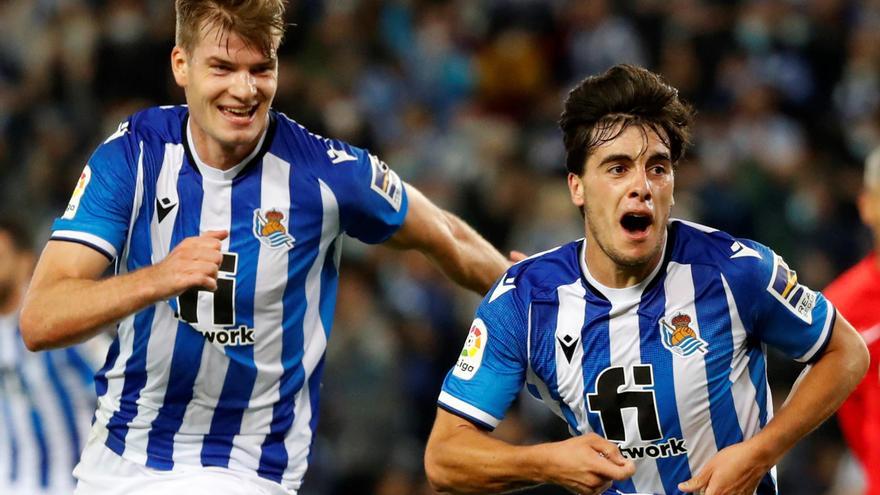 The Real society is a solo leader, with one more game than Real Madrid and Atlético de Madrid, after getting rid of an uncomfortable Majorca who played the entire second half with one more player, But what no knew how to take the game and was surprised in the 90th minute with a great goal from Julen Lobete.
Mallorca bothered the locals throughout the first half, he closed all the passing lanes to Alex Isak and Imanol Alguacil's team had to play against it many times to surprise his rival.
One of the few mistakes of the Balearic team was about to be very expensive in a shot by Robert Navarro that went a hand over the crossbar of Reina.
The Gipuzkoan team was unknown, who did not overcome the rival pressure and that he had his best chance of scoring in the final stretch of the first period in a corner kick that Merino did not finish inside Reina's goal due to the good intervention of the Andalusian goalkeeper.
Things went wrong for Gipuzkoans in injury time of the first period when an entry by Aihen Muñoz was sanctioned with yellow, the second for the Navarrese player, which left Real with one less man to face the entire second half.
This second period was conditioned by this expulsion, Bailiff reinforced the defense and Mallorca took the initiative in an obvious way, surrounded the Basques in their field and even scored a goal, annulled by Ángel's previous hand, which served to scare Anoeta's men.
Bailiff was not daunted and he put two forwards in the final stretch to go for the game, he took a risk that Mallorca did not take advantage of and he took the jackpot with the goal of the young Julen Lobete, from Xabi Alonso's subsidiary, who scored a superb goal in individual action with the cooperation of Reina.
Data sheet:
1 – Real Sociedad: Remiro; Zaldua, Aritz, Le Normand, Muñoz; Merino, Guevara (Zubimendi, m.46), Navarro (Gorosabel, m.46); Portu (Zubeldia, m.90), Januzaj (Lobete, m.66) and Isak (Sorloth, m.66).
0 – Mallorca: Queen; Maffeo, Valjent, Russo, Oliván; Bataglia (Salva Sevilla, m.62), Ruiz de Galarreta (Baba, m.78), Dani Rodríguez, Lee (Mboula, m.86); Amath (Fer Niño, m.62) and Ángel (Prats, m.77).
Referee: González Fuertes (Asturian Committee). He expelled Aihen Muñoz for a double yellow (min. 45). He admonished Muñoz, Portu, Bataglia, Ángel and Dani Rodríguez.
Goal: 1-0, M.90: Lobete.
Incidents: The Reale Arena hosted a match for the first without capacity limitations after the pandemic, which the club took advantage of to celebrate the Copa del Rey 2020 title won in April of this year with their fans before and after the match.