'Lobas', medieval women who fought against men for their crowns | Babelia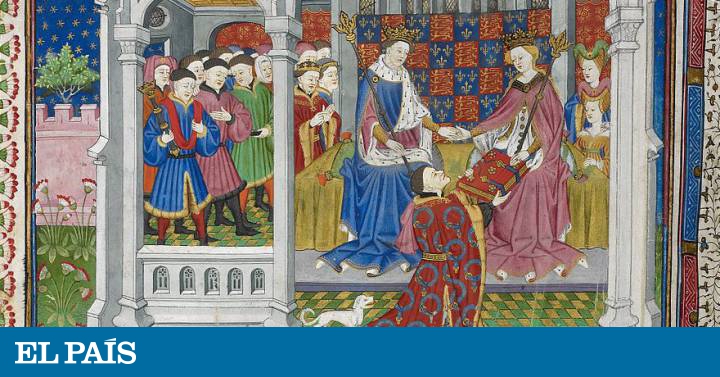 "Loba de Francia," Shakespeare called Queen Marguerite of Anjou in the mouth of Ricardo Plantagenet, Duke of York, in the third part of the historical drama Henry VI (written in 1594). "Wolf of France, but worse than the wolves of France, your tongue poisons more than a snake fang." An appeal consistent with the widespread idea of ​​subordination of women to men that still lingers in many mentalities. However, in that climate of opinion, constant for centuries, there were several women who challenged society and rewrote their destiny by fighting openly for power. To four of them, who entered History between the twelfth and fifteenth centuries, Helen Castor, historian, professor at the University of Cambridge and a member of the Royal Society of Literature, dedicates an exciting essay entitled Wolves (Attic of the Books, 2020).
"Some queens in England exercised real power," Castor assures Babelia through email, "but they could never exercise power directly in the same way as a man. All assumptions about the nature of their sex (that women were physically, morally and intellectually weak, and designed by God to be subordinated to men) meant that questions about their authority arose that were never asked of male rulers. " And when they left the script, they were hopelessly condemned: "Matilde of England was called 'arrogant' and was criticized for not doing what her male advisers told her, as soon as she tried to act like a king woman."
Before addressing the stormy lives of Matilda of England (1102-1167), Leonor of Aquitaine (1122-1204), Elizabeth of France (1292-1358) and Margarita de Anjou (1430-1482), Wolves It starts (it also culminates the last chapters) with the vicissitudes that the succession brought after the premature death at 15 of Edward VI of England (1537-1553). A historical moment in which all the possibilities of transferring the crown involved women, up to nine different, and that initially led to the proclamation at 15 years of Joanna Gray as queen of England in 1553 given her status as Protestant and member from the Tudor house, a reign that lasted only nine days and that led to its execution just a few months later because of a rebellion in which she did not even participate.
At that crossroads, and given the opposition of the people to the appointment of Juana, the guidelines dictated by Eduardo's father, the always excessive Henry VIII, who decreed by law years before the determining factor in the succession was his own blood despite the fact that throughout his life he had been in charge of making clear the bastard of his two daughters located first in the line of succession, Mary , daughter of Catalina de Aragón (repudiated for not giving him a son), and Isabel, daughter of Ana Bolena (beheaded by order of the king for the same reasons). Finally, after the brief passage of Juana Gray through the Tower of London, the princess was crowned Maria (1516-1558), nicknamed Bloody Mary (Mary the Bloodthirsty) by Protestants opposed to his attempt to restore the Catholic religion, and who died five years later, giving way to the long reign of his stepsister Elizabeth I of England (1533-1603).
Precisely, Isabel I intends Helen Castor to decide in the future a book, when the one that now has her busy with the lives of Ricardo II and Enrique IV, the main characters of some of the best works of Shakespeare. "They were first cousins, and one deposed the other, so in addition to researching their world and their psychology, and I hope to tell an exciting story: it is a test of masculinity and power; somehow a companion of Wolves"But for now, it's time to talk about these four fascinating queens:
Matilde of England (1102-1167)
The first of the wolves reviewed by Helen Castor in this interesting historical essay that reads like an adventure book is Matilde of England. Daughter of Henry I of England, and therefore removed from the line of succession, was sent at age eight to marry the emperor of the Holy Roman Empire, Henry V. They had no children, and when the emperor died in 1125, she He returned to the Anglo-Norman court with an imperial title empty of power. The death of his younger brother Guillermo in a confused wreck left a problem of succession that his father tried to solve by marrying Godofredo de Anjou, naming her heiress and swearing to the court that he would respect his decision.
When Henry I died in 1135, the throne was usurped by Matilde's cousin, Esteban, who ruled until his death in 1154. During all those years, Matilde fought alongside her husband to recover the crown for her and her heirs (they had three sons). Wars in Normandy, fighting in England, sieges, flight by the hair at the last moment, shaped the exciting life of a woman who, finally, agreed with Esteban that when he died he would cede the kingdom to his son Enrique. So it was and Enrique II Plantagenet, son of Matilde and Godofredo, ruled between 1154 and 1189 thanks to the courage of his mother, who was never officially queen of England (her title was that of the lady of the English and Normans), although she was Empress.
Leonor of Aquitaine (1122-1204)
Helen Castor then undertakes the stormy life of Leonor de Aquitaine, the eldest daughter of Duke William X who became duchess of this great territory in southern France at the death of her father. Leonor married despite himself at age 16 with a crush Louis VII of France. He accompanied him in 1147 to the Second Crusade in the Holy Land, where bad tongues say he was the lover in Antioch of his uncle Raymond of Poitiers. And on his return to France, after having two daughters with the king, he forced the annulment of his marriage in 1152. Just a few months later he married Enrique, Matilde's son, and in a couple of years he went from being queen of France to be from England after the coronation of the king in 1154. With him he had eight children.
But he did not settle for being a docile queen consort, but instead faced the king with his children because of the unfulfilled promises in the form of power and territory made by Henry II, who quelled the rebellion and imprisoned it for 15 years, until the death of the monarch in 1189. Two of his sons, Ricardo I, the famous Lionheart – nothing to do with the myth, Leonor had to go to his rescue to the Germanic empire after being captured by the emperor on his return from the crusades – and John I, known as John without Earth, came to reign in England. However, the latter's passage through the throne meant the loss of Normandy and Anjou to the English kingdom.
Castor reveals his weakness for this singular queen: "I have great respect for Matilde: her brain, her determination, her judgment. But if you ask me to choose only one, it must be Leonor from Aquitaine. She lived 80 years; she went to the crossed into Jerusalem; he married the king of France, then divorced him and married the king of England; he joined his sons in rebellion against his father and (unlike them) was imprisoned for 15 years; and emerged from captivity to become the old ruler of England. There have not been many lives or personalities so huge, wherever you look in history. "
Isabel of France (1292-1358)
No less exciting is the epic of Isabel de Francia. Daughter of the French king Felipe IV, she was married as a wedding and married in 1308, with just 15 years, with Edward II of England, a king who preferred, rather than his wife's, another type of company. Above all, that of the young Gascon Piers Gaveston, "whom he loved above all," according to the chroniclers of the time. Despite this, they had a son, also called Eduardo. After years of disputes with the nobles of the court for forgetting their duties as monarch, Gaveston was murdered, which Edward II never forgave. Although soon replaced by Hugo Despenser.
Tired of abandonment, Isabel marched to Normandy with her son and baron Roger Mortimer, who became his lover. However, despite the fact that she was always considered a foreigner and that her enemies spread the rumor that her son did not carry the king's blood, she did not stop fighting for the rights of succession of her offspring. After years of quarrels, alliances and battles, they deposed Eduardo II, killed during his confinement in 1327 after abdicating his son. Isabel ruled as regent until the age of majority of which would be king of England, under the name of Edward III, for more than 50 years, between 1327 and 1377.
Margarita de Anjou (1430-1482)
Finally, Castor deals with the life of Margarita de Anjou, vilified in her time, as before with Elizabeth of England, as the Wolf of France that Shakespeare picked up more than two centuries later. Margarita was the daughter of Renato, Duke of Anjou and King of Naples, great empty titles of power, and she was not called to have a relevant role in history. But, thanks to a pact that sealed a truce in the Hundred Years War after the loss of the English of almost all their territories in France – in that part of the story came the mythical Joan of Arc-, married King Henry VI of England. With him he had a son, Eduardo, prince of Wales, but Margarita had to carry a large part of his life with a king with serious mental difficulties and unable to govern who was used as a puppet by allies and enemies.
That royal incapacity and, again, the accusation that Margarita's motherhood was the result of adultery, led to the war of the Two Roses, among supporters of the Red Rose (symbol of the house of Lancaster), that is to say of the king , and those of the White Rose (symbol of the house of York), those of the throne candidate Ricardo Plantagenet. Pacts, battles, new alliances and more wars lasted for years in a tragic succession that led to the rise to the throne in 1461 of Edward VI, first ruler of the House of York, favored by the death of his father, Ricardo Plantagenet in 1460 , and in the annihilation of the Lancaster, after the death in combat of Prince Edward in 1471 and, the same month, the murder of Henry VI. "Margarita was 41 years old and her life was over," writes Helen Castor, about a monarch who "the more he fought, the more obvious were the tensions caused by the fact that a French queen acted on behalf of an incompetent English king." Prisoner for seven years, to be released by the intercession of her cousin the king of France, died in oblivion in 1482.
A forgetfulness of what now Wolves He wants to rescue her with other courageous women: Asked Helen Castor about what are the common characteristics of these four unique characters, she does not doubt it. "Courage. Intelligence. Will. Persistence. Pride." But, above all, it highlights the "belief in their own mission: that what they did and said could change the world around them. That was not something simple for the women of their time." In times of feminist struggle to break all the glass ceilings, Castor states: "And it still isn't now."