Live | Vocento celebrates its 20th anniversary with the Echoes of the Future forum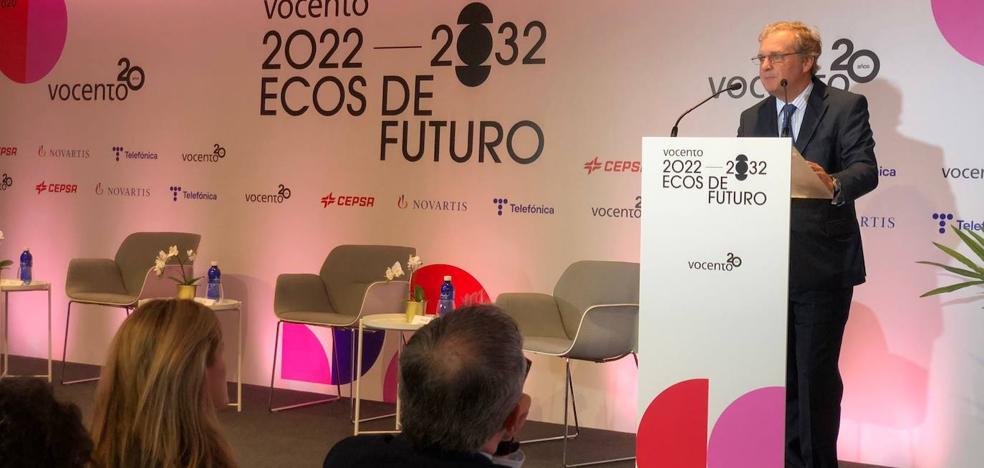 Vocento is celebrating his anniversary. Turning 20 is an extraordinary moment to talk about the present and think about the future. To commemorate it, the group celebrates the Echoes of the Future conference, an event born from the ambition to reflect on the challenges and opportunities of what is to come.
Outstanding leaders in the fields of journalism, culture, business and sustainability are taking part in the conference being held today at the Vocento headquarters, and personalities from different areas of Spanish society have already confirmed their attendance, sponsored by CEPSA , Novartis and Telefonica,
In Ecos de Futuro, among other topics, they will talk about the power of new ways of thinking and acting, the future of information and journalism, the new drivers of change, the risks and threats that the future holds, the impact of the digital transformation in our society, the definitive footprint of sustainable thinking and the new dilemmas that will make us look beyond the obvious.
In the first discussion table, under the title 'Scenarios 2022-2032', Carmen de Pablo, CFO of CEPSA; Elena Gil, Global Director of IoT & Big Data Product and Business Operations at Telefónica Tech; and Javier Malpesa, director of Biomedical Innovation at Novartis; They will address the next economic and social scenarios, in a conversation moderated by Manuel Álvarez, economic correspondent for El Correo.
Next, the journalists and writers, Lydia Cacho, Jorge Fernández Díaz, Nicola Lagioia and Roseann Lake will reflect on the future of journalism, in a discussion moderated by Jesús García Calero, director of ABC Cultural.
On how to build a more sustainable world, Jacob Petrus, geographer, climatologist and science communicator, as well as a collaborator of Anthropía (Vocento's sustainability and future channel) will interview the Belgian entrepreneur and author of the book 'The Blue Economy', Gunter Pauli.
And to close the event, the final touch of the day will be the screening of a recorded interview by the CEO of Vocento, Luis Enríquez, with Gay Talese, one of the most respected journalists in the world and a benchmark of 'New Journalism' .