Live I Alexandra Cousteau: «Climate change calls for solutions that will create jobs different from the current ones»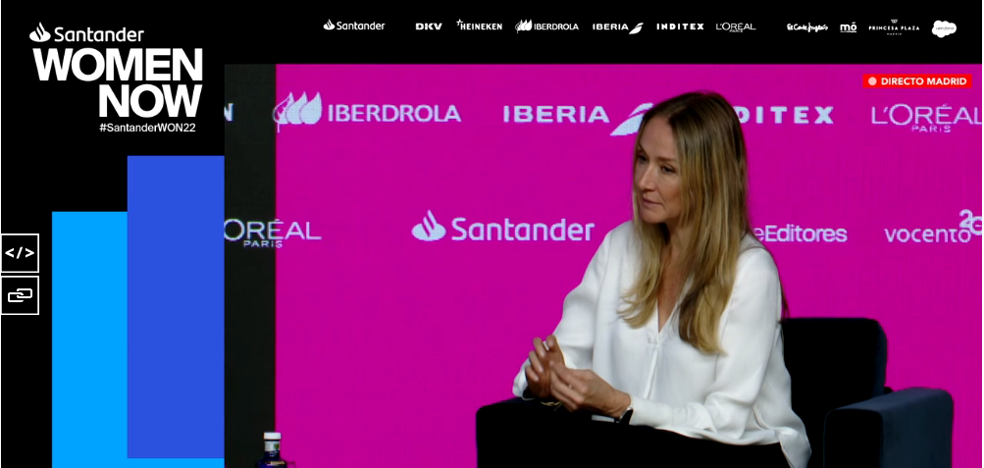 Alexandra Cousteau, founder and president of Oceans 2050. Explorer, filmmaker and defender of water, Amaya Casero, Executive Vice President. HR Europe. Banco Santander, Carmen Ponce, Director of Corporate Relations and Sustainability at HEINEKEN Spain, Elena Gorostiza, Director of International Partnerships at Code.org for EMEA, Kristina Spohrla Professor of International History at the London School of Economics and Political Science (LSE) and Luis Rojas, professor of Psychiatry at New York University, are the stars of the second day of Santander WomenNOW, Vocento's women's leadership summit. The final touch will be put on, late in the morning, by the general director of the Luxury, Lifestyle and Magazines Area of ​​Vocento, Samary Fernández Feito.
In the first session of Santander WomenNOW, in addition to having the summit inaugurated by Olena Zelenski, the first lady of Ukraine, Fawzia Koofi, former vice-president of the National Assembly of Afghanistan and former member of the negotiation team with the Taliban, also took part, who spoke about the situation in his country. Cristina Álvarez, director of T&O Europe and Spain Banco Santander Spain, spoke about leadership and new technologies; and the taekwondo athlete and Olympic medalist Adriana Cerezo and the Paralympic athlete, speaker and writer Sara Andrés, reflected on how they face their challenges. Beatriz Corredor, president of Red Eléctrica, spoke about the future we need; Silvia Agulló, Director of Responsible Business and Reputation of the DKV Seguros Group; and Teresa Parejo, Director of Sustainability at Iberia.
Santander WomenNOW has the support of Banco Santander as a Global Partner, the sponsorship of DKV, Heineken, Iberdrola, Iberia, Inditex, L'Oréal Paris and the collaboration of El Corte Inglés, Hotel Princesa Plaza Madrid, Multiópticas and Salesforce. The congress can be followed in person, in the auditorium of El Beatriz Madrid, as well as on the event website congress.womennnow.es. In addition, the event can be followed live on the websites of womennow.es, mujerhoy.com and all the newspapers of the Vocento group, including abc.es, elcorreo.com, Diariovasco.com and lasprovincias.es.