Little Talanga on the banks of the Ter River | Economy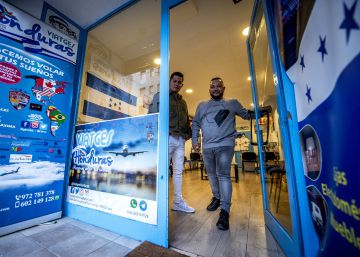 Girona It has become a small Honduras. The nationals of the Central American country are, according to the last municipal register, the largest group of foreigners in the city of Girona: just over 5,300 registered; five out of every 100 inhabitants, according to data from the Catalan statistical office (Idescat). In the entire province there are almost 13,000, with a gender pattern practically identical to that of the whole state: two out of three are women. The Honduran community in Girona has multiplied by more than 80 in the last 20 years, when there were barely 150 people permanently residing on the banks of the Ter River.
The origin of this curious migratory phenomenon dates back to four decades ago, when nuns from Tossa de Mar (La Selva) traveled to Talanga (north of the capital, Tegucigalpa) to hire women who could care for the elderly. Five Hondurans arrived in Tossa, but only two stayed: the first was Rafaelita Rivera, and 43 years later, word of mouth and family reunions have turned the nationals of this country into one of the largest communities in the province.
The arrivals, of course, are no longer limited to Talanga: they arrive from practically every corner of the country, but in the Cultural Association of Hondurans in Girona they still refer to the city as "the little Talanga". "The figures of Hondurans here are, in fact, much higher than the official ones: there is a lot of irregular situation," said the president of the group, Delmer Villanueva, with two decades behind him in the Girona capital. There have been three waves of migration from the Central American country: in 2000; in 2009 –after the coup d'etat-; and in 2017 with the "great electoral fraud," says Villanueva. And, although things are getting better with the passage of time, it is still "very difficult to obtain a residence permit: in order to begin the procedures they have to have been registered for three years and need an employment contract".
Saady Suazo is 33 years old and stayed in Honduras with his father until 2015. His mother and two brothers had already traveled to Girona and he joined them "because of insecurity: I studied and worked in a shopping center and almost every month they assaulted me . I expected the situation to change, but in the end I came, "he explains. Now he works at a vegetable stall in the market and the whole family has moved to Salt because prices are more affordable. "We do not plan to leave: there are no life plans in Honduras." In his country, he says, young people only have three options: "become a gang member, flee to the US or Spain or become the" guardians of the homeland, "which are the Military Police of Public Order." In Honduras, he adds, the average age of the population is under 35 because "there are 11, 12 year old girls raising their children and life expectancy is about 60 years. Hospitals are not built but battalions are. "
Álex and his family lived in Tegucigalpa. First his father emigrated, then his mother with his older sister and finally, in 2006, he – he was six years old – and his little sister. The destination chosen by the family was Girona: it was where one of his aunts had been for three years before, which allowed his parents to find work with some ease. 14 years later, he has seen his family for the first time this summer. "There are a lot of delinquency. You cannot be absolutely sure: there is always that fear that something might happen to you. " He plans to come back sometime but "not to live, because I have my life in Girona". His parents will, when they are older, like Susana, who arrived in Spain in 2007 after the company he worked for closed. He started working taking care of an old woman and, when he died, his daughter asked him to stay doing housework. "The situation was regularized and I already have dual citizenship," he says as a great achievement. 13 years later he continues to work to send money to his country and has only returned three times: in 2011, in 2017 and a few days ago. His intention is to return when he has "fixed" all the retirement paperwork. Rubi García, 16 years in Girona – in which he has worked practically everything: caring for the elderly and children, cleaning, painting … -, denounces the "labor exploitation in the domestic sphere": they live internally, "24 hours a day all the week for 600 euros. " He has only been to his country once, two years ago. They had murdered his brother.