Lidl will increase the salary of its staff by a minimum of 16.5% until 2025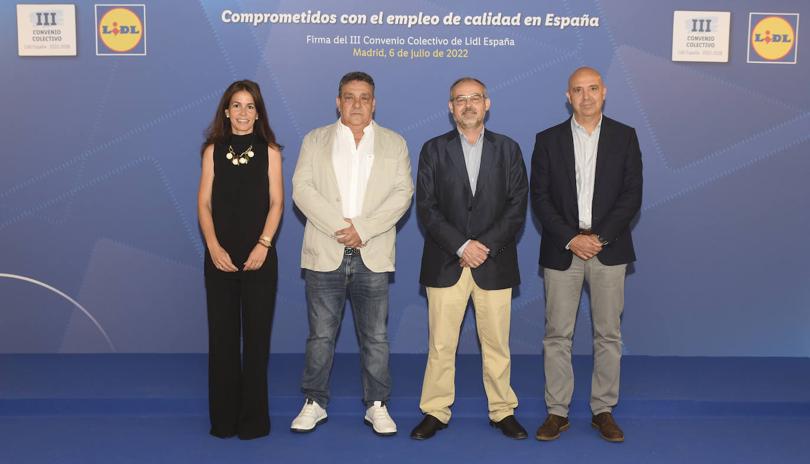 Among the benefits included in this new collective agreement, unusual measures stand out, such as the consolidation of the maximum working week of five days or the voluntary nature of working on holidays
Lidl has reached an agreement with the legal representatives of the workers to renew its own collective agreement, shielding significant advances linked to the remuneration and social rights of its employees that once again place it as the reference labor framework in the distribution sector in Spain. All this, in a context still marked by the uncertainty derived from the health crisis and the country's high inflation.
The agreement, signed yesterday at an event in Madrid, will be valid for up to four years (2022-2025 financial years), thus giving continuity to the employment strategy promoted by the company in 2016 with the signing of its first agreement (exercises 2016-2019) and its subsequent renewal (exercises 2020-2021).
7% more in 2022 and salary guarantee clause

Lidl's new labor framework contemplates a salary increase of at least 16.5% for more than 15,500 workers in Spain during its period of validity: 7% only in 2022 (which, among others, will increase the salary mass by €22 million of the supermarket chain for this year), 3.5% in 2023 and a minimum of 3% in both 2024 and 2025. In addition, Lidl will incorporate for the first time a salary review clause based on the CPI in order to guarantee the purchasing power of its staff at all times, being able to reach a salary increase of up to 19% in four years.
«At Lidl we know that the key to our success is people and, for this reason, we work every day to match their effort and involvement with actions. With the renewal of our collective agreement, we offer our employees a stable labor framework in an adverse situation such as the current one, guaranteeing at all times the purchasing power of our staff and advancing steadily in social matters thanks to the implementation of unusual measures in the distribution sector and that make a difference in our country", commented the general director of Lidl Spain, Claus Grande.
Reference social measures in the sector

Beyond the remuneration scope, this new collective agreement incorporates several milestones in social matters that deepen, extend and consolidate the rights of Lidl workers in Spain, also being an exception in the sector. Among them are the consolidation of some rights already acquired in past collective agreements in a pioneering way in the distribution sector, such as the implementation of the maximum working week of five days or the application of paid leave from the first day weekday
In addition, novelties are introduced in this collective agreement such as the voluntary nature of working on holidays (provided that the normal operation of stores and warehouses is ensured), the extraordinary remuneration if one works in these or the extension from 12 to 14 years of the maximum age of dependent minors for requests to reduce working hours.
Likewise, several advances directly linked to the working hours of employees are established, such as making its distribution more flexible until it is homogenized without distinction by seniority or progressively reducing the calculation of annual hours (which will take the form of three additional days off per worker). In parallel, and within Lidl's firm commitment to quality part-time work, employees with part-time contracts who so wish may also progressively increase their contracted day during this new collective agreement.
The general secretary of UGT-FeSMC, Antonio Oviedo, stated that "this new collective agreement represents a guaranteed labor framework with which Lidl responds to the complex economic reality that we are currently experiencing, marked by high inflation, and possible future scenarios. In this sense, we believe that this agreement is good news both for the workers of Lidl and for the company itself, and from UGT we will continue to be very aware of the evolution of the context.
For his part, the Secretary General of CCOO Services, José María Martínez, assured that "at CCOO we highly value the signing of this agreement, which improves the working conditions of the Lidl workforce. With this signature, we ensure a wage increase of at least 16.5% and a drop in the annual working day to 1,768 hours within four years. In addition, it is an agreement that will provide great stability to Lidl workers, reducing bias and improving rights and permits«.
Employer of reference in Spain

Driven especially since the signing of its first collective agreement, Lidl maintains a firm commitment to stable and quality employment (to date, 94% of its workforce has an indefinite contract) which, in recent years, has allowed it to play a key role as a driving force for the creation of new jobs and become one of the greatest drivers of the Spanish labor market thanks to its activity.
In this sense, the company is already responsible for more than 139,000 direct, indirect and induced jobs in the country (the equivalent of 1 out of every 138 jobs or 0.72% of all national employment).
Lidl thus takes a decisive step forward in its goal of continuing to be a reference employer in Spain, where its labor policy has led it to become the only company in the distribution sector to be distinguished with the 'Top Employer' seal for the fifth time consecutive year.