Lidl sinks its teeth into the 'boom' in cheese consumption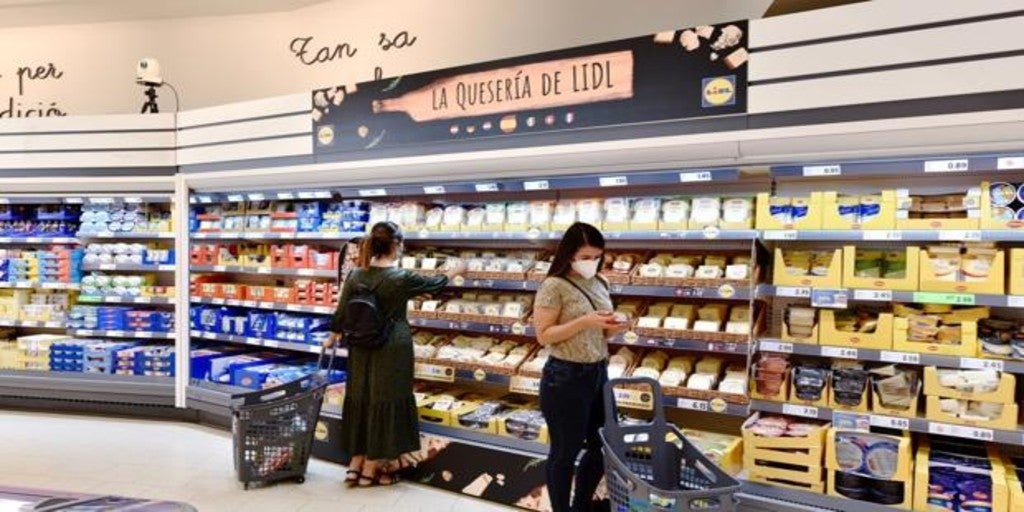 BARCELONA
Updated:
save

Cheese is conquering the podium of the products that define the diet of the Spanish, along with ham and wine. With more than 150 different varieties and 32 designations of origin, Spain lags behind France, the cheese nation par excellence. Despite the concentrations of companies and some closures, in our country there are around a thousand cheese factories, micro-companies with less than 10 operators and two million turnover that are the engine of many rural areas, according to a report by Alimentaria.
On the crest of this trend, the Lidl chain began to introduce its cheese factories in some stores in Spain last May, in full confinement. The pilot test was a surprising success, as sales of these cheeses skyrocketed by 50%. So far, Lidl has created its cheese shops in more than 400 stores, which it will progressively expand to complete the 605 of its network in our country. It does so precisely to respond to the 19.4% increase in the value of the consumption of this dairy in the Spanish shopping basket registered from January to July, according to the consulting firm Kantar.
The cheese route in Spain is still wide. The Interprofessional Dairy Organization (INLAC) in its last report indicated that Spaniards consumed in 2018 more than 354.4 million kilos of cheeses worth more than 2,617 million euros, with an intake of 7.74 kilos per inhabitant per year, still very far from the 17.2 kilos of annual average of the European Union, according to the Ministry of Agriculture, Fisheries and Food. Lidl's commitment to this increase in "chesse lovers" also enhances Spanish cheeses beyond our borders, as it exports them to its network of more than 10,800 stores spread over 30 European countries, says Jaume Rivera, Lidl's purchasing manager Spain.
According to Kantar, the increase in the category of these dairy derivatives in Spain and Lidl's commitment to their distribution has made the chain rise to the second position as a "retailer" and market share in this category, with 7, 7% penetration and generation of the highest number of purchase acts. The new section increases the already consolidated cold convenience offer of the distribution company, consisting so far of its ranges of bio products, "veggie", value-added dairy products and Ready-to-Eat dishes, to complete more than 400 own-brand items located in refrigerators. This has been one of the most developed sections by Lidl in recent years and a key to the company's success in recent months, with growth that has confirmed its fourth position and a 6% market share in the distribution sector. in the first half of the year, while other channels lost weight in the same period.
Pleasure consumption
Lidl has been characterized in recent years by its "desire to democratize gourmet gastronomy, commitment to Spanish producers and respond to customer demands," he says. Arantxa Conde, Director of Public Relations of the company in Spain. A commitment to bring gourmet products closer to the Spanish consumer that is not limited to the DeLuxe collection, but in the case of cheeses, it translates into a selection of 20 products, half Spanish and the rest international, arranged in recyclable packaging in tasting format, that is, with portions of about 100 grams of weight to facilitate the consumption of pleasure and presented with informative labels and in a transparent packaging for a better visual identification of the product.
"In addition to price, one of the barriers that cheese lovers encounter is the waste that is usually generated; For this reason, with our tasting format, we invite the consumer to try numerous and very original varieties of cheeses with which a home tasting can be at the level of an authentic gastronomic experience, a dinner with gourmet touches or a surprising aperitif », concludes Arantxa Conde .
Gourmet gastronomy at cheap prices
With its cheese factories, Lidl seeks to respond to the increased demand for this category of dairy products by consumers, position Spanish cheeses in the premium segment and become the first purchase option for "cheese lovers" and consumers. tasting. From the offer of 20 cheeses at a price between 0.99 and 2.39 euros per 100 grams, Four cheeses recognized as the best in the world, according to the World Cheese Awards (WCA) stand out: manchego, 12-month reserve, sheep's cheese with truffle, and Idiazábal. The cheeses that complement the national offer are goat with paprika, sheep with rosemary and old sheep. Among the ten international references, the Swiss Gruyère; the Italian pecorino prezioso, the Dutch goat roll, the Austrian blu fou and the brie de Nangis or reblochon cheeses, of French origin. There is also an innovative selection of cheeses that in Spain are not found under any other distribution brand: cheese with Mediterranean herbs, whiskey with walnuts, Dutch gouda, Tyrolean Adler, sheep with black garlic, one of three milk. matured in cava and another of tres leches at Pedro Ximénez.