LGTBI visibility in Canarian politics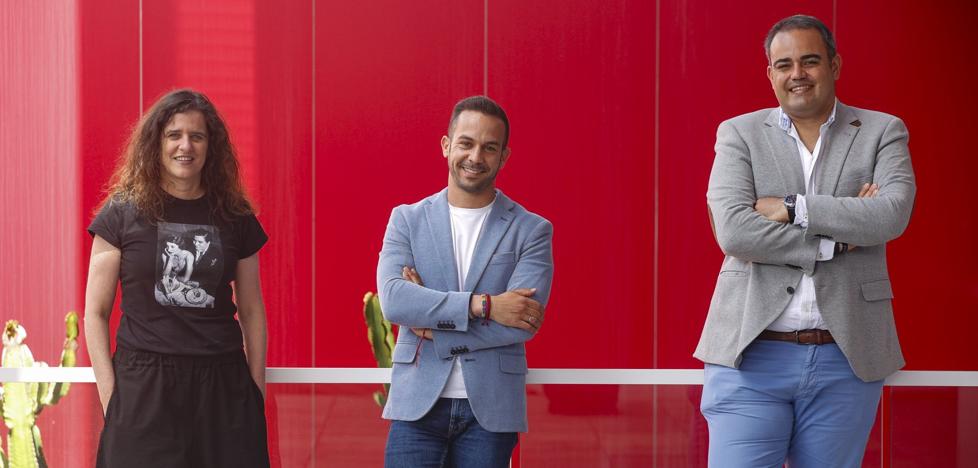 Today is International LGBTI Pride Day. The deputy Omar López (PSOE), the councilor of Ingenio Rayco Padilla (PP) and the director of the Canarian Institute for Equality, Kika Fumero (independent but appointed by Podemos), spoke yesterday in CANARIAS7 about the need to celebrate this day, the importance that politics also has referents of the group or if the fact of openly recognizing it as the three have done has exposed them.
Although with nuances, they agree on the danger of the extreme right and in which publicly acknowledging sexual orientation is a "liberation" that allows one to lead the life that each one decides.
«I believe that it is necessary to have references in all sectors and politics cannot be less. We have the possibility of changing so many things that we do not like that it is essential to take that step. I did it in my first intervention in the Canarian Parliament.
When I was not having the best time of my life, I needed those public references. I took the step in case someone listened to me, they would know that they are not alone, that we are many people in many sectors. They told me that I was not going to get anywhere and I am in Parliament putting my grain of sand, "says Omar López.
For Kika Fumero, people have «the obligation, the duty and the right to occupy public spaces and that happens by building narratives in the first person.
The closet is a social closet where heterosexuality puts us. We have the right to occupy life.
Rayco Padilla explains that he has not said so at City Hall because he said it "at the age of 19" and "since then" he behaves "naturally".
«I don't have to say it because they already know it and, in fact, it is so well known that in 2014 they did some anonymous graffiti in the Carrizal cemetery, where I liveI did not care, but I thought of my relatives who are going to put flowers, the damage to my family, "he laments.
In reality, they coincide, although in a minority way sexual orientation continues to be "a throwing weapon" in politics.
«I have not suffered it in the first person, but it is true that society still uses that image of telling you that a fagot is an insult and that it can bother you.
To discredit the rival, sexual orientation cannot be used, but arguments, but when there is none, it is resorted to, but that is very far from the society to which we all aspire. Women with machismo, homosexual and trans women always suffer more than others, "acknowledges Omar López.
For Fumero, if you are a lesbian and you wear it "with pride" it is "very difficult to mess with that characteristic. Discrimination is always there. Homophobia, misogyny... If I have suffered an episode it has had little significance and impact on a personal level, zero. When you occupy a place you allow yourself to be, to exist without fear, with pride and knowing that the impact it has on the rest of society is very difficult to shake those foundations.
The councilman from Ingenio agrees with the socialist deputy. "When the arguments end, the insult comes, but lately they do it anonymously or on Twitter, which is a landfill and is done anonymously."
Rayco Padilla recalled the famous "faggot" that a councilman snapped at a municipal employee in Santa Lucía. "Everyone was shocked", said. Kika Fumero remembers "other cases, like in La Palma with pride", and what is still but, the homophobic murder this week of two people in a nightclub in Oslo.
"There has been little pronouncement on that. I am amazed at the things that disappear so quickly from public discourse. The case of the Pack, which was a super horrible thing, was echoed, but here in the south there was another one and you only read two strokes.
All three agree that in this case there has been a lack of context to denounce a homophobic murderbut even so, Omar López points out, "the majority of society is committed to the cause, but those minorities are the ones that do the damage."
The socialist deputy recalls that at the institute he suffered harassment ('bullying') and that when he became a teacher he saw that the treatment of students towards homosexuality was "completely different." In that sense, he added, "society has come a long way. There is bullying and homophobia, but progress has been tremendous."
Perhaps for this reason, if they are aware of the danger of the extreme right, although with nuances.
In the opinion of Kika Fumero, "they are not consolidated" for that reason "we cannot lower our guard neither as women nor as an LGTBI group. We have a very big threat, we have the wolf sitting in the seats and we have to stand firm.
That is why visibility is so important, occupying the space that corresponds to you and that is why it is so important to speak in the first person, to listen to life stories. The challenge, the check, the threat is there and it is time to remain united in what unites us because in the retreat of fundamental rights, democracy is in check.
For Rayco Padilla - who knows that his party, the PP, agrees and governs with the extreme right - it is a "complex" matter.
Although "it is true that some Vox leaders are homophobic, and the first Santiago Abascal", believes that "what is important in the institutions are the policies that are carried out in the pacts." For this reason, he points out, he does not create a "contradiction" to be homosexual and that his party agrees with Vox. "Absolutely. I see politics. But who are we to mess with people's lives, nobody. That part really squeaked me."
Fumero and López do see in a very different way that the Madrid City Council or the Community building do not hang the pride flag tomorrow. "That speech seems a bit artificial to me. The National Parliament does not raise the flag, it illuminates the building and it is the seat of national sovereignty", says Rayco Padilla. «The problem is the symbology, which is what reaches us visually and in the ears. It is not so much the flag or lighting.
The debate is the refusal, the resistance to a flag, "says Fumero. In his opinion, the extreme right and conservatism intend to "bring the LGTB issue back to the private as gender violence" and they intend that in public life "you invent a character that you are not to adapt. No, I have the right to occupy the public space, the street, and to express myself as I am. Those rights are in check. If it is brought back inside there is going to be a lot of discrimination, a lot of suicides, a lot of unhappy people, an unhappy society. And that is the check and the threat of the extreme right », he adds.
For Omar Lopez
, society "must not think that everything has been achieved". He was born after the divorce "and I see it as normal", she says, "he no longer questions himself. Also equal marriage, approved in 2005. There is already a generation that sees it as something normal. But he does see a danger in trying to bring personal life "indoors" again. And he recalls that last week «in Murcia the PP and Vox voted against prohibiting conversion therapies. It is no longer just not putting the pride week flag on the balcony, we are giving rise to families who want to take their children to therapy so that they adapt to a classic society, and that is a policy, it is not hang the flag We have to visualize a reality that we must not hide. Parliaments and governments send messages », he adds.
Rayco Padilla acknowledges that sometimes the PP has been "publicly wrong" as when he opposed equal marriage. «I was a basic affiliate. Then time has taken away our reason (to oppose). Every organization has the right to transform. Jerónimo Saavedra (PSOE) said that what terrified him most were the comments within his own party. And it is that the parties are a reflection of society, but the Popular Alliance is not the same as the Popular Party»
The left is not immune to homophobia or misogyny either, says Kika Fumero. "In all places, beans are cooked," says Omar López.
Visibility, they agree, is necessary. "It is important, that is why I admire colleagues who publicly position themselves as gay or lesbian – as the tonadillera María del Monte did this weekend. That public exposure is important because what is outside can be hard, it is daily and it does not only affect you if you have a family, they are suffering that possible discrimination, that is why it is admirable ».
For Omar López «no one was taken by surprise. Everyone knew it, but it is important for him to say it publicly ».
Rayco Padilla says that he respects her a lot. «She said that she is her life and that she decides when she says so. Everyone wears it how they want. It was at the moment that she wanted to tell it, normality is fundamental.
«At last he is a free person», adds Kika Fumero, «it is a liberation not having to spend all day controlling what you say, what you do».
On the trans law, the three agree that it is "shielding and consolidating rights." "Everything that is good," says Fumero.
Omar López remembers that he was a rapporteur for the trans law in the Canary Islands and that he will never forget the happiness of the people who had worked on it. It was also a law approved by all the political parties with representation in the regional chamber.
Kika Fumero and Omar López agree in pointing out that society is what gives impetus to rights, but laws are necessary. In this case, Fumero recalls the need for affective-sexual education. Rayco Padilla believes that the educational system "has been a failure" because the laws are on the side" and they need to be done with the help of people who know education.
In the conversation they also addressed the campaign of the City Council of Las Palmas de Gran Canaria for pride: "A great and free one". For Omar it was "unfortunate, it was not necessary to gain prominence." Fumero understands "the objective and the mockery", in fact, he doubts that "the extreme right" has liked it, but there are still "too many people who have suffered a lot from the Franco regime" for what he considers it an "ill-advised" campaign, especially because in 20 seconds there is no time to explain it. Rayco Padilla didn't like it either.
The three also agree that feminism and the LGTBI movement are in the same cause and they regret that there is controversy within feminism over the trans law. They agree that there is a lack of a space for debate where you can doubt and that nothing happens.
Regarding the commodification of pride, López and Fumero believe that the claim must be maintained because if not, "in the end, the economy ends up prevailing." «As a business, it is tried to lose the purpose with which it was born, the claim. We have to fight so that it is not lost. If it is the carnival in July, it loses the meaning with which it was born, claiming rights and continuing to claim them for what they gave their lives. In the end, the economy ends up prevailing because it moves masses with high purchasing power », he laments. Kika Fumero also points out that it can be a claim and also "a party but it must be ours, not one of the companies that pay and on top of that they do a facelift," he laments.
Rayco believes that they should be complementary, the reality is that "it moves millions". "They have to be complementary" the two aspects. «The reality is that you cannot fight against it because it moves millions of euros. You have to look for complementarity. The pride of Gran Canaria the first time it was held in Maspalomas was with a PP and AV Government, and it works well and makes us a benchmark in Europe and brings us money and blessed money. Another thing is the vindictive part ».