Lewis Hamilton wins the Spanish Grand Prix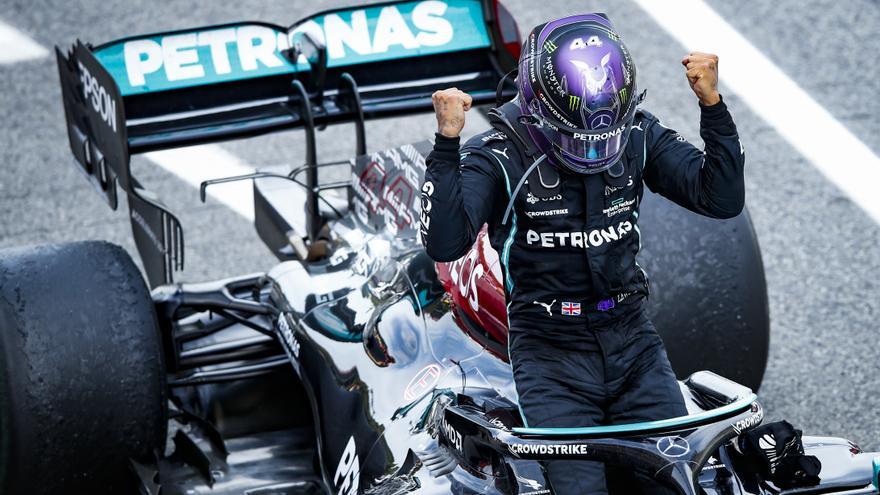 The British Mercedes driver, Lewis hamilton He showed his talent again and won the Spanish Grand Prix disputed in the Circuit of Barcelona-Catalonia. The seven-time world champion increased your distance as leader of the world up to 14 points over Max verstappen, who climbed to the second step of the podium. For their part, the Spanish Carlos Sainz (Ferrari) and Fernando Alonso (Alpine) were seventh and seventeenth respectively.
With this victory, Hamilton goes down in history as the first driver to win the Spanish Grand Prix five consecutive times and equals Michael Schumacher as the driver who has won the most times in total: six.
But Verstappen's overtaking of Hamilton in the first corner, when it slipped inside and the two favorites to win the World Cup hit each other slightly, he marked a large part of the race on a track where it is very difficult to gain position on the track.
Hamilton: What a great day!
The English pilot exclaimed "What a great day!" after cross the finish line in first position in Montmeló. "Going back more than 20 seconds was thanks to a great bet of the team. The whole plan of the weekend was to have two medium tires because making only one stop here is difficult to get it right. The team has done a great job, "he considered about his race strategy, which allowed him to overtake Verstappen with six laps to go.
Regarding the start, in which the Dutch driver overtook him in the first corner, he said that it was "very tight, there was a lot of rubber on the right side and the Red Bull came out very well."
In addition, he also had words for the 1,000 fans who witnessed the Grand Prix from the Main Grandstand: "It's the first race this year where there are fans, I even see a British flag, I haven't seen it in a long time."