Levante turn on the alarms at Atlético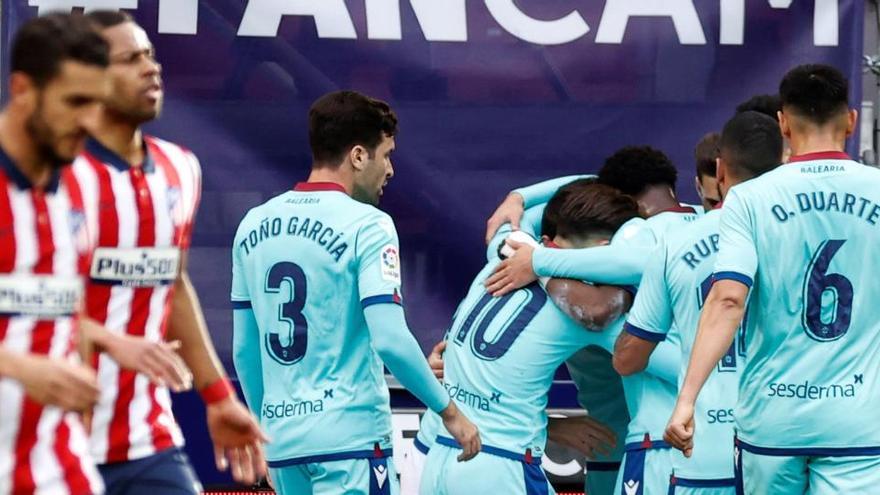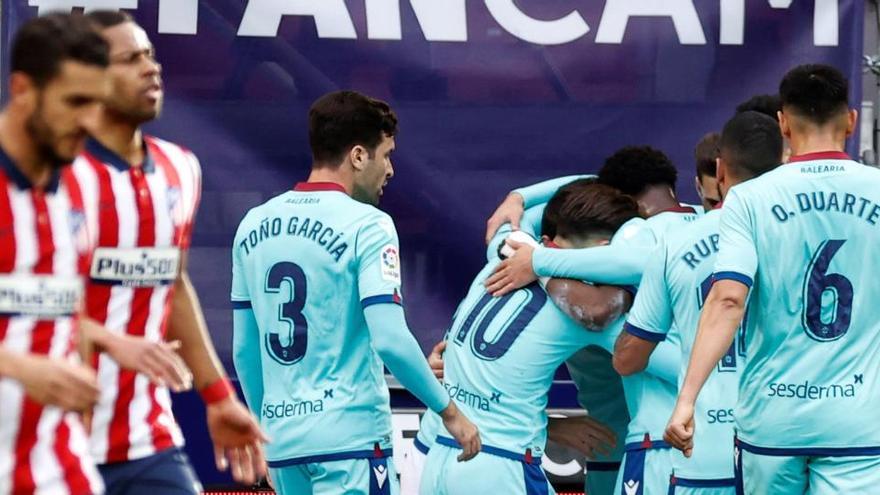 Without the punch of previous months or the defensive firmness of the entire Simeone era, the Atlético de Madrid is a leader today in doubt, injured this Saturday by Levante and José Luis Morales to shake the League to the same extent that the rojiblanco team declined, which allowed the 0-1, reacted too late and received the 0-2 by Jorge de Frutos when Jan Oblak went up to the final shot.
There is no better or worse symptom than results. Diego Simeone's block has gone from first to second with unexpected speed. Of his 16 victories in 19 days, the only one who has celebrated in four appointments, tied by Celta and Levante itself and surpassed by it in the Wanda Metropolitano. Atlético had not fallen there for 27 games. Since December 2019. Maybe he didn't deserve to lose, but he did. And that unleashes concern.
They are six points over Real Madrid and nine, with one more game, over Barcelona. There was a League before and there is now, among other issues because Atlético's defensive fall is visible. Its structure, not long ago inaccessible, is more vulnerable than ever in the Simeone era. Hidden in recent times due to its offensive effectiveness, there is no clearer evidence than this Saturday's game.
Levante's first occasion confirmed it, with the loss of the ball in the corner of the opposite area of ​​the unrecognizable Lodi; the long cross pass and the Morales-Oblak duel. The footballer's failure – he crossed his shot too much – did not hide Atlético's obvious problem: after half an hour he gave another advantage to his opponent.
There are too many times already. In five of the last six games, Atlético received their opponent's goal first. And that, in these times, in games as committed as now, even in the margin that has earned its leadership, is an improper concession from a team that wants to win the league, because the distance is not eternal nor is it enough, even less at the rate that puts their encounters in trouble. Not because he gives no one to overcome and to win every day.
It is true that Levante offered an accurate opposition, minimized its adversary and its order, its plan and its exit to the counterattack worked as Paco López had planned, but also that without Atlético's concession nothing would have been the same as 0- 1 at half an hour, facilitated by Kondogbia -smoking at a junction that does not admit middle terms at the edge of the area- and Scored by Morales.
It was not strange. Not because Levante had arisen much more due to Oblak's framework, but because each time it did so it affected the permanent alarm that Atlético feels lately when defending its goal. There are ten goals already in the last seven appointments of the League. In the previous 16 he conceded six. Not even the double rebound of the goal -in Felipe and Hermoso- serves as an excuse for Atlético, which is not what it was in attack either. Above all it is not that effective.
In the entire first half, only a volley from Luis Suárez, a whip from Giménez, a shot from Hermoso or a header was counted in the other area. Nothing too complex for goalkeeper Dani Cárdenas, unexpected headline in the Wanda Metropolitano. Nor is there anything very promising for Atlético, who feel difficulties that before, a couple of months ago, they bowed with the forcefulness of their football, not only with the forcefulness of their punch, from which the leader now lives.
There, some decisions by Simeone -or some casualties- have a decisive influence on the last appointments. Marcos Llorente is essential in Atlético, but much more in the middle or in attack than as an improvised lane, where Simeone again proposed him in the eleven. He rectified it, like other aspects. And the change is indisputable, as it was also when he approached Joao Félix to the opposite goal.
Until then, the Portuguese was not seen, in that fight that has many times with the correct choice of the appropriate play at the exact moment, but also caged in the tactical demands; even less to Correa, relegated at times to the entire right wing, when he does not seem the most appropriate footballer for that mission; and Luis Suárez didn't have any real chance in 50-odd minutes …
until the Uruguayan forward crashed a free-kick off the post, until between him, Marcos Llorente and Joao Félix relaunched the game and his team to lead it closer to the goal. It was then that the portuguese failed what should not be failed twice, although one with the mitigation of the stop of Cárdenas, and that was when Levante had more doubts than ever. It lacked hit. And fell by 0-2 in minute 94, in a distant launch by Jorge de Frutos with Jan Oblak in the other area. The League demands more.
0 – Atlético de Madrid: Oblak; Llorente, Felipe, Giménez (Lemar, d. 54), Hermoso, Lodi; Kondogbia (Torreira, m. 60), Koke (Moussa Dembélé, m. 74); Correa (Ricard, d. 60), Joao Félix; Luis Suarez.
2 – Lift: Cardenas; Coke (Son, m. 71), Vezo, Duarte, Rober Pier, Toño (Clerc, m. 71); Malsa, Bardhi; Rochina (De Frutos, m. 62), Morales (Vukcevic, m. 80); Sergio León (Dani Gómez, m. 62).
Goals: 0-1, m. 30: Morales. 0-2, m. 94: Of Fruits.
Referee: Melero López (C. Andaluz). He admonished the locals Lemar (m. 70) and Koke (m. 70), and the visitors Ruben Vezo (m. 36) and Cárdenas (m. 68).
Incidents: Match corresponding to the twenty-fourth day of LaLiga Santander played at the Wanda Metropolitano stadium without an audience.