Levante: Borja Mayoral: "Hopefully in a few years I can be the nine of Madrid"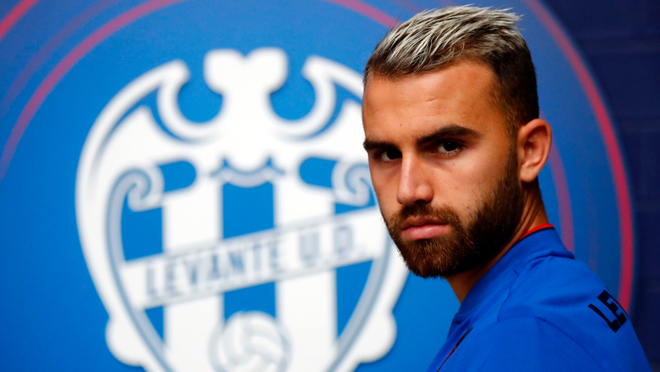 I raised

TO

The Madrid squad speaks in MARCA a few days after his return to Bernabu
Borja Mayoral faces his second season as a loan in Levante and this is the first to play in Bernabu against the club that belongs, Real Madrid. Last year, Levante won 1-2 in his visit to Bernabu, but Mayoral could not play for the fear clause. Now, without fear clause and ready to play, the Real Madrid squad speaks in MARCA about the match that is coming in the house that saw him grow, although with the rival's shirt, that of a Levante that arrives in the capital with two consecutive victories in the last days.
Question. Santiago Bernabu against Real Madrid. I guess he has that special point.
R. Yes, it is clear. For me it is a special game, I have been fortunate to be one year in the first team, play in the Bernabu with the white shirt and now I go with the shirt of another team with a lot of hope.
Q. How does the team seen from inside arrive? Because it comes in a good start after three days …
A. We arrive with confidence, we have achieved six points out of nine possible, we have just won two games and the feelings are good. The results have accompanied us and the team's feelings are very good. Of course, we go to Bernabu and with LaLiga as it is, this has changed a lot and it is not like before it was more difficult to go to this type of stadium. Everything has changed, every game is a world and anything can happen.
Q. Is it better to catch this type of matches in such powerful fields at the beginning of the season?
A. It is better to go now than earlier in the season. They are great teams, but we arrive on a roll. Playing at the beginning last year we managed to win. LaLiga is very competitive and we can get something positive from the Bernabu.
Q. It seems that there are more options to add in stadiums like these now than years ago. Showing that there are not so many abysmal differences … There has been talk of the technical fears in those stadiums. It is the first time you will experience it as a visitor …
R. Fear fear is not, but in Real Madrid there is a big demand. Especially in the fans, they are free to give their opinions. And we know how Real Madrid is, when a team goes there and is comfortable, in addition to feeling uncomfortable, the fans do not accompany them and that is better for the rival. But we know that it is Real Madrid and the potential it has, they recover players. We are also confident that it is important.
Q. Have you imagined dialing? That dreams, you think …
A. It goes through your head. I am a striker and it comes to my mind in this and in all matches. It is more special because it is Real Madrid but if I do not celebrate it. That's right, a goal is always special for me.
Q. You already know what it is to score in the Bernabu. In LaLiga, in the Cup and in Champions … it won't be a strange feeling …
R. S, I marked with the Madrid shirt but now I go with another shirt. You never know. It is special for me but I defend the Levante shirt this year and if I can mark I will do it.
P. Belongs to Real Madrid but plays in Levante and always talks about the famous clauses of fear. This time you don't have it. But last year he was given here that he had it. What has changed from one year to another? Did you ask for it?
A. The truth is that I don't know what happened. Honestly, it is something more about the club that, in the end, they wanted to give back that the ceded ones could not play against Madrid but I already said that it is a bit silly and it is better to play with what does not cut the pace of competition. I have hope to play. It is a fixed issue.
Q. I suppose it is an opposite feeling because you are from Madrid, but it is the first time that you are going to face the people of your house …
R. Yes, this is the first time in my life that happens to me and the truth is that I have a bug because it is special for me, but now I'm from Levante, I'm focused here and I want my team to do well. I want Madrid to do well too, although right now I prefer Levante because I'm playing this season here.
Q. How do you plan a match against Real Madrid with a conservative approach or do you have to go brazen?
R. Well, what the opponent requires. Madrid is a very offensive team and we are too, but going to Bernabu is going to be a little more difficult and we know that we have to be closer together and focused on defense but above all united and have patience as we are going to suffer. They will want to give their fans the first league victory at home. We have to take advantage of the cons because we have very fast people upstairs.
Q. It is more comfortable to go, I suppose, with six points out of nine to Bernabu than to go faster …
R. It is one more incentive since we come from two victories in a row and we have made a good start in LaLiga. We go without pressure, we have much to gain and little to lose and we can get something positive out of the Bernabu.
Q. No one can tell you that you can't because last year they won 1-2 …
A. And in the previous one they tied one with what they have not lost for two years. We know it is difficult, but why can't it be given a third time?
P. It has been on loan for two years. Is there hope to be able to return and be part of that template?
A. In the end, it is good for me that Madrid is giving me up and does not want to let me escape so quickly. I am very young and I have a lot of potential for the future so I want to take experience and minutes and become a man in First Division. Madrid is very difficult for young players, we are seeing it in recent years and what I have to do is go season by season. Hopefully in a few years may be the nine of Madrid.
Q. You have left Real Madrid twice as a loan to Levante. What did Lopetegui tell him to leave as a loan to Levante a year ago and what has Zidane told him to do the same this season?
A. I am sincere, last year it was all very fast and in the end. I started the preseason with Madrid, I talked to the club and the coach and they were convinced that I was going to stay. In the end, they told me that I had to stay, I thought that I had to be in Madrid one more season, but in the end it happened to Mariano and Sevilla in the middle and I had to leave. I would have liked to leave before because the preseason is short and it is not the same to start with the team with the season started. Julen told me that in the end I could go out and be very lucky. With Zidane, I didn't have a chance to talk, I did it with the club, but I imagined it, I'm not stupid either and I wanted to start fast with my team. This season is sure to be much better.
P. Madrid has begun hesitantly. Pre-season weird, LaLiga started winning but then it doesn't start. Get ahead?
A. The big teams have not started very well, only the Atlantic. And that has won games very late as against Legans or even losing 0-2 against Eibar. They are teams that are always up but everything is very close. Madrid has not started very well but every season starts more or less the same. I hope and wish that it will do better after our match if it can be and we know that Madrid has a lot of potential until it is catching air in the season sure to go better.
. (tagsToTranslate) Levante UD (t) Real Madrid (t) Primera División



Source link