Letter to the Three Wise Men from two Canarian children threatened with eviction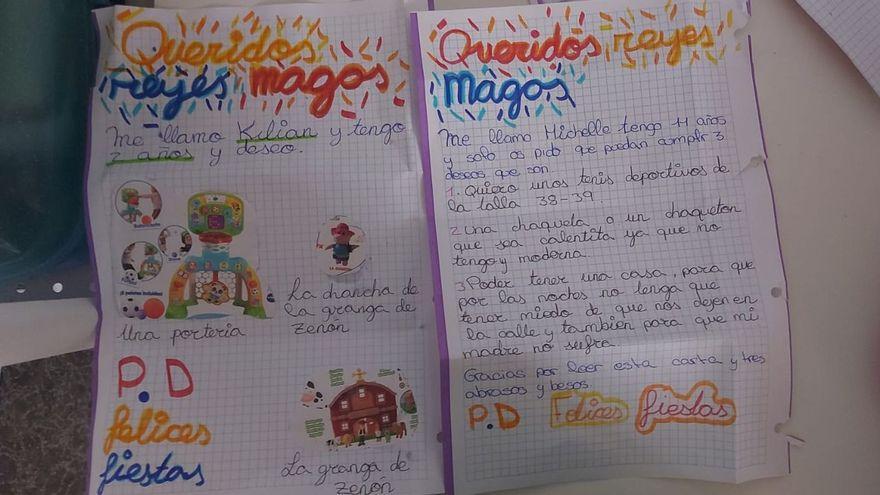 Kilian and Michelle, ages 2 and 11respectively, they are two brothers whose mother has been threatened for years of being evicted from the home where they live in the Tenerife municipality of La Laguna. Now that the dates on which the Magi of the East, despite the suspensions of their rides due to the coronavirus, they will travel throughout the world to reach the homes of all children, Kilian and Michelle have written them heartfelt Letters to Their Majesties from the East, missives that have not left anyone who has been able to read them indifferent.
His epistles, under the headings "A child's dream" Y "A girl's dream"have been made public through the Platform for a Decent Housing and they say like this:
In the letter of the youngest of the brothers, of course, he "wants" a few toys, specifically three: "a portería, the pond of the farm of Zenón and the Farm of Zenón". And in case the Magi from the East had any kind of doubt, the little one accompanies his three wishes with some pictures of the toys that he would like to be left with when he woke up on January 6. The little boy says goodbye to their Majesties with a postscript: "Happy Holidays".
It is clear that the little one of the house must have had the invaluable help of his sister, who is the one who has truly written the letter according to the wishes that his little brother has expressed.
His sister Michelle, with the same handwriting, "asks that three wishes be fulfilled." Thus, the girl writes that she wants "sports shoes size 38-39, a jacket or pea coat that is warm and modern, since I do not have".
His last wish in this letter to the Magi is absolutely moving as he writes: "Being able to have a house so that at night I am not afraid of being left on the street ... and also so that my mother does not suffer".
Little Michelle says goodbye with a "three hugs and kisses" and the same postscript as her little brother: "Happy Holidays".
"May the Magi be able to fulfill all your wishes."