Letizia surrenders to the mastery of Judi Dench and Stephen Frears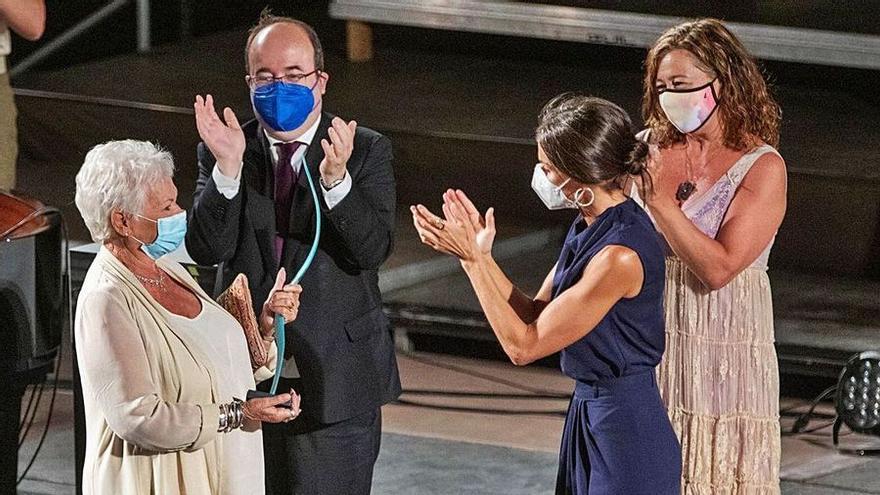 The Queen was erected yesterday in protagonist of Atlàntida, festival that held its closing gala in a courtyard of Mercy taken by more than 300 delivered people. Two greats of cinema, the actress Judi Dench and the director Stephen Frears, they took the applause, and also the awards, the Masters of Cinema, from the hands of a Mrs. Letizia who thus resumed her official agenda after the death, last Tuesday, of her paternal grandmother, the journalist Menchu ​​Álvarez del Valle.
«I never imagined that 70 years after falling in love with this island, in 1950When I first came here, they would give me an award here. I am deeply moved ", Dench confessed after collecting the award from Letizia who did not stop applauding and who even put her hands to her chest in admiration for the British actress, who attended the gala in the company of her current partner , David mills.
The director of Atlàntida Film Fest, Jaume ripoll, pointed out during his speech that Atlàntida has climbed in this edition not a step but "a floor, a mountain, we have grown. Atlàntida is a lost continent that we want to discover, like our films (…), a festival that aspires to expand spectators and that knows that it will not change the world, but maybe some people ".
Among the personalities present at the closing of the festival were the Minister of Culture and Sports, Miquel Iceta, on behalf of the government of Spain; the president of the Government, Francina Armengol; the president of the Parliament, Vicenç Thomas; the mayor of Palma, Jose Hila; and the president of the Consell, Catherine Cladera.
After the awards ceremony, the last Atlàntida film was screened in this edition, The Political Boss, a silent film classic from 1925, disappeared for decades and recovered thanks to the Spanish Film Library, whose deputy director, Carlos Reviriego, was there yesterday in the Misericòrdia, and the Arxiu del So i de la Imatge de Mallorca. A French production that was filmed in Palma and Bunyola, and that addresses issues such as the discrediting of politics.