Letesenbet Gidey, the Ethiopian athlete, world record half marathon in Valencia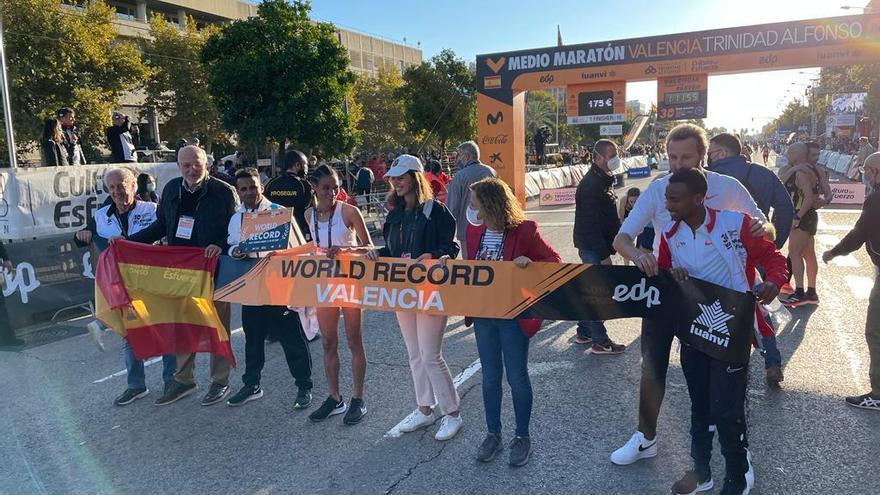 The Valencia Trinidad Alfonso EDP Half Marathon 2021 has achieved a new world record. Athlete Letesenbet Gidey has smashed the previous mark and cut the time by more than a minute. Specifically, the runner of the NN Running Team has crossed the finish line of the Valencian 21K in a time of 1:02:52, much lower than the previous world record for the women's half marathon, obtained by Ruth Chepnegetich on April 4.
The Ethiopian Letesenbet Gidey could not attend the Valencian test last year because of the war in his country, reports Jorge Valero in Superdeporte, a newspaper that belongs to this group, Prensa Ibérica, but with his participation in the 30th edition of the Half Marathon Valencia has managed to enter the history of world athletics.
Gidey, who already knows what it is to achieve a better world record in the city of running (5,000m at the NN Valencia World Record Day), was forceful about his expectations for the Valencia Half Marathon. "I'm sure I can make the world record on Sunday," she said before the meeting with the media. During a brief interview with À Punt after finishing the race, Gidey was "very happy" and thanked "the support" to his team but also to the city, which turns to the races, going out to support the participants.
A 30th anniversary with 'normality' after the pandemic
The 30th edition of the Valencia Trinidad Alfonso EDP Half Marathon, which was held this Sunday and in which 12,000 runners participated, aimed to break the women's world record with Yalemzerf Yehualaw and Letensenbet Gidey as great candidates.
"The ambition is total, with five runners under 59 minutes we are prepared to have a great race in the men's category, but in this edition the ambition is higher since within the women's group we will have a great battle between Yehualaw and Gidey for the record ", affirmed the director of the event, Paco Borao.
Among those 12,000 registered from 87 countries, male participation was 78% and female 21%, as reported by the organization this Tuesday at the presentation of the race, whose start and finish line are located on Tarongers Avenue.