Lesson from Oviedo to UD Las Palmas with a double by Nahuel Leiva (1-2)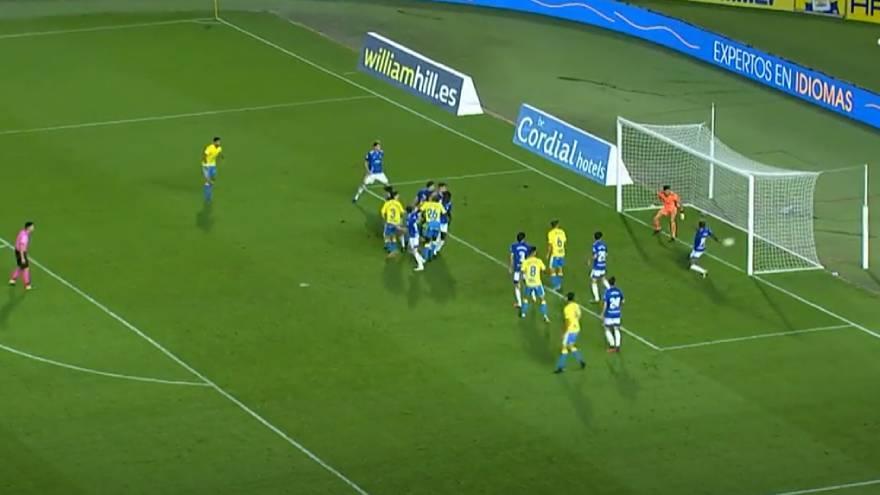 Real Oviedo ended their losing streak with a brilliant victory against UD Las Palmas (1-2), in an exhibition against the counterattack and 'double' by Argentine Nahuel Leiva. A victory that could have been greater due to the clear missed chances, including a penalty missed by Blanco Leschuk, and that shortened the home team very late with a goal after a corner. The Asturian team, led from the wing by Bingen Arostegui -'Cuco 'Ziganda was serving a sanction-, showed that possession of the ball is often a misleading statistic. Las Palmas had the ball, but it did not generate danger, and when his rival stole it, he planted himself in the opposite area with great speed and great precision.
Thus came the two goals from Nahuel Leiva, a player on loan from Tenerife, in individual transitions, first to Edgar's pass and after picking up a rebound from the post on his first shot, and two minutes later at the service of Sangalli, from a crossed shot in the race .
Also in two minutes, but in the opposite goal, Femenías made two stops to Araujo with a goal value, and the first was a special one, a heads-up that he rejected against the Argentine forward.
After the break, Oviedo could have tied the points but Blanco Leschuk missed a penalty committed by Sergio Ruiz against Sangalli, with some suspense, because the referee was slow to make his decision, later confirmed by the VAR. Álvaro Valles rejected the shot at mid-height from the Argentine striker.
Shortly afterwards, the Carbayón team forgave again on a triple occasion: Valles saved against Sangalli, Nieto shot at the post, and Nahuel volleyed very high, all in the same play.
Although it did not arrive, the 0-3 was always closer, but what occurred was the 1-2 in a corner of Benito that Álex Suárez finished off and that gave emotion at the end, although without endangering the deserved one, and short, away win.
DATA SHEET:
1. UD Las Palmas: Álvaro Valles; Álvaro Lemos (Eric Curbelo, min. 68), Álex Suárez, Aythami, Dani Castellano; Sergio Ruiz; Rober (Maikel Mesa, min. 68), Loiodice (Benito, min. 46), Clemente (Clau Mendes, min. 58), Kirian; and Araujo (Iemmello, min. 68).
2. Real Oviedo: Femenías; Nieto, Carlos Hernández, Christian Fernández (Arribas, min. 46), Lucas; Sangalli (Viti, min. 71), Edgar, Tejera, Borja Sánchez (Cedric, min. 86); Nahuel (Javi Mier, min. 80) and Blanco Leschuk (Obeng, min. 80).
Goals: 0-1, min. 19: Nahuel. 0-2, min. 21: Nahuel. 1-2, min. 89: Alex Suarez.
Referee: Ortiz Arias (Madrid Committee). He showed a yellow card to local player Álvaro Lemos and visitors Christian Fernández, Edgar, Carlos Hernández and Javi Mier.
Incidents: Match of the tenth round of LaLiga SmartBank 2020-2021 played this Saturday without an audience at the Gran Canaria Stadium.