Lee Goldberg, or how to love the eccentric detective | Elementary Blog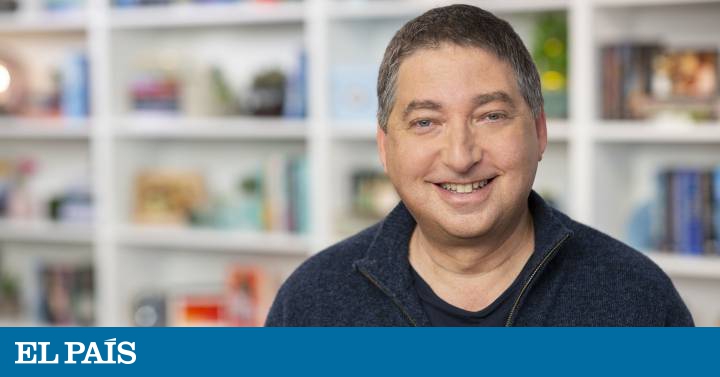 Eve Ronin didn't want to be famous. Eve Ronin just wanted to be a detective. But it happened that he put a well-known Hollywood actor at bay, someone recorded him with his mobile and his brilliant performance went viral. Ronin was just a rookie then. Where? At the Los Angeles County Sheriff's Department. Since the fame of sheriff not very good, he decided to promote Ronin, better known as Death Fist, to tell himself that he did things right. And now everyone hates Ronin. Everyone except Duncan Pavone, his partner in Homicide. Why doesn't he hate her? Because he is about to retire and everything does not matter to him except the donuts.
The creator of Monk, the talkative and expansive Lee Goldberg (Oakland, 58 years old), screenwriter of countless very varied noirs televisions as Murder diagnosis and Spenser, private detective, lover of the police absurdity of Ed McBain and his delusional 87th District Police Station and the also hilarious Lawrence Block, decided, anticipating confinement and life on a small scale, to invent a pair of detectives who could pass daily at the door of his house . His home is in Calabasas, California, the city in which he operates, in eternal dispute with the Los Angeles police, the somewhat anachronistic and marginalized County Sheriff's Department.
"I said to myself, why write other detective series set in Los Angeles? I mean, it couldn't compete with all the ones that are already set in the city, let alone the classics,Chandler!", He says. So it occurred to him to shift the focus a bit and take advantage of the jurisdictional dispute. Although what he really wanted was to create a police station. "I wanted to do like Ed McBain," he says too. But first, he adds, he had to find out how the thing really works. So he signed up for a detective seminar in Wisconsin. "It was there that I came across the case that I relate, because for the first time I am based on a real case, and also with something called cop common sense", He says.
He is at home, in his office. On the table, in addition to the outline of the third novel in the series starring Ronin – the first, California Hills (RBA), has just been published in Spain – there is a Diet Coke and a packet of peanuts. The song of a soundtrack "of a series of cops" plays. In fact, they ring all the time, he says. He believes that the success of any series – literary or television – with a detective depends solely on the detective. "The case is always the least," he assures. Although in this case it is special. "When I heard the story told at that seminar, I couldn't get it out of my head," he recalls. Neither does the concept of "cop common sense."
The case in question was that of someone who goes to someone else's house because they do not answer their messages and discover that the house is empty but there is a lot of blood everywhere. A woman lived in the house with her two children and a dog. There is no trace of their bodies, but there is so much blood that it seems that whoever took them has taken them to pieces. This is how he reproduces it in the novel. "What I learned in that seminar is that the police must always act as if it were their first case, putting aside everything they learned, that is, nullifying the concept of common sense. And what better than a case that is also unique for a rookie detective like Ronin? "He wondered.
Expert in creating eccentric detectives, or rather, fallible, that is to say, with weaknesses, and, of course, not classically tormented – "oh, I consider those male detectives alcoholic boring, pure cheap cliché", says -, Goldberg takes a turn from nut to show business – and confronts Ronin with his unfolded self – turning his detective in this case into the protagonist of his own television series – yes, he has become that famous – and into an unrecognizable and unreachable other self with the one who cannot stop competing. "When that happens, Ronin will face his own myth," he says. A little like the way the city of Los Angeles does it every day.
Movies and series have been shot in Los Angeles since the 1950s. The entire city is a set. And that affects her

Lee Goldberg
"Yes, movies and series have been shot in Los Angeles since the 1950s, and not just in studios, on the streets, on the beach, in parks, and within some schools, shops, museums, and entire neighborhoods. It is to go out and run into a camera. The whole city is a set and that, of course, affects her. In addition, it acts as a factory would do in which the workers are actors, directors, screenwriters. That is, they intersect everywhere. Living in Hollywood is in a sense being the star of your own movie, one that only your head emits. And you can't help but talk about it when writing something set in Los Angeles. Because the city and those who live in it are reflected on the screen all the time. They live in the dream that they themselves have made ", he considers.
He knows what he's talking about. His mother – who Ronin's mother relies on, because "I'm actually very much like Eve," he says – was a famous columnist who never made it as a novelist. His father presented the news. "Seeing him on television every night made me familiar with the medium. For me, television was part of the family, "he says. His parents separated when he was nine years old, and he was left in the hands of the novels he read and the thousands of series he watched. "My father literally abandoned us, and my mother stayed, but it was as if she was not there. She was a bit of a girl, too, so I suppose I was raised in part by fiction, "she says. The novel that made him a writer? Fletchby Gregory McDonald. "I have never read anything like it. I wanted to have fun like this, "he recalls.
Why the crime novel? "I do not know. Since he was a child, he had mostly read crime novels and had seen mostly police series. I think it has to do with the order imposed by criminal fiction. Order the world in a sense. Faced with a situation of loss of control, he tries to regain it, making sense of the chaos that a murder supposes. Perhaps I was looking for the order and peace that is achieved when a crime is solved in my own life, which was pure chaos then. I think I became a writer basically for that. To find the meaning of what is happening, and to escape from chaos ", he answers. He also says that "writing a crime novel is like trying to do a magic trick without hiding anything. That is, not only does the story have to be good, some kind of magic must be produced ".
Inexplicably unpublished in Spain, there were 15 installments of the adventures of the detective with obsessive compulsive disorder Adrian Monk – which he adapted for television himself – and affirms that Ronin has come to stay, perhaps as long as that. So, will we see her with a mask? To what extent is criminal fiction going or not to flee from this pandemic situation that we believe is transitory but perhaps not? "I would not mind adding the pandemic at all. It is one more obstacle. Something to deal with. But the editors are not yet on the job. They don't think people want to read about anything that has to do with masks, "he replies. "Although the television series are already talking about it," he adds.
Since the conversation takes place the day after the assault on the Capitol, it is inevitable to ask him about Donald Trump. He says "delirious." "It is probably the most dangerous threat the United States has faced since Adolf Hitler," he says. He also says that they both have a lot in common. "Trump is like Hitler, an egocentric racist, mad about power, who has appealed to the worst of humanity, and who has fed on the despair and fear of the working class," he says. He does not understand his dire inaction in the face of the pandemic. "I still can't believe someone voted for that half-ass hustler. He has lied from day one, "he says.