Leclerc, lightning at home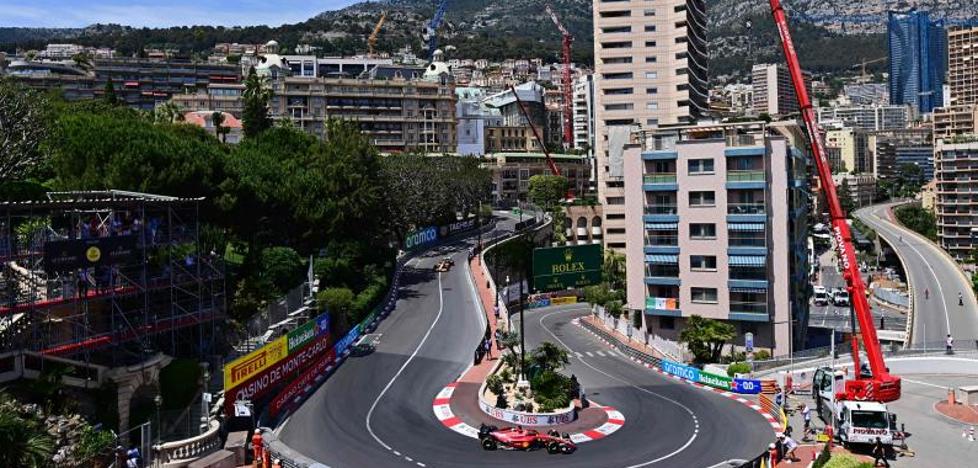 Monaco GP
The Monegasque dominates with authority the first day of work in front of his fans and makes it clear who is the favorite
After losing as he lost the Spanish GP, for Charles Leclerc arriving at his home circuit is not only an extra motivation, but also a need for reaffirmation. The curse that haunts him is beginning to pass the joke to become an obligation. It's not that he hasn't won any races since he's been in Formula 1 in front of his audience, it's that he hasn't even completed them. For having problems he has had them even in exhibitions, like when he crashed a mythical Ferrari 312T like the one used by Niki Lauda in one of his titles with the Scuderia. The streets of the Principality are banned, ironically, for a young man who grew up in them.
That is why it was so important for Leclerc to dominate with authority on the first day at home. With a huge banner in one of the points that played with his surname and the word L'eclair ('The lightning') to encourage him, the one who was the leader of the World Cup until last Sunday won the first and second free practice sessions with relative ease. Very relative, because between him and his immediate pursuer, Carlos Sainz, there was barely half a tenth. The extreme equality between the Ferraris plays in his favor at the moment, but he is aware that he has a lot of pressure not to fail. He neither should nor can.
And is that if Ferrari started one (or two) steps ahead of Red Bull in free practice, you can not forget what happened in Montmeló. Both he and Sainz promised them very happily, but on such a convoluted and old-fashioned circuit, it is the hands and concentration that make the difference. Tell it to Daniel Ricciardo, protagonist of the first (and only on Friday) accident in this edition of the most mythical Grand Prix of the single-seater car competition par excellence. The Australian hit the walls with his McLaren, causing a red flag that this Saturday could be repeated again in the classification if the runners are not 100% focused.
With his future more questionable than ever, ironically after a memorable comeback, Fernando Alonso has before him a weekend that could be extreme: either very good or very bad. He was already in the photo of the first incident of the session, when he got stuck between the wall and Mick Schumacher's Haas at the pitlane entrance, when the German's Haas was blocked by a fault in the MGU-K. The Spaniard was an extra on the scene, but he can serve as a warning for what lies ahead for the rest of the weekend.
After some very hesitant first free practice, Alonso was eighth in the seconds. Very good news for him, who was able to test the performance of both the medium and soft tires in conditions on very hot Monaco streets (even stormy, there is a certain chance of rain on Sunday) where he wants to shine. What better setting to clear Alpine's doubts than Monaco, where legends were forged, and show them that there is no young talent that can replace his hands?
If Alonso is able to dodge his own and others' mistakes, in addition to the walls, he can give the bell. And it is that the middle zone that seemed to have distanced itself in Spain has stirred much more in the streets of the Principality. The Grimaldis will host a race different from other years, as many see it as impossible to drive without crashing these huge cars. Lewis Hamilton, for example, left an uncomfortable impression for his fans: hitting the steering wheel and tilting his head because he was unable to control the rebound of his W13. He also had something similar happen to George Russell, one of the great surprises of this championship start, who has not yet dropped out of the 'top 5' in any of the disputed races.
This Saturday's classification will be key. In a circuit where overtaking is a pipe dream, neither with DRS nor without it, getting into Q3 is a must for all those who aspire to at least score points. Fernando Alonso among them, but not exclusively. It is also a golden opportunity for Carlos Sainz, where he already achieved a magnificent second place here a year ago.