LeBron James surrenders to Marc Gasol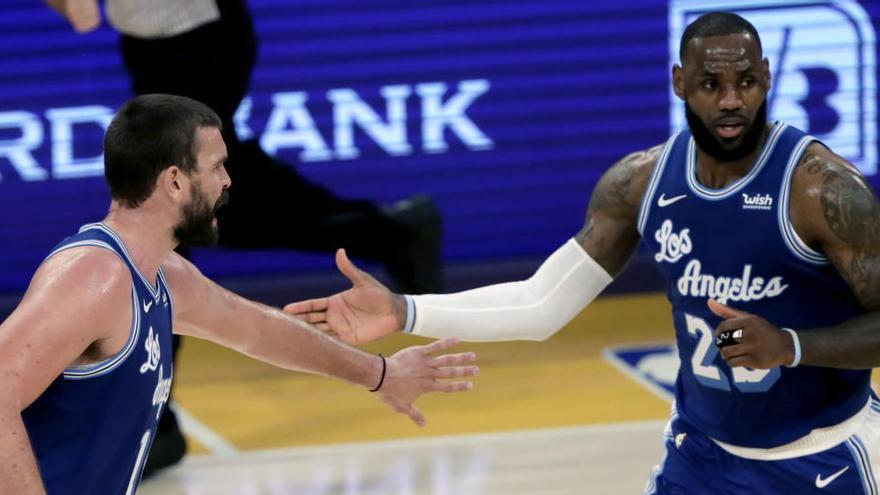 Marc Gasol shone in the resounding victory of the Los Angeles Lakers over the Minnesota Timberwolves (127-91) and, after the game, received praise from Lebron James, who he especially praised the Spaniard's passing ability.
"There are some players who see the plays before they happen. They do it with their mind, they do it with their passes … And Marc is one of them, "said the star of the Los Angeles team at the post-match press conference.
"See this sport in a very similar way to how I see it", he added, and praised Gasol's" intelligence in basketball. "
The pivot achieved 12 points (without shooting errors and with 3 of 3 in triples), 8 assists, 7 rebounds and 4 blocks in the 20 minutes he played against some weak Wolves of his compatriots Ricky Rubio (9 points, 4 rebounds and 4 assists in 18 minutes) and Juancho Hernangómez (6 points and 5 rebounds in 13 minutes).
Gasol stroked the triple-doubleHe came out again in the Lakers' starting five and gave a pass recital from the high post, an aspect of his game highly appreciated by the Los Angeles team when it was decided to sign him.
Just at the end of the meeting, the Spaniard was interviewed by American television on the Staples Center court in Los Angeles (USA) and summarized his first impressions after three games in NBA with James. "He is a very unique player," Gasol said with a smile.
"He has great intelligence. He sees everything on both sides of the track. He is very generous and is a great teammate," he said.
Lakers coach Frank Vogel also joined Gasol in compliments, who in the two previous encounters had not had much fortune in the offensive field. "With Marc in the high post, we finally saw (today) how we can be when we play with him with his pass from there," he said.
"Tonight was fantastic (…). We talked about this: we didn't do enough (to play with Gasol) in the first two games (…). And all of our players know that when the ball reaches Marc Gasol, the movement is activated, "he added.
The Lakers, who won the NBA title in the Orlando "bubble" (USA), added their second victory of the season and will face the Portland Trail Blazers on Monday.