Laura Alberola: «You have to take care of yourself by looking at your habits and not your weight»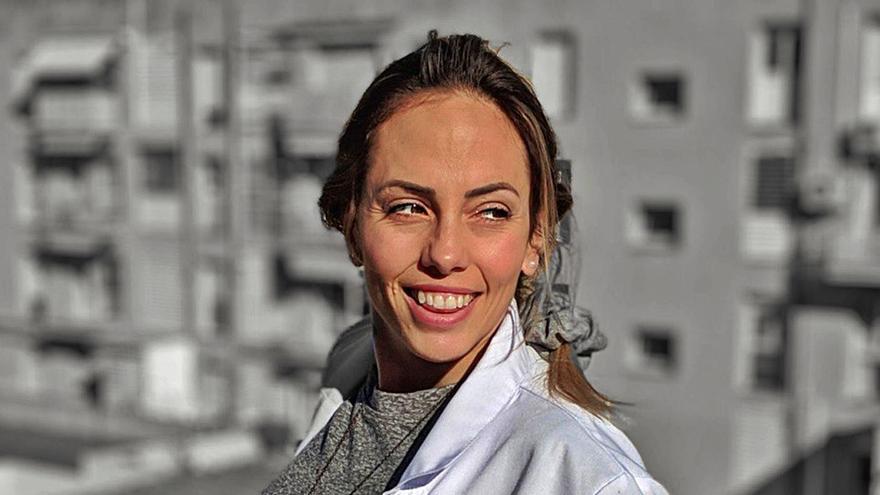 What are the international conferences on Gordofobia and aesthetic violence that started yesterday about?
These conferences are made up of various professionals who are going to talk about these two topics, gordofobia and aesthetic violence against women. In the latter we can all feel a little reflected on how much we can achieve by having a body considered normative, a type of beauty or by preserving youth. There are many ways to exert degrees of violence towards our body to fulfill certain canons. This, taken to body size, could be translated as gordofobia, a terminology that Magdalena Piñeyro, creator of these days, has established. When we talk about gordofobia we refer to that stigma, that repercussion that all people suffer if we do not have a normative body, but also if we have it because there is pressure to maintain it.
How do diets affect women and what are the consequences on the bodies and health of adults and girls?
The effect is terrible. To girls it usually brings a trauma that they have to work on or leave the space to heal as adults. Diets have physical and emotional effects, such as an increased stress load on the body, which translates into depression and anxiety. In general terms, there is a lower quality of life.
You are an expert psychologist in TCAs. What does it mean?
These are eating disorders, commonly known as anorexia or bulimia, although they cover much more. When a TCA starts to manifest we call it a debut. The age of onset is getting younger. Before the average was about 13 years, when people started their first diet. It is true that ED is more prevalent in adolescence, but disorders can occur at any age. It is stipulated that, from 2 to 5% of the population, suffers it or will suffer it at some point in their lives, about 70 million people in the world. There are, in addition, other figures that increase it because it is estimated that only 20% of eating disorders are diagnosed, with which there are difficulties in access, either due to health exercise policies, economic difficulties or the stigma of a disorder of eating behavior. 80% of people suffer and perhaps die from it.
He will address in his presentation Why gordofobia makes us sick and kills us, its implications for mental health. Explain to me what you will talk about today.
In health terminology, gordofobia is transferred to weight bias. It is about associating beliefs with people who have a larger body size than is socially acceptable. We see the fattest individuals with certain associated abilities. For example, one of the beliefs is that they are lazy, dirty people, who do not take care of themselves, who do not move or who eat in a certain way. We all have this stigma of weight because it exists on a social level. It also permeates the health system and means that people are treated in a worse way by the health workers and medical and non-medical teams that accompany these services, which has consequences such as that they are not offered adequate treatment, or the same time that those who have a normative body or do not get a good diagnosis, that is to say, that many times it is associated that the problem is the weight and that when you go down on the scale you will be able to see the real problem.
What are the mental health problems and eating disorders that diets can cause?
Within eating disorders we speak of a diet being the greatest precipitating factor because, as the name suggests, it precipitates the person, that is, diet is the main cause of someone falling into a conduct disorder food, which does not mean that it is the only factor, but it does have great importance. Outside of eating disorders, there are individuals who live under depressive symptoms, anxious, with low mood due to diets that, 95% fail, that is, people regain their weight after 5 years, which that causes feelings of guilt, frustration, little worth and affects self-esteem and the perception of oneself for not being able to meet the objectives, because it is not known what is being done wrong or why they have gained weight.
"About 70 million people in the world suffer from eating disorders"
How can we take care of our body and our health without hurting them?
By looking at our lifestyle habits, without focusing on weight. The key is to take it out of the equation. For example, I like to eat vegetables for a good digestion and because it helps me to go to the bathroom, which is different from saying that I can only eat that, it is the only thing that fills me and I do not eat empty calories. These are two very different points of focus. Another example: I am going to play sports because when I move I feel better, with more vitality and agility and my body is not so numb is a very different statement than thinking: it is that I have to go to the gym to burn the calories that I am going to eat this weekend. You have to take out of the equation what are calories, weight and what comes from the culture of diets.
You were a fitness teacher and one day you understood that no body needs to be modified, but that everyone must be accepted and, above all, cared for. Explain your change process to me.
It was the biggest existential crisis I have ever experienced. I was a coach and my mission was always to help people. I started as a retrainer. He supported people in recovering from injuries, operations, and mobility. Then I got into the world of fitness and got interested in it. I made training and follow-up plans focused on individuals changing their body, but I saw that there were things that I did not like and did not understand. I felt that something was wrong. I observed that people suffered a lot, had a very bad time, felt a lot of anxiety. I had to study psychology, something that I had always liked, which I met in high school and decided to start a distance degree. When I finished it I was clear that I wanted to continue learning and I saw that TCAs were the closest thing in the world of fitness. He understood that bodies are made to accept them and that they can live fully, whatever size they are. The health in all sizes movement appeared before me, based on scientific evidence and that gives us health professionals an inclusive weight-neutral vision.