Latin Grammy, or Shakira's last spite: women bill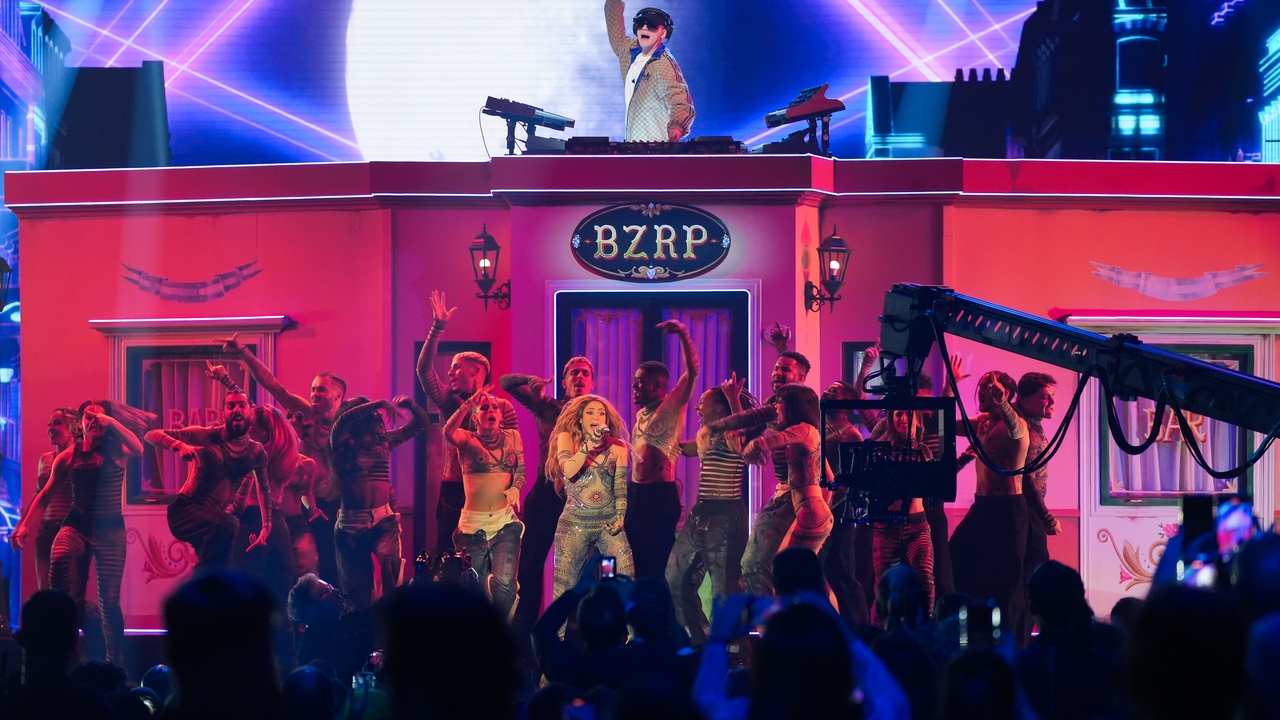 Lola Flores, Camarón, Carmen Amaya, la Niña de los Peines, Manolo Caracol, Enrique Morente, Paco de Lucía... The night was for them. For the quejío, the palmas por bulería, the zapateo of the tablaos and the immensity of flamenco. Also for "the greatest", for Rocío Jurado, who opened the 24th edition of the Latin Grammy gala with her eternal "Se nos roto el amor", through the voice of Rosalía. The artist, nominated for Record of the Year for "Despechá", was in charge of kicking off a ceremony that lasted three hours at the Seville Congress Palace (Fibes). An evening with an Andalusian accent that consistently and categorically yielded music "of purity, art, category and palate, but very difficult, which is not of the majority like others, but of category," defined Niña Pastori, who won the Latin Grammy for Best Flamenco Music Album, for her album "Camino."
Antonio Banderas summed it up this way: «Seville is a fertile land for artistic creation, the land of Lorca, Machado, Velázquez, Picasso, Falla, our beloved Paco de Lucía and many others. Andalusia is a pentagram on which you can write the song of your life. In this sense, the setting was able to combine the Gothic and Mudejar art of the Alcázar of Seville with the baroque of the Plaza de España, or with the Moorish and Renaissance that extends under the Giraldillo. A contrast, therefore, of cultures, a concept that was expanded ad nauseam during the Latin Grammy gala.
Last night was a tribute to Latin music, to Spanish and Ibero-American sung: to urban music, rap, rock, salsa or jazz. The stage became a real party where all styles, rhythms and genres fit. Alejandro Sanz also performed, delighting the audience with his iconic, historic and renowned song "Corazón partío". He did it surrounded by dancers dressed in folkloric and flamenco motifs, as well as other artists such as Ozuna, Carín León (she won the Latin Grammy for Best Northern Music Album for "Colmillo de leche"), Sebastián Yatra, Manuel Carrasco with Camilo, or Juanes. One of the most anticipated performances came from Peso Pluma and Eslabón Armado, who for the first time met live to perform a song that, since it came to light, quickly went viral in both Latin America and Spain: « She dances Alone".
But, if we have to highlight one of the night's live performances, Shakira and Bizarrap must be mentioned. Both were awarded the Latin Grammy for Best Pop Song and Song of the Year, for the session they performed together and which caused a real phenomenon on social networks: with this song, Shakira winked at her breakup with Piqué, a situation that generated more songs, which captured the interest of his audience and a large part of social networks. "There was a lot of work behind this topic, Shakira was able to express what she felt, and that is the most important thing," commented Bizarrap upon receiving the award, while her partner expressed herself with modesty: she thanked her colleagues, her Latin audience, but also to the Spanish, who "has been accompanying me through the good times and the bad, in difficult times that I have gone through in this land that I have loved so much. Not a single day have they stopped giving me love and support," she explained. Both performed this song during the ceremony, in one of the most spectacular performances: Bizarrap took over his mixing console, and after performing with Milo J he ended up with Barranquilla's. The latter also previously performed with "Acróstico", a song dedicated to her children, who also sang part of the song. An interpretation that, at least it seemed that way, could have served as an anesthetic to the pain and spite. To her children, the artist said, "I have promised them that I am going to be happy, that they are going to have a mother who is going to laugh with all her laughter, because they deserve it, so I am already thinking about what is to come." , the songs I'm going to write, the tours I'm going to do. As a friend says, there is nothing in the past, only the future is remembered.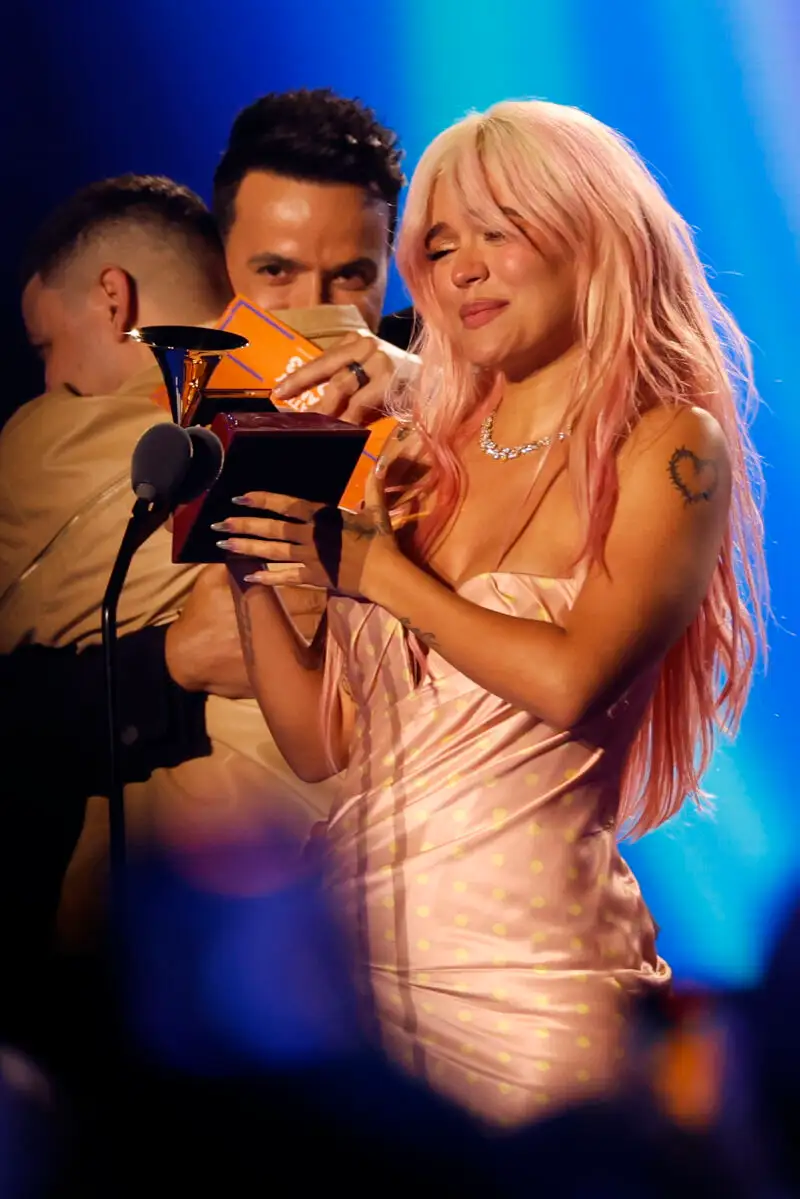 From Lafourcade to Pausini
Another of the great categories of the night, Recording of the Year, went to Natalia Lafourcade. The artist, who was competing with Shakira, Rosalía, Alejandro Sanz and Danny Ocean or Pablo Alborán, won the highly valued award. She did not arrive on stage to receive him, as the artist was on her way to speak with the Press, who was found throughout the gala in a room a few minutes from the ceremony site. This meeting with the Lafourcade media took place on the occasion of other awards that the artist won: Best Singer-songwriter Album and Best Singer-songwriter Song. All this, thanks to "Of all the flowers", title of both the album and the award-winning song, and with which Lafourcade joined the long list of awarded and recognized women of the evening.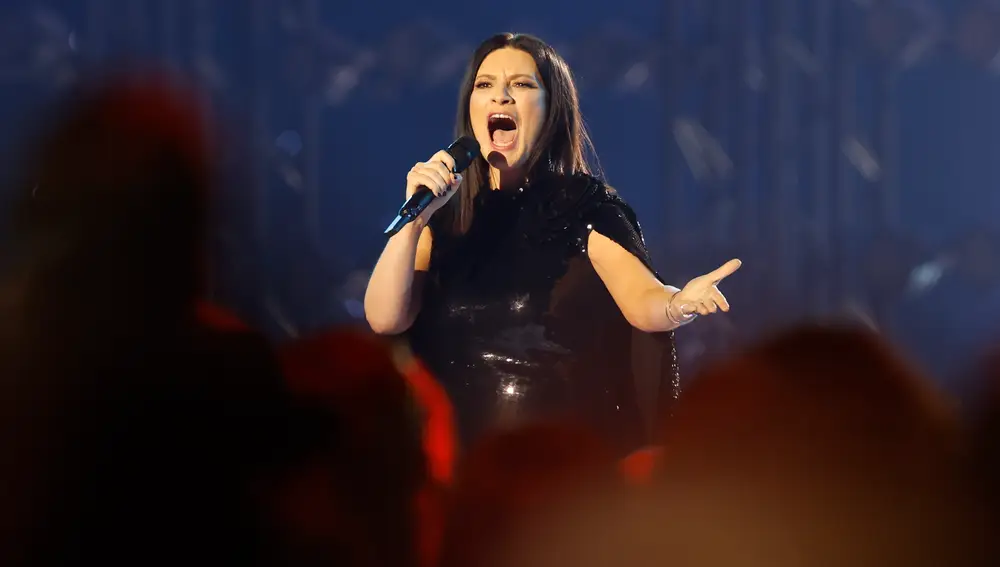 "I can't believe that the Latin Grammy for Best Urban Music Album goes to a woman!" celebrated Karol G, who also won the statuette for "Tqg" (along with Shakira) for Best Urban Fusion/Performance. And last but not least, Laura Pausini, the 2023 Person of the Year, selected by the Latin Recording Academy. The artist performed, and received a tribute in capital letters, as she highlighted "the importance of women in the world of music." «For 30 years I have had a very privileged life, not only because I have the great pleasure of singing in Spanish, but above all because since that day I have felt adopted by all of you as a daughter, a sister, a person from your family environment. . Thank you," Pausini said excitedly. In short, flamenco, folklore, closed wounds, rhythms, variety, plurality, art and female empowerment. Long live Latin and Spanish music.
The winners

►Recording of the Year to "Of all the flowers", by Natalia Lafourcade.

►Album of the Year to Karol G for "Tomorrow will be nice"

►Song of the Year to "Shakira: Bzrp Music Sessions, Vol. 53".

►Best New Artist, to Joaquina.

►Best Pop Vocal Album, to Julieta Venegas, for "Tu historia".

►Best Traditional Pop Vocal Album, to Andrés Cepeda, for "Decimofourte".

►Best Pop Song, «Shakira: Bzrp Music Sessions, Vol.53».

►Mejor Fusión/Interpretación Urbana a «Tqg», by Karol G featuring Shakira.

►Best Reggaeton Performance, to "The recipe", by Tego Calderón.

►Best Rap/Hip Hop Song, "Coco Chanel", by Bad Bunny, Eladio Carrion, Xavier Martinez & Bigram Zayas.

►Best Urban Song, «Quevedo: Bzrp Music Sessions, Vol. 52»

►Best Rock Album, "Sólo D'Lira", by Molotov