Laso throws a dart at Real Madrid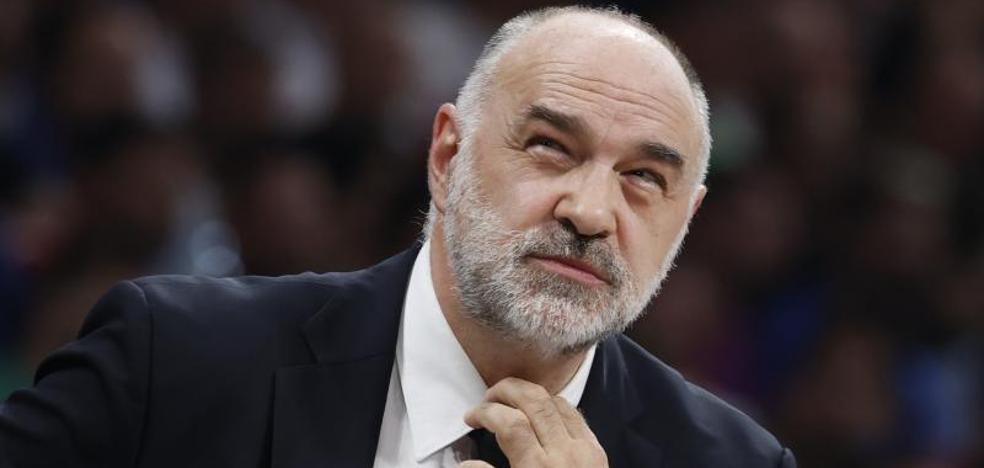 The coach from Vitoria, fired by the Chamartín club, underlines on his social networks that the doctors allow him to "professionally train any basketball club"
Full-fledged slap on the wrist from Pablo Laso to Real Madrid. The coach from Vitoria, to whom the Chamartín club informed on Monday that he would not continue to lead the basketball team, alluding to medical reports that advised against his return to the bench in September, has published a message on his social networks in which he shows « happy to share with the whole world» that he has «full and express confirmation from the doctors» who have treated him that he can «professionally train any basketball club».
Laso, who was discharged yesterday, just two hours before Real Madrid issued the statement informing of the decision to remove him "for medical reasons solely and exclusively", also wanted to thank "the samples of attention, affection and affection» that he has been receiving since Monday. "In a very short time I will attend you personally to respond to your interest," he added.
The news of
Laso's dismissal has shaken up Spanish basketball and has turned the Real Madrid basketball section upside down, which he propelled towards one of the most successful stages in its history thanks to winning 22 titles in eleven seasons. Although Real Madrid argued that their priority was "first of all, Pablo Laso's health out of respect and affection for him", the truth is that the decision has triggered a great earthquake among the Real Madrid fans and has surprised inside the locker room , where Laso was a much loved and respected figure.
Stupor in the locker room

Jaycee Carroll, who spent ten seasons under the command of Pablo Laso at Real Madrid, made the club's decision ugly from his retirement in Utah, from where he sent a clear message. «It should be a decision of Pablo and his family, with his doctors. If the Laso family, knowing the risks, wants to continue, perfect. That Pablo is on the bench in September«, pointed out who is the foreign player with the most games played wearing the white elastic. Sergio Llull, current captain of Real Madrid, gave a 'like' to a tweet in which the Chamartín club was put back and a half for finishing off Laso's departure while the entity's account tweeted a photo of Yabusele, Causeur and Poirier accompanying a message that read »Starting the week!« accompanied by a couple of smiley emoticons.
While the controversy raged, Real Madrid made it official on Tuesday that Chus Mateo, Laso's main assistant since 2014, will be the first team coach for the next two seasons. The club's statement assured that his arrival occurs after Real Madrid and Pablo Laso have "decided by mutual agreement to end his relationship as coach of the first basketball team", something that, according to the messages from the Vitorian, does not respond by complete to reality. "Real Madrid wants to show its gratitude and affection to Pablo Laso for leading our team in one of the most successful stages in our history," the note added.