Las Palmas is consolidated as the second port in the State in 'bunkering'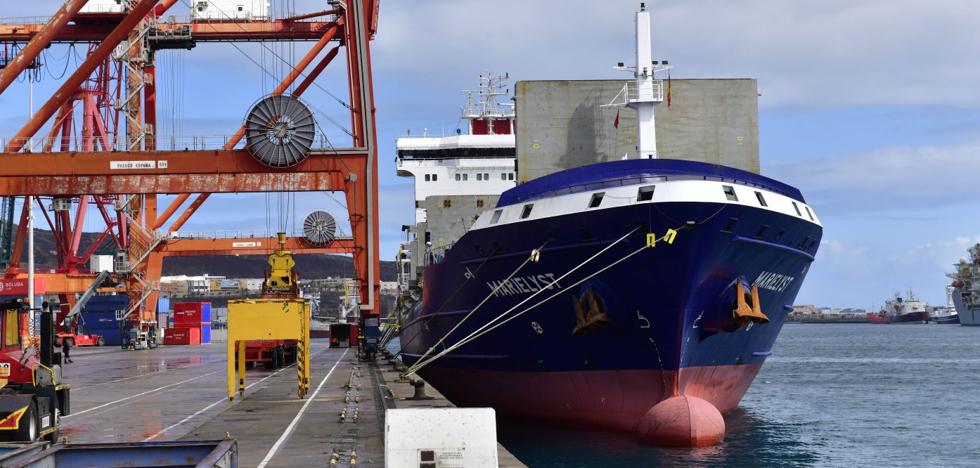 Algeciras maintains its leadership in fuel supply. At a regional level, Las Palmas doubles Santa Cruz de Tenerife, which ranks 14th in port activity
The port of Las Palmas has established itself so far this year as the
second port of 'bunkering' of the State. According to data published yesterday by Puertos del Estado, La Luz supplied ships up to July with a total of 1.3 million tons of liquid fuel (+13.41%), which gives it the second position.
The port of Algeciras remains the national leader for another year, with just over 2 million tons of fuel supplied, almost 40% more than a year before. In third position, with almost one million tons, is the port of Barcelona, ​​followed by Ceuta and Valencia.
In seventh position is the port of Santa Cruz de Tenerife with 178,662 tons, well below Las Palmas. So far this year, the Tenerife venue has fallen one position as its 'bunkering' fell by 20%.
In total, the Spanish ports as a whole supplied a total of 5.4 million tons of fuel, 22.5% more than between January and July 2022.
The activity of 'bunkering' or supply of fuel to ships is one of the main activities of La Luz. There are currently four companies in the port of Las Palmas:
Peninsula Petroleum, Cepsa, Minerva and Oryx.
In addition to the second position in 'bunkering' the port of
Las Palmas is placed in eighth in total traffic in the first seven months of the year, with 16.4 million tons.
Santa Cruz de Tenerife, far from Las Palmas

Far away is its neighboring port, that of
Santa Cruz of Tenerifewhich occupies the
position 14 of the national ranking, with 6.7 million tons, less than half that of Las Palmas.
According to data from Puertos del Estado, the first position is occupied by Algeciras, with 63.1 million tons (+3.82%), followed by Valencia, with 48.6 million tons (-2.17%); Barcelona, ​​with 42.6 million (+10.63%) and Cartagena, with 21.5 million (+20%). Bilbao occupies the fifth position, with 19.2 million tons (+9.8%), followed by Tarragona, with 18.4 million (+5.1%) and Huelva, with 18.1 million (+9.95 %).
The eighth position, as has already been pointed out, is for Las Palmas, with 16.4 million tons, after registering a slight advance of 0.29%. In the set of Spanish ports, traffic amounts to 332.7 million tons, almost 7% more than in the same period of 2021.
In
general merchandise the port of Las Palmas occupies the fourth position in the State, with 9.9 million tons. It is also in fourth place in goods in transit, with 6.9 million tons (-17%). Above are Algeciras, with 36.3 million; Valencia, with 19.1 million and Barcelona, ​​with 15.7 million.
Las Palmas also ranks fourth
in number of containers, with 680,374. Ahead, Valencia, which exceeds three million teus; followed by Algeciras, with 2.7 million, and Barcelona, ​​with 2.1 million.
Until July, Santa Cruz de Tenerife registered almost 271,000 TEUs. The figure is half that of the Port Authority of Las Palmas but its trend is upward, with a rise of more than 13% in the accumulated figure.
Leading in cruises

The Port Authority of Las Palmas was the third in the State in
number of cruise passengers. 442,255 cruise passengers moved through its ports. Above were Barcelona and the Balearic Islands, with more than one million and 758,735, respectively.
In fourth position is the Port Authority of Santa Cruz de Tenerife, with 312,921 people. If the number of ships arriving is analyzed, Las Palmas is in second position with 384 cruise ships. Barcelona leads with 417. In third position is the Balearic Islands, with 363 and in fourth, Santa Cruz de Tenerife, with 355 boats.