Las Palmas Atlético embraces the 2nd RFEF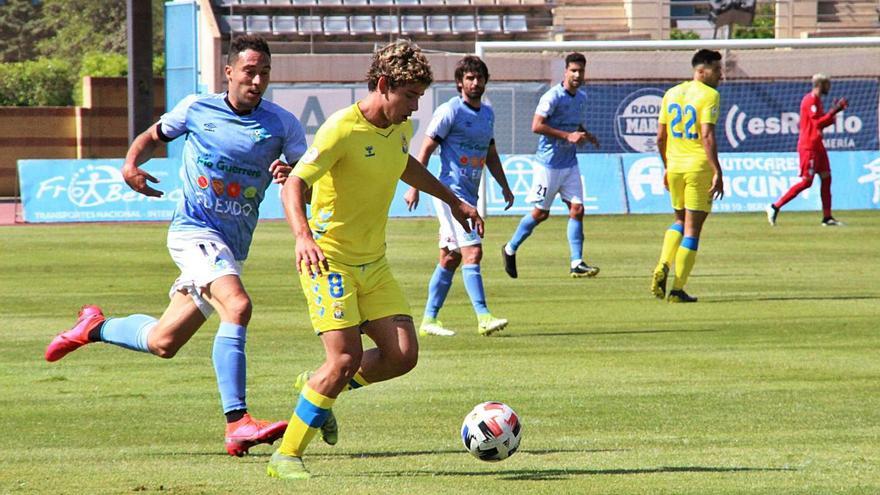 Las Palmas Atlético fulfilled its duties in Santo Domingo and won a vital victory (1-3) that allows it to caress salvation in the 2nd RFEF. A superb victory, which resulted in goals from Sergi Cardona and Sato, allowed the small sail to go into halftime with a comfortable lead on the scoreboard. With the break, Sergio Simón widened the gap, while the goal from Gran Canaria Isaiah was insufficient for El Ejido.
The initial persistence of the yellows had its fruits after the quarter of an hour with a play in which Sergi Cardona penetrated the left flank of the area and beat the goalkeeper of the Almeria team from below.
Juan Manuel Rodríguez's team continued to enjoy clear arrivals and a choppy shot from Sato was cleared, under sticks, by the local team. In the 40th minute, a strong volley shot from Javi Siverio found a good stop below the goal.
In the extension of the first half, Pipo again found the spaces to provide an accurate service to Sato, who defined with mastery to allow Rodríguez's squad to reach the break with two goals ahead.
After the restart, Las Palmas Atlético left the victory on track in Santo Domingo with a spectacular play inside the Almeria area in which Juan Fernández, Pipo and Javi Siverio participated. The latter gave in at will for Sergio Simón to push the ball into the net.
When the second half reached the halfway point, El Ejido took advantage of a set piece to shorten the gap. Toni Dovale launched a corner kick that was headed by the Canary Isaiah into the net.
Despite so much against, the small candle was not scared. In the aftermath, Iñaki Elejalde was very close to rounding off the yellow victory in Santo Domingo. Makes a point for salvation.
Data sheet
El Ejido 1 – Las Palmas At. 3
The Ejido: Jesus Godino; Adri Cova (Etxaniz, 46 '), Jonxa, Juanje (Toni Dovale, 55'), Víctor Pérez (Lucas Ferraz, 46 '), Boris (Bryan Zaragoza, 73'), N´Diaye, Sergio Pérez, Zubiri (Isaiah, 55 '), Cristian Moreno and Toni Arranz.
Las Palmas Athletic: Sergi Puig; David Vicente, Sergi Cardona, Juan, Dani Martín, Coco, Sato (Yeray Delgado, 77 '), Sergio Simón (Diego Gutiérrez, 70'), Pipo (Clau Mendes, 83 '), Juan Fernández (Joel del Pino, 70') ) and Siverio (Iñaki Elejalde, 77 ').
Goals: 0-1.- (18 '): Sergi Cardona; 0-2.- (46 '): Sato; 0-3.- (50 '): Sergio Simón; 1-3.- (65 '): Isaiah.
Referee: Luis Fernando Collado López (C. Castellanomanchego). He admonished Sergio Pérez and Bryan Zaragoza for the locals