Las Canteras is established as a mecca of Spanish beach tennis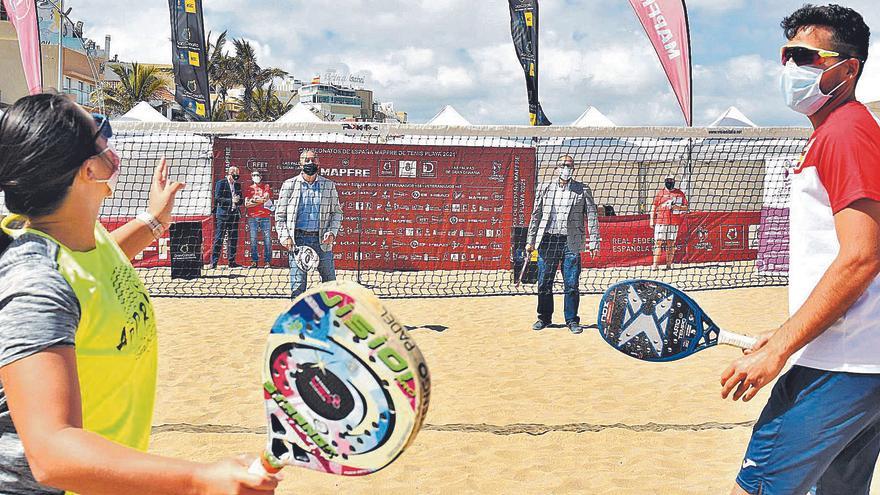 The celebration from today of the first Spanish Beach Tennis Championship that takes place in the Canary Islands consolidates Las Canteras as a national mecca of this sport. The event achieves a participation record in its 19-year history despite the pandemic, doubling the figure registered in 2020. Until Sunday, more than 400 matches of the different categories will be played on the sand of the beach of the capital of Gran Canaria, which was the scene in December of the first international BT100 category tournament of the ITF circuit, held after the suspension of activity due to the health situation.
This prevents the presence of the public in the stands of the authorized enclosure, made up of 12 tracks that are distributed in a total area of ​​3,600 square meters in the area of ​​the large beach.
Only in the absolute category, the Spanish Championships bring together more than a hundred players and female players will compete from April 21. In addition, the absolute finals will be broadcast on Sunday by the Teledeporte channel, in another historic milestone for this sport in Spain.
The event was presented yesterday on the capital beach with the presence of the Councilor for Sports of the Cabildo de Gran Canaria, Francisco Castellano; the Councilor for the City of Mar de Las Palmas de Gran Canaria, José Eduardo Ramírez; the sports coordinator of the Spanish Tennis Federation, Carles Vicens; and Octavio Santana, president of the ApPROBA club, the entity in charge of organizing the Octavio Santana event. Also in attendance were the director of the ApPROBA Beach Tennis School, Aroa Sánchez, and Antomi Ramos, Omayra Farias and Grimanesa Santana, local athletes all of them with several national twists in their curriculum and who start on the list of favorites to win the titles that are awarded. put into play from today on the sand of Las Canteras.