Larry Clark: "The current society is more puritanical than that of the sixties and seventies" | Culture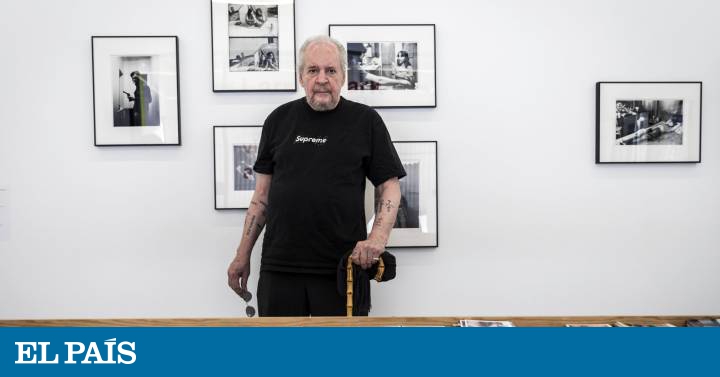 Tattooed like many of the protagonists of his films, Larry Clark walks aided by his cane among his former drug addict friends. They are the photographs that made him a cult author, a creator underground whose aesthetic influences filmmakers like Martin Scorsese, Gus Van Sant or Harmmony Korine and in Photographers like Nan Goldin. In them, their colleagues inject heroin, talk, get naked, make love, sleep, play with revolvers, smoke, live in a marginal reality silenced, on the edge of no return.
Clark, 76, points to one and comments that he spoke with him recently. He is the only one left alive from that group that immortalized with his camera in the book Tulsa, which opened a new path in documentary photography in 1971 and opened the entrance to important museums such as the Whitney in New York. His name, however, spread to the wider public from his controversial films that clearly reflect the sexuality of young adolescents how Kids, who turns 25, or Ken Park
The photographer seems to be excited to see the selection of the images of Tulsa (Oklahoma), his hometown, which is exhibited in the Espaivisor gallery until November 22. It is not easy to interpret the lethargic gestures of his expressionless face, which takes on an unexpected intensity when he removes the dark sunglasses and discovers his eyes. His features only relax when he talks with his two young friends who have accompanied him during his several-day stay in Valencia, such as actor Jonathan Velásquez, whom the artist photographed skating in Los Angeles years ago. He now lives in New York and helps in his affairs the veteran American photographer whose work also contributed to project the urban culture of skating (the skateboard), which hatched in the seventies. Clark recognizes that legacy. "I had to learn to skate because I couldn't run after a skateboard. I was about 48 years old and I was already skating, but I had to learn from scratch and it was very difficult. It often hurt me, "he says, drawing a half-smile outline.

It is noted that he is not interested in interviews or the presence of journalists. He agrees to answer but asks for brevity, while hurrying a fifth of beer in the gallery's courtyard. He himself preaches by example and sometimes gives monosyllabic answers, with a deep and deep voice. His distancing, however, does not seem to obey an artist pose or a superb attitude; rather, he is tired, back from everything, locked in his world, like when he looked at the many young people who approached last Friday in the gallery. It was the opening party of the season and the exhibition that has included a drawer full of instant photographs that were sold at 100 euros each until the artist left on Tuesday. They are images made since 2000, of skateboarders, of naked young people, of street friends. The gallery certified with a wedge that they are the work of Larry Clark.
Controversy in Paris
"When I saw him in Paris a few years ago, I thought about bringing the photos at 100 euros here, with a good exhibition of his historical photos. It cost a little, until they answered me and came, "explains Miriam Lozano, head of Espaivisor, next to Mira Bernabéu. She met Larry Clark's production in 1994, when it was exhibited alongside Nobuyoshi Araki at the Parpalló in Valencia. The room was the subject of a virulent campaign against the exhibition of "pornographic and inducing suicide and drug addiction of young people", according to some conservative sectors, a campaign that was answered by a manifesto in favor of freedom of expression signed by 500 artists and intellectuals and headed by the philosopher José Luis Aranguren. In 2010, the Paris City Council decided to veto entry to those under 18 in retrospect Kiss the Past, Hellofrom Clark.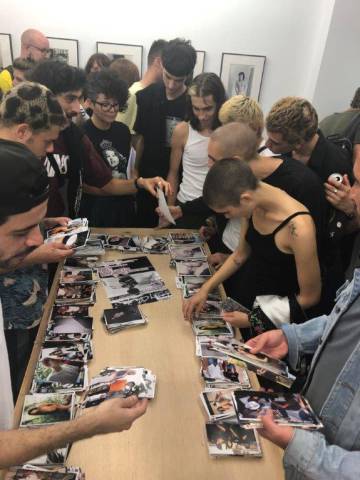 The filmmaker is accustomed to the controversy and does not pay too much importance. When asked if today's society is more puritanical than that of the sixties and seventies, he replies without hesitation: "Yes, yes, it is, because the sixties were really free, first on the West and East coasts, and in the seventies Suddenly, it moves to the center of the country. Then everyone felt free. " And he briefly points out that the opioid and heroin crisis that the United States lives today "comes from the fact that people want to get rich, like those who do drugs."
Clark started very soon in photography. His mother was dedicated to making portraits of children and recruited him at age 13. He then studied at the Layton School of Art in Milwaukee and was enlisted to fight two years in the Vietnam War. From his formative years, remember how there were "many people copying" Robert Frank, the recently deceased Swiss photographer "a friend," Clark adds, and author of today's classic The Americans: "I had not seen the book, but the people who copied it inspired me."
Argues that the main stream (majority trend) phagocytes the findings and aesthetics of independent cinema and underground much faster: "As a result of the Internet and the media, everyone finds out everything right away." There are no secrets, like when he was young.
Now, he's still making movies, although his last movie, Marfa girl 2, 2018, will be distributed in Spain on DVD along with its precedent. He says he feels "old" already, but in both of them he abounds in his constants with a story of raw sexuality about the lives of young people in a population of Texas. Before, his films as Kids, At the end of Eden, Bully or Ken park They premiered in the commercial circuit. "I'm not going to cry for the movies, you know, how to say that before was better and all that."
. (tagsToTranslate) society (t) current (t) be (t) puritanian (t) puritan (t) year (t) sixty (t) seventy (t) director (t) film (t) kids (t) milestone ( t) independent cinema (t) (t) sell (t) 100 euros (t) snapshot (t) show (t) controversial (t) controversial (t) historical (t) historical (t) valencia (t) photography



Source link