Laporta launches another announcement: «Calm down meringues, what happens in Las Vegas...»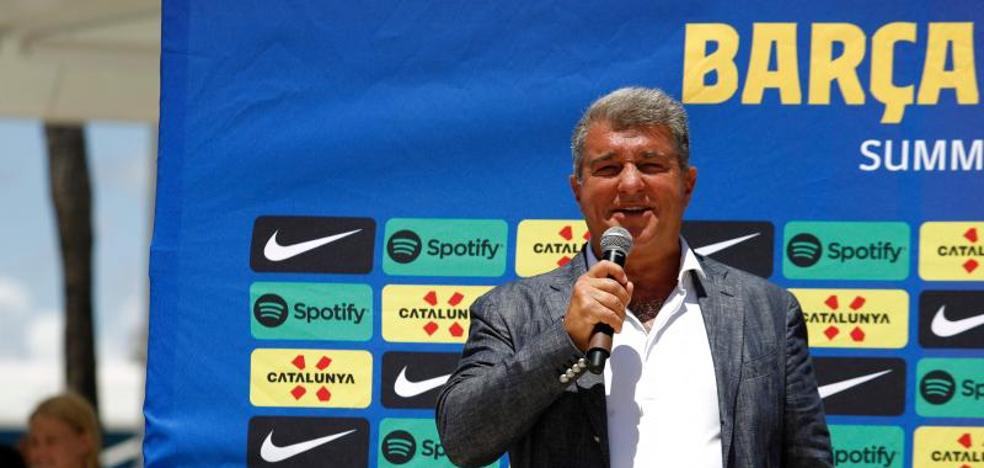 Barcelona
The president of Barça once again resorts to a gigantic banner with a message to Real Madrid, just as he did a year and a half ago before the Barça club's elections
The president of Barcelona, ​​Joan Laporta, has once again resorted to a gigantic advertisement with a message to Real Madrid for the promotion of the Barça club and the pre-season classic that will be played from Saturday to Sunday in Las Vegas, starting at 05:00 hours. After the famous "Want to see you again" that Laporta's candidacy published a year and a half ago with an image of the Catalan businessman in a building near the Santiago Bernabéu ahead of the elections for the presidency of the Barça entity, on this occasion the imminent classic friendly between azulgranas and whites has been taken advantage of.
«We are Barça, but calm meringues. What happens in Las Vegas, stays in Las Vegas », reads the new ad with a photograph of Laporta installed in the Barça concentration hotel in the city of the American game, on the eve of the pre-season duel between Barça and Real Madrid. The message has been written in Catalan and English.
This message, a kind of slogan of the American city, has been devised by the same hands that created the banner near the Bernabéu. The idea came from Lluís Carrasco, who was Laporta's campaign manager during the last Barcelona presidential elections. Carrasco was also the promoter of the slogan that was a hit in the elections.
✨ Laporta's messages to Real Madrid are back.

This is the promotional video that shines on the facade of the Palms hotel in Las Vegas.

💬 "We are Barça, but calm meringues, what happens in Las Vegas, stays in Las Vegas".

🎥 @tjuanmartipic.twitter.com/QK0WdcH1YD

relay (@relay) July 22, 2022