Laporta: "Barça elections cannot be delayed"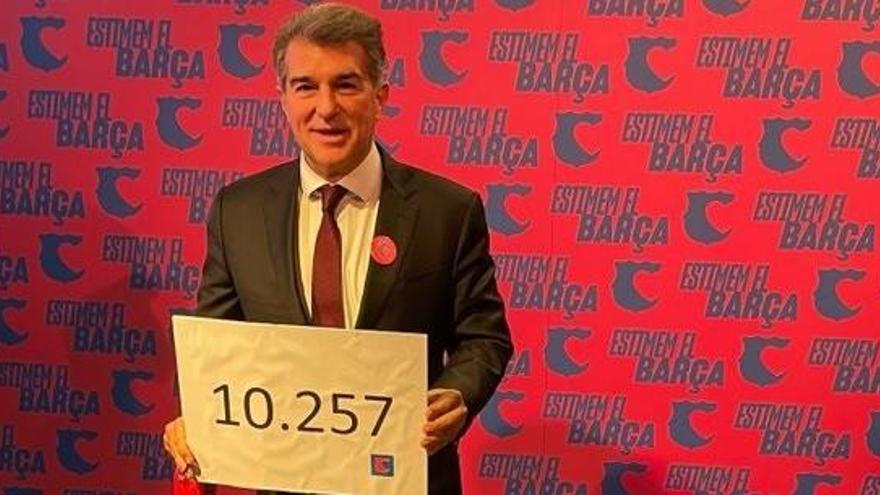 The joy in the candidacy of Joan Laporta by thrashed in the signatures was clouded by the rising clouds of looming election postponement both about the Barça elections and the catalan women. On Monday Salut signaled the peak of infections of the third wave of the covid would arrive on January 20, just four days before the Barça elections. "The elections to Barça Laporta has claimed. Nobody is aware that postponing the appointment with the Barça ballot boxes would be the prelude to the suspension of the Catalan elections, thus prolonging the interim of Carles Tusquets and Pere Aragonès.
The former president has insisted that there are no "objective reasons" that advise against holding the elections Catalans, the same terms with which the Government defended that in November the motion of censure could be voted. In this sense and aware that there are movements to postpone the vote even more, Laporta has asked that "Barça members mobilize and there is no interference to suspend these elections." The former Catalan deputy, who has the experience of having run for elections to Barça and the Parliament, points out that "they have nothing to do with it." "They are two different universes. One of voters who have voted 50,000 people and one with 5 million with the right to vote."
Winter market and economic shock plan
"We have to do everything necessary for them to be held. There is no reason why they should not be held," he insisted, stressing the damage it would entail, such as letting the winter market window slip away and postponing the economic shock plan. "The postponement is very detrimental to the interests of Barça. Suspending the elections would greatly harm the club. If we go to a postponement, we would go to May or June; We can't waste all that time It would have irreversible consequences. Enough of playing with these questions. The Barça cannot hold more ".
The municipal confinement in force today would prevent, for example, that the residents of L"Hospitalet could cross Riera Blanca street to go to the Camp Nou. The candidate believes that "a country that adopts measures and exceptions to go to work has to adopt exceptions so that you can go to vote ". In this sense, he believes that a certificate of self-responsibility and a membership card should be enough to be able to move to the 10 voting points set by the club.