Laporta activates the levers to save Barça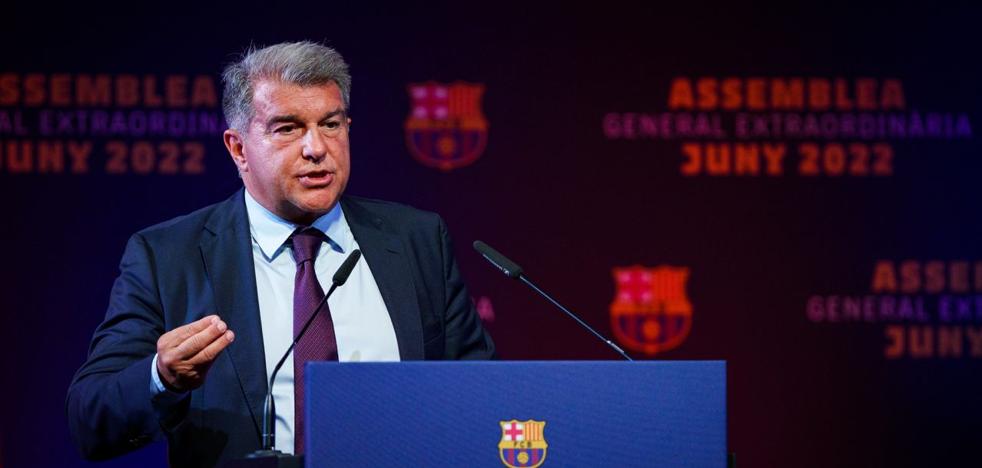 The Blaugrana directive obtains in an extraordinary assembly the permission to sell 49.9% of the business of the official stores and the transfer of 25% of the rights of LaLiga
Barça activated this Thursday in an extraordinary assembly the famous levers that must save the club from the serious economic situation it is going through. Through telematic voting, Joan Laporta obtained sufficient support to carry out the sale of 49.9% of Barça Licensing & Merchandising, SL -the company in charge of running the official store business- and the assignment of 25% of the rights of LaLiga television.
"Barça is a Formula 1 single-seater and we find them without gasoline and with a seized engine." This is how Joan Laporta began what was presumed to be one of the most important extraordinary assemblies in the history of the club. The maximum president culé appeared in the Auditori 1899 before a thousand senators, the oldest members of the club, and in front of the compromising members who could vote electronically. There he was raw and valued the work done up to that moment. "Any company would have been dissolved and the partners would have had to contribute money but we said no and started working reducing debt and getting some sponsorship that has gone around the world like Spotify," he said.
All this work does not seem enough to revive Barça and that is where the proposal carried out in the assembly appears. "The objective is that Barça always be the property of the partners," Laporta assured, something that right now is only viable through an economic injection that inevitably goes through the sale of assets. This Thursday, with 568 votes in favor, 65 against and 13 blank, the sale of 49.9% of BLM was agreed, a company that came into force in July 2018 and whose main mission is to exploit the retail business, a market that provided the club with an estimated annual figure of 65 million euros but that has been stopped short after the pandemic. "We need to do it because we have been losing for years. It is important to give benefits because our competitors see us as weak and people with power in regulatory bodies systematically and obsessively hinder us, "he assured. Laporta believes that this operation could lead to Barça, "being very conservative", an amount that ranges between 200 and 300 million euros.
The second approval that Laporta needed to activate the levers was the one related to the sale of up to 25% of the income for the exploitation of the television rights corresponding to LaLiga. «The other clubs have undergone an operation to which the League wants to take us, which is for half a century. We will do an operation for half; for less years it would help us a lot and in 25 years they will return to us, "said the Blaugrana president in an intervention that ran into the refusal of Josep María Minguella. "Television rights can be bread for today, hunger for tomorrow," he said.
Despite this, Laporta managed to carry out his proposal with 494 votes in favor, 62 against and 13 blank, an operation that aims to be an oxygen ball for the club. "Our scheme is as follows: every 10% that we sell will be for a minimum of 200 million for 25 years," explained Eduard Romeu, vice president of the Economic Area. In other words, Barça intends to obtain a minimum of 500 million for the transfer of 25% of its television rights for two and a half decades.