Lanzarote and its gastronomy, a hope for the future of La Palma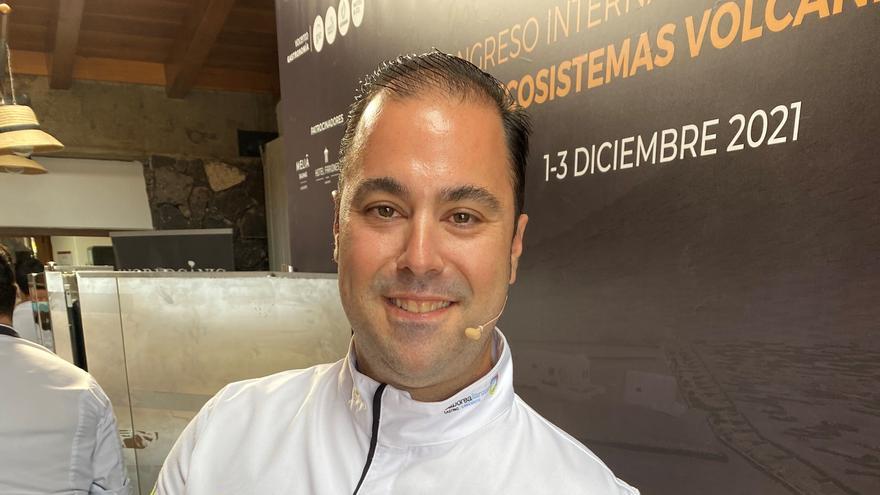 Lanzarote suffered its last eruption, that of the Tao, Tinguatón and Nuevo del Fuego volcanoes, in 1824. That and the previous ones created landscapes to which its inhabitants have not only become accustomed, but also they have taken a gastronomic advantage that this Friday has become a message of hope for the future of La Palma.
"There is a volcanic cuisine because the volcano modified Lanzarote and its products, as it is doing now with La Palma", explain to Efe the Cook Santi Benéitez, restaurant Sebe (Costa Teguise), for whom his island of adoption has managed to overcome the drought by using rofe (ash) that conserves moisture in crops and increases the fertility of the land.
This has been demonstrated for 27 years in the Ecofinca Vegacosta (Tinajo) Toño Morales, with which strawberries, papayas, pitayas, mangoes, figs, potatoes, asparagus, onions, garlic, tomatoes and lettuce supplies the La Piscina restaurant at Club La Santa, world-renowned facilities where professional and amateur triathletes train.
"Without the volcanic ash, the crops that have been introduced to the island would not be able to develop. Volcanoes first destroyed populations and then fed them; man has to adapt to them, "Morales said on a tour of his farm, which this Friday hosted the last day of the I International Congress of Kitchens and Volcanic Ecosystems Worldcanic.
That is why the chef from La Palma Jose Alberto Diaz (The Site) has recognized that its island has "many things to improve" following in Lanzarote's footsteps: "We are very far from how we should develop it and learn to live with a volcano; we were not prepared for the eruption and now we have to adapt our situation to the volcano and get more out of the island. "
Both in the restaurant and the hotel where it is located, the clientele has drastically decreased, although they hope to receive "a tourist boom" when the activity of the restaurant ends. Old Summit, for which he has urged the entire hospitality and hotel sector to prepare to "receive the expected visitors", in addition to encouraging them to travel to La Palma to contribute to their recovery.
Meanwhile, they must deal with shortage problems due to transportation problems and, above all, with "uncertainty", the same that they suffered in the pandemic, the manager of Salinas Marinas de Fuencaliente has indicated in Worldcanic, Andres Fernando, which are now "totally unused" due to "the virulence of the ash", so there is a risk of local shortages.
It is not the first time that this company has suffered the effects of a volcano -in 1971 the I had a guide it spat out its lava up to 200 meters from the salt flats, so it is confident that "in the medium term it will bring wealth and now we have to endure" and regret the loss of crops in one of the "best productive areas" of the island.
"I hope there is not a population exodus", has confided who has also invited to visit La Palma because "you can live with the volcano while it is active."
Also the chef of Brazilian origin Joao faraco, from the Coentro restaurant (Puerto Calero, Lanzarote), has highlighted the potential of the cuisine of volcanic territories because they add character and uniqueness, texture and flavor to the products.
Given that volcanic cuisine is committed to local produce, Faraco has recognized Efe that it demands from the chef "more thought and resilience."
"With fewer products you have to use ingenuity," he adds, "and I do miss some varieties of mollusks such as clams or mussels, but it happens to me every time I have shrimp and shrimp from La Santa on hand", two of the marine jewels of those that the conejeros boast.
Faraco offers in Coentro a fusion of its Brazilian roots and its training in Spanish cuisine that focuses on Lanzarote products, which it has shown at this congress with dishes such as roasted leek with white garlic mixed with avocado, dehydrated roe and smoked sierra (tuna) and Sea nettle sauce, or octopus with mojo sauce, smoked goat cheese cream and cooked beans.
The sweetness that volcanic ashes bring to vegetables has led Gonzalo Calzadilla (Isla de Lobos, Playa Blanca) to use one of Lanzarote's vegetable emblems, the onion, in the 'petit fours' that accompany the coffee in his restaurant: With toasted onion water, its dehydrated meat or turned into angel hair makes jelly beans, marshmallows, polvorones, biscuits 'drunk' in onion liquor or trout (empanadillas).
For its part, Jonay perdomo, highlights in El Risco (Farama) the marine wealth of Tenerife, but today he also wanted to pay tribute to La Palma by using a Tenerife banana cream as a complement to his marinated horse mackerel, less tasty than La Palma tree but very aromatic, he highlighted.
All this in a closing day in which the American Ryan roadhouse has shown its personal culinary fusion between two volcanic lands: Japan and Oregon (United States), the flag of its restaurant Nodoguro (Portland), where it offers Japanese dishes with products from its environment, an area "very fertile" thanks to volcanoes that return what snatched in the form of fruits and mushrooms.
"The same thing that takes us away, a volcano gives us," recalled, by way of conclusion, the scientific popularizer and expert in the field Mikel Sanchez.