Lang's Mind, Feelings, and Hands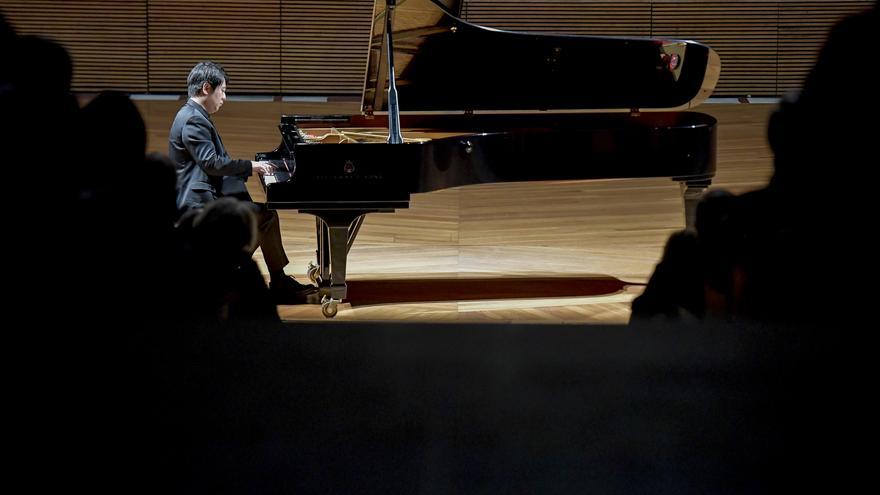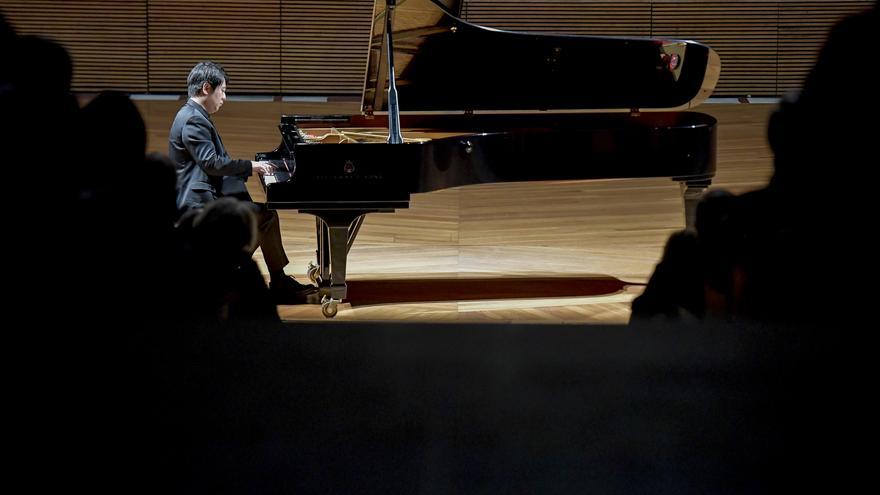 The internationally famous pianist lang lang held this Thursday, hours before the Gran Canaria concert at the Alfredo Kraus, a meeting with multiple music studentswith whom he spoke about his long and spectacular career, as well as give them guidelines and advice on what it means to dedicate themselves professionally to music. He focused on highlighting his evolution around the 'Goldberg Variations' of Bach.
lang langthe most influential and acclaimed pianist in the world, according to many, performed this Thursday at the Canary Islands International Music Festival, at the Alfredo Kraus Auditorium, where he performed the Goldberg Variations by Bach, a piece that Lang considers one of the greatest masterpieces written for the piano, the dream of his life, as well as the Arabesque in C Major by Schumann which, in his opinion, is the perfect score to precede Bach as an author who confessed to being a great admirer of the baroque composer. In the afternoon, hours before the concert, he held a meeting with music students of various ages, with whom he spoke about his long and spectacular career, as well as giving them guidelines and advice on what it means to dedicate himself professionally to music.
"According to the pianist, «to succeed you need to keep the flame, which leads us forward"
To put in background on the author, in his autobiography, A journey of thousands of kilometers, reveals three turning points in his life: a dramatic event, a change of direction and a successful debut. From an authoritarian father, who focused all his frustration over the Cultural Revolution on his only son and invited him to commit suicide at the age of nine after failing to enter the Beijing Conservatory, through a teacher - the pianist Gary Graffman - who convinced him , at the age of 15, to change his competitive spirit for a more artistic mentality and even an orchestra director -Christoph Eschenbach- who invited him to make his debut, at the age of 17, replacing the pianist André Watts and sharing the stage with colleagues of the stature by Leon Fleisher, Misha Dichter and Alicia de Larrocha.
"In some pieces moments of volcano are needed and in others that your mind directs"
In this meeting held with the Canarian music students, the pianist stressed that his night in the Auditorium was going to be very special, for interpreting the Goldberg Variations by Bach, on which he has been working for 27 years. He was very curious to hear the acoustics of the Alfredo Kraus, a large venue. "For Bach, in principle, it is better to use a smaller room to be able to emit the delicate and intimate sounds of the composer." Lang Lang had only known the Pérez Galdós Theater, which he visited the last time. About this sheet music Goldberg he also highlighted that the ornamentations are created for harpsichord and piano, but «I wanted to modernize the version».
"As a performer I feel the inspiration of the composers as if they were leaning on my shoulder"
Then the question time began. The first student asked him if he had to undergo a transition to jazz when he played with musicians like Herbie Hancock. "They play their own style. I can't do the same, but I try to follow them. Although I have had the opportunity to perform with great masters, I am classical. When I'm with them I try to adapt and follow their path. Another young trombone player consulted Lang on her ritual to prepare for the day before the performance. «Today I woke up very early and played with my son. I usually have strawberries, bananas and cookies to sweeten my life before a concert and take a nap. Sometimes I have these encounters with musicians». He has never played this piano in the Auditorium. "The problem for the performers is that we don't have our own instrument, so I have to focus a lot on the new piano and check the acoustics."
"I would never give up classical music, but listening to some pop refreshes us from time to time"
The pianist has spent 27 years working on the Goldberg Variations so it has undergone an evolution from the beginning. «As a child I saw some important recordings. He thought that the composer was very balanced; however, I discovered that he is a magician, special, that you have to listen to the inner voices. He was a god of music and a great human being». As a teenager, Lang began by learning the harmonies and variations, the cadences of the piece, and carried out a profound analysis. He didn't feel like he could express himself well with baroque, but then it evolved. "I put this piece aside and started with Händel, Beethoven, Schubert and other simpler works by Bach." He then he resumed the Variations. However, there was a technical part that he never abandoned. «He took passages with Chopin, which served me as a technical warm-up».
"For success you have to connect with the instrument and then with the public; with technique and practice"
In Salzburg, a few years ago, he changed his vision of the work because he met a teacher who told him that "he played the Variations of Bach with a curtain, when he is a very emotional author, nothing squared with which you have to use your heart to transmit a special sound». He tried to follow that style, «but I felt very scared so I was postponing the age to play this piece. I'm still insecure, although of course, I already know her much better.
A harpsichord baroque master from Cologne also inspired him. «It took me three years to learn with the Italian and French ornamentations, in addition to the difficulty of the repetitions in the work. In concerts it is difficult to apply emotions in some parts and sadness in others. Not only your hands move but also your brain at every moment. The most difficult are not the fast passages, but the slower and more complex ones». The first recital with Goldberg It made him very nervous, but now he feels more comfortable.
The students kept asking. Among the questions was what success means for Lang. "Communication. You have to connect with the instrument to then reach the public. Many times I have felt passion, but I have not been able to transmit it to the spectators. It is important to reach them, as well as a good technique and a lot of practice. The technique must have an end, that of making music. To achieve success you need to keep the flame going, which carries us forward."
A young pianist with small hands asked him what to play because sometimes he had to play Rachmaninov or Liszt. «Alicia de Larrocha had small but powerful hands. However, she recommends playing romantic repertoire, Chopin. She must be selective with the pieces to choose, in that case. It is important that the emotion stands out on those hands. The piano concerto no. 3 It wouldn't be advisable." Lang points out that she can't get enough of her repertoire. "He would never give up classical music, but hearing some pop refreshes us from time to time."
The genius almost gave up the piano twice in his life. "When I was nine years old, the teacher told me that he had no talent and kicked me out of his class. As a teenager, not having concerts, I lost motivation at some point because I didn't know when I would be a professional musician, but you always have to try a new repertoire. You should also go to contests, auditions or act privately to stay on stage at all times where you learn half of what you know. You have to go look for opportunities, not wait for them to come and be positive."
The artist has reached a balance on a technical and emotional level. «For example, in the case of Beethoven there is great precision and intelligence must be placed above, while with Liszt the emotions must be allowed to surpass a little. In some pieces moments of volcano are needed and in others that your mind directs». According to Lang, the brain comes first, the feelings second, and the hands third, "to then have the guts to control these three domains." As for Barenboim, he believes that the balance is found in the ear for music.
How to express emotions, but stay true to those of the composer? According to the musician we think we know the authors. Those who live can be called on occasion. In the previous ones, traits of his personality can be deciphered from his writing or from his letters. «As a pianist I feel the inspiration of the teachers as if they were leaning on my shoulder». Lang concluded his talk by saying that "everyone is different, don't be afraid to be yourself when interpreting. That is why respect for the authors is not lost ».