LaLiga: Wague's moment | sports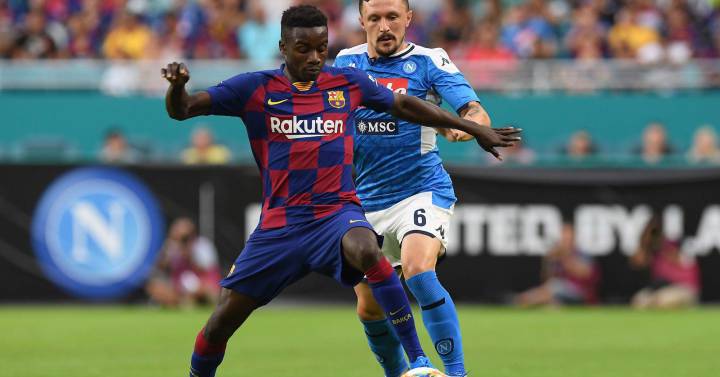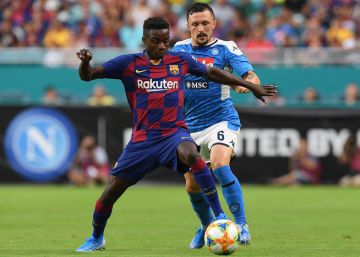 The third is being the most rugged season of Valverde as coach of Barça. Defeats have increased – three – the game does not flow and the squad is crushed by injuries and penalties after a preseason mediated by the tours: Pique It already has nine cards and Sergi Roberto will not be able to play for accumulation of reprimands within 15 days, on November 23, in Leganés. Nor will the two titular winners be injured, Semedo and Jordi Alba. Sufficient arguments to think about the possibility of resorting to the unprecedented defender Moussa Wague (Bignona, Senegal, 21 years old).
The decision to ascend to Wague was taken before finishing last year because it made a difference in the Barça B. He played 20 games with the subsidiary, presided over by his ascents on the right lane that ended in two goals and three assists, and for his correct participation in three meetings with the first team against Huesca, Celta and Eibar.
"It has room and tour in Barça, because it is a modern side, one of those that looks forward and concludes the plays," they reflected from the technical secretariat of Barça. Note that Valverde approved, because he decided to give him a number for this course while warning that Sergi Roberto would return to the center of the field. The coach was enough with the Senegalese and, above all, with Semedo, declared non-transferable after receiving offers from clubs such as Atlético.
But the words have not corresponded with the facts, because Sergi Roberto has been the defensive wild card and the coach has not given any moment to Wague, the only team that still does not play with goalkeeper Neto. "Ernesto He is happy with him because he works well. But the level of demand is very high and having not started very well in sports, you may not see the time to put it ", point from the Camp Nou. But for his fortune, Wague is still standing and everything indicates that it will be released in Butarque by the epidemic of casualties that condition Valverde.
Up to 11 players of the 24 of the staff have gone through the infirmary to treat 17 different injuries, because Messi, Dembélé, Suárez, Umtiti and Alba have relapsed while Junior suffered two different ones. The others who have gone through the reboot are Neto, Ansu Fati, Sergi Roberto, Semedo and Carles Pérez, injured with the U21 team. Figures summarized in 329 days off – Umtiti leads the statistics with 52 days and five meetings, followed by Messi (48 and five), Dembélé (40 and six) and Alba (38 and six) – and an emergency situation before the Leganés and later (November 27) with the Dortmund, appointment in which they will not be Piqué (sanctioned), Semedo and Alba.
Pending selection
It is the moment of Wague, who has stayed 13 times in the stands and another three (Osasuna, Getafe and Inter) on the bench. Although you can not start your accountant as Barça this Wednesday in the friendly in Cartagena. The side has been called by his selection for the qualifying duels for the African Cup against Congo and Swaziland. And it is not known if it will have prominence because the technician, Aliou Cissé, does not give him the reel that he gave him in Russia 2018 because in six of the last 10 meetings he gave ownership to Gassama, who plays in the Turkish Göztepe.
Precisely, his performance in the World Cup earned Wague a safe-conduct to sign for Barça B, after payment of five million to the Belgian KAS Eupen and with a clause of 100 million. After a year, he received many offers from major league teams and from the sports area they finished their stage in the subsidiary. Although he has not finished convincing Valverde. Now, unpublished but standing, it's your turn.
Rakitic also falls and renounces Croatia
The preseason began askew with the sore lesion on Messi's right leg, a repeat offender after being tested in competition. They have also suffered two injuries Luis Suárez (soleus of both legs), Dembélé (biceps femoris and hamstrings of the left leg), Junior (hamstring and internal lateral ligament of the left knee), Umtiti (metatarsal left foot and left knee) and Alba (left femoral biceps). With one are Neto (left hand scaphoid), Ansu Fati (right knee), Semedo (left leg only), Sergi Roberto (left lateral knee internal ligament) and Carles Pérez (muscle problems). The doubt – there is no medical part – is Rakitic who, injured in the Achilles tendon, has given up playing the next friendlies with Croatia.
You can follow EL PAÍS Sports in Facebook, Twitter or subscribe here to the Newsletter.