Lali Expósito, on 'Sky Rojo': "Nobody wants to talk about sexual exploitation, we talk"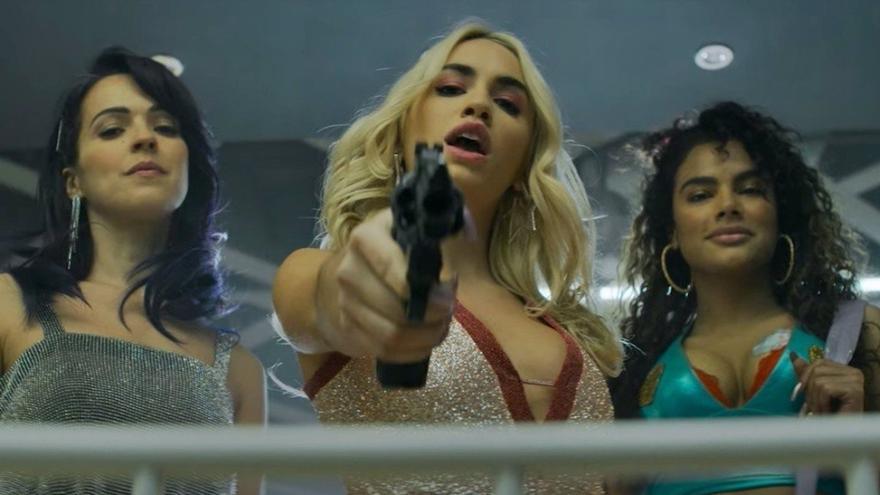 Friday March 19 Netflix premieres 'Sky Red', new series by Álex Pina and Esther Martínez Lobato, creators of 'The Money Heist'. Lali Espósito, Verónica Sánchez and Yany Prado They lead the female cast of fiction in the roles of Wendy, Coral and Gina, three prostitutes who escape after the murder of the owner of the club where they work. A story that mixes the denunciation against trafficking and frenzied action in equal measure.
"It touches on a subject that is clearly delicate, but at this level of growth that fiction already has we can't feel that something is too delicate"Lali Espósito claims in an interview with CulturaOcio.com.
"As a society we are always trying to cover the delicate. It seems to me that mixing the delicate, with which no one gets too muddy, with the concept of fiction that entertains and keeps you in suspense, that balance of Sky Rojo is what makes it the original and brave series, "adds the actress. His character is involved in a mad escape after the murder of the pimp Romeo (Asier Etxeandia), an event that will put Moisés (Miguel Angel Silvestre) and Christian (Enric Auquer) in the footsteps of the girls.
"This series has propelled us as actresses to a more daring place. Nobody wants to talk about this, we talk," she says when questioned about the dramatic situation experienced by millions of women around the planet who are sexually exploited. "We all know that this is there, right under our noses, in our countries … is in my neighborhood: one day a girl disappears who supposedly went as a waitress to Spain, or to another country, and one knows what really happens (…) There are Romeos everywhere, "he warns." It reinforces the position we had Before starting the series, that we are totally against trafficking, "Prado adds.
"Thanks to how this series is told, I think it is a message that is going to have much more diffusion than if we told it in another way," says Verónica Sánchez, who highlights the originality and courage of fiction. "The script is daring, emotional. It's super easy to digest the theme that Sky Rojo plays, which, after all, is going to be like a Trojan horse, "says Yany Prado.
'The Money Heist'
"Latin pulp" is the formula that Prado uses to define the aesthetics of the production, which has the unmistakable stamp of Pina and Martínez Lobato. "The voiceovers, which are Vancouver hallmarks, and the way in which they tell you what they are saying, always looking for the return, always going the opposite of the obvious ", are the common points that Esposito finds between Sky Rojo and La casa de papel.
In this sense, Argentina refers to the character of Ursula Corberó in the success of Netflix. "I do not know if I would compare it with a character as particular as Tokyo, but there is a character like Coral, who is the spearhead of these three women," explains the actress who assures that the new Netflix fiction is an "original" series and that "is played"
'Sky Rojo', which features a first season of 8 episodes of half an hour duration, hits Netflix on March 19. The platform has already confirmed that the production will have at least two deliveries.