Ladilla Rusa: "At our concerts everyone is welcome"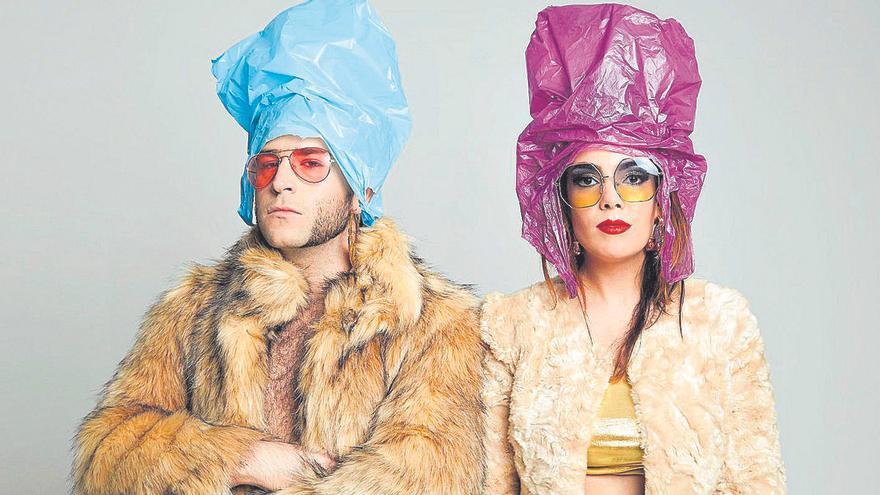 Tania and Víctor are the components of Russian crab, a group that emerged from joking and that takes care of everything it does so that its followers (crabs) enjoy the rhythm of its songs. The two old friends keep up their staging and pass on the dedicated effort that has led to their success. They claim to fit into different places and claim diversity.
-They are two lifelong friends, journalists, who happen to form a group and call it Ladilla Rusa. How did all this come about?
-We always had very 'chorras' pieces of songs and we were clear that we had to do something together so in the end we decided to materialize the creativity that we have in the form of a group. Wow, everything was born without any kind of expectation, it was more of a joke than anything else. The name came up while we were looking for options, we couldn't think of any, and suddenly, spontaneously, we met a Russian woman and talking to her we made word games on the topic of Russian salad. And we came up with Russian Ladilla, we said: "Host! this name has 'power' ». It defines the group very well because it is cheeky and funny and, also, a pun which is what we like, the joke.
-At first they didn't like being called singers …
-We had a bit of modesty when considering ourselves singers or musicians, we didn't like to define ourselves that way. We consider ourselves rather artists because we are 360º; we sing, we dance and we put a lot of fun in life. We have our own personality and I believe that we defend ourselves well on stage. What we are is singer-songwriters, because the lyrics are composed by us, that is what we are.
-Are they considered the succession of Camela's techno-rumba?
-We are totally different. We introduced ourselves a little to this style because we have sucked it up a lot in our adolescence and because we come from the outskirts of Barcelona, ​​where this music was heard but we like to play with all the musical genres. In fact, in the new songs that we are going to make there will be everything. We are going to park techno-rumba a bit to start doing things that we don't know how to do and try to get right into it and put a lot of hard face on it from ignorance.
-They are characterized by the party, does that have an added difficulty when it comes to being taken seriously?
-We have a group that fits into many different places, yes it is true that when we started we took it as a joke but this is a group right now that lives from music. Everything we do is super careful, we work with professionals and we are a real group. It is true that humorous music is given a slightly lower value but when people see all the effort behind it, they realize that it is a very solid project.
-They launched a campaign to finance the next album, how is it going?
-We have already melted the money! We have spent it on the last video clip and on what has been the album. We do not know when he is going to leave because we calmly work and dedicate our time to him. It will have the essence of the first, that is clear to us, but trying to go further in the musical, working out the melodies and the arrangements to take steps forward.
-On the occasion of Pride, they have participated, along with other artists, in the Spotify campaign called Occupy your space, what does it mean to be on a screen in the Plaza de Callao empowering the LGTBIQ + collective?
-Very proud, never better said (laugh). Very cool, it's a good campaign because it comes from a great business monster like Spotify and, at least, if you call independent groups like us, that's fine. People who belong to this group often have a hard time doing concerts at large festivals, getting on stage because they are usually called for the month of Pride but the rest of the year you don't have a chance. It is the usual thing. We always claim diversity, in our concerts everyone is welcome, very diverse people of all genders and sexual conditions.
-You always wear a very striking dress when acting, do you give much importance to style?
-Yes, every time we like to look pretty. At first, it was difficult for us to define a specific aesthetic, so we are putting what we want at all times. We like to come out colorful and we get tired quickly of what we wear. We are a bit of a Madonna, in that sense, we change costumes to have various personalities. So you do not feel at any time as if you are wearing the overalls or the uniform.