La Roja materializes the dream of the Eurocup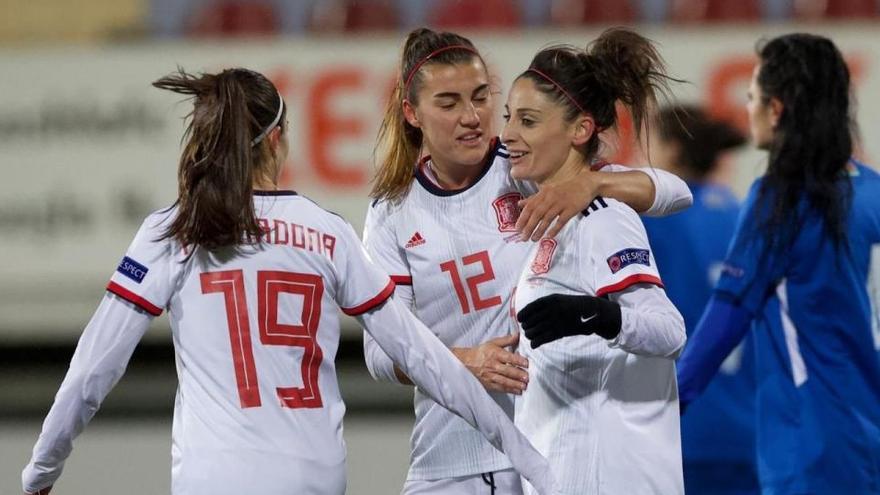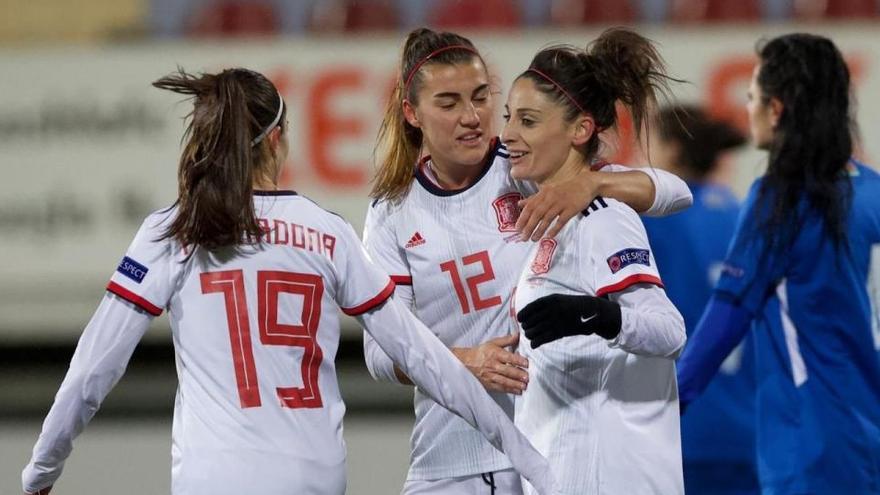 With an exhibition in Baku, crowned with thirteen goals, the Spanish women's soccer team won, by full rights, being one of the sixteen contenders in the Eurocup England 2022.
There it should, in addition, see its share of favoritism increased based on the records it is leaving as it passes through this qualifying phase. From Azerbaijan, the Spanish delegation is collected with 19 points out of 21 and a favorable difference of 45 goals, after having celebrated 44 and conceded only 1. Like other European powers in their respective groups, the Spanish team was revealed match by match as a firm leader, by game, by ambition and by success.
The team led by Jorge Vilda, not in vain, certified its presence in the next continental event on Thursday with a final win in Baku. He had no mercy on the weak Azerbaijani team, to whom he conceded nothing. He imposed his desire to win, to like himself and to seduce with his game; but, above all, to be seen in England.
The result of this latest clash would make the match on February 23 at the Ciudad del Fútbol of Las Rozas, against the Polish team, inconsequential, were it not for the desire of the Spanish internationals to beat the only team capable of subtracting points in Group D.
The three units that separated the Spanish squad from England were pocketed at the expense of the bottoms in the ASK Arena. The Spanish team did not hesitate to see the ten Azerbaijani outfield players withdrawn in thirty meters. A reckless invitation to La Roja to attack, charge and insist.
Mariona Caldentey and Marta Cardona, headlines in Jorge Vilda's proposed offensive, sharpened their knives on the gangs. The Spanish outfit, dressed from head to toe in white, also added mordant inside, with Jenni Hermoso moving her wits freely; with Esther González as a point of reference; and with Patri Guijarro, Alexia Putellas and Aitana Bonmatí directing the game from behind. The premiere in the goal of Misa Rodríguez went unnoticed. The three centrals, Ivana Andrés, Andrea Pereira and Mapi León, were more demanded in construction tasks than defensive ones.
Monopolizing the ball and accumulating arrivals, the move to the European Championship in England in 2022 only required some patience, and that did not seem like a problem for a group of players who had been chasing their place in the next continental event for 16 months, since the opening of the qualifying phase in Riazor a distant month of October 2019.
At the ASK Arena the wait was 21 minutes. After several attempts, Esther González responded to the role of '9' by attacking in the small area a measured ball from Mariona Caldentey, elusive on the wing and precise in the service. Levante's forward, the top producer of Primera Iberdrola, was unleashed as a result of that action. He also made the 0-2 and the 0-3, from head to center by Patri Guijarro and Alexia Putellas. He reflected his hunger for a goal again, at 0-4, liquidating his poker in just 31 minutes.
Jenni Hermoso joined the party with two goals in minutes 33 and 43. At halftime, a 0-6 conclusive. The Madrilenian continued sweet in the second half, with another three goals, five in total. Mariona Caldentey, Eva Navarro, Nerea Eizagirre and Esther González, also with their fifth target, rounded the score 0-13.
The biggest Spanish win in this qualifying phase puts La Roja in the next European Championship. Footballers have wings and a license to dream.
Data sheet
0 – Azerbaijan: Aytaj Sharifova; Vusala Seyfatdinova, Nigar Mirzaliyeva, Nargiz Hajiyeva, Alina Dorofeeva, Yeliz Acar (Ayshan Ahmadova, min. 77); Vusala Hajiyeva (Joshguna Aliyeva, min. 58), Nazlican Parlak, Aysun Aliyeva, Diana Mammadova and Firangiz Teymurova.
13 – Spain: Misa Rodríguez; Ivana Andrés, Andrea Pereira (Laia Aleixandri, min. 77), Mapi León (Ona Batlle, min. 58); Patri Guijarro (Maite Oroz, min. 58), Alexia Putellas (Nerea Eizagirre, min. 68), Aitana Bonmatí; Marta Cardona, Mariona Caldentey (Eva Navarro, min. 68), Jenni Hermoso and Esther González.
Goals: 0-1, min. 21, Esther González. 0-2, min. 24, Esther González; 0-3, min. 30, Esther González; 0-4, min. 31, Esther González; 0-5, min. 33, Jenni Hermoso; 0-6, min. 43, Jenni Beautiful; 0-7, min. 57, Mariona Caldentey; 0-8, min. 67, Jenni Hermoso; 0-9, min. 75, Eva Navarro; 0-10, min. 82, Jenni Hermoso; 0-11, min. 84, Nerea Eizagirre; 0-12, min. 87, Esther González; 0-13, min. 90 + 3, Jenni Hermoso.
Referee: Maria Marotta (ITA). He admonished Seyfatdinova (min. 56) and Allyeva (min. 60).
Incidents: match corresponding to the qualifying phase for the Eurocup in England 2022, played at the ASK Arena stadium in Baku.