La Roja: Ansu Fati's fabulous journey | sports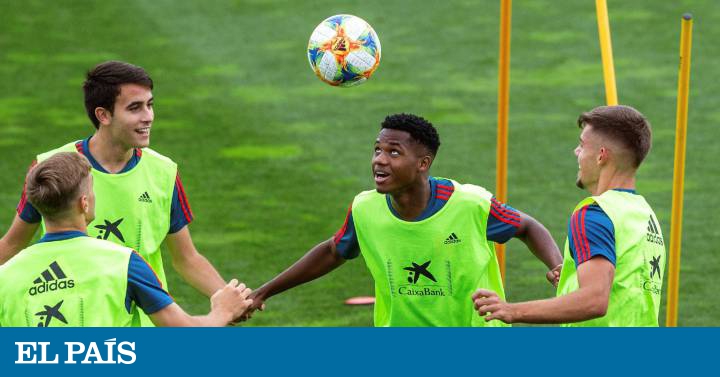 Guilt stunned him, a bad travel companion for a 10-year-old soccer boy. Neither the return home nor being on Christmas Eve relieved his frustration. "Hi, Mr., I'm already on the AVE. I am very sorry for the bad game I have done today. I promise it will never happen again. Bones Festes! "He wrote Ansu Fati to his coach of Alevín A of Barcelona, ​​Marc Serra, on December 23, 2012. And he complied. "We won six of the seven remaining tournaments," Serra recalls. Save Ansu Fati (Guinea-Bissau, 2002) a virtue more powerful than that precocity that has made him break molds and records with 16 years in Barcelona and be summoned with the Spanish sub-21 team. Something more surprising than their ability to mark, assist and haggle at the age at which most teenagers are hooked to consoles. "His talent is not in his feet, it is in his head," says Franc Artiga, his coach at Cadet A. "He is too mature for his age," concludes Ernesto Valverde, the coach who opened the doors of Camp Nou. The youngest scorer in the history of Barcelona could not escape the Spanish team. The Federation accelerated bureaucracy to file Fati, who at 16 is already ready to debut with the U21, may be on Tuesday against Montenegro, and his name sounds absolute. Always fast on a trip from Andalusia to Barça Yet the selection.
"My son's dream was to play with Spain," says Bori Fati, father of Barca. There were, however, other selections willing to keep the pearl of Barça: Portugal and Guinea-Bissau. The victory de La Roja would be impossible to understand without the affection of Ansu Fati for Herrera, a town of 6,000 inhabitants 100 kilometers from Seville, to which he returns every time he can and where he has already bought a house. "Many people have helped them here, they are a very dear family in our town," says Custodio Moreno, mayor of Herrera between 1987 and 2011.
As an employee of a Portuguese company that managed the works of the Córdoba-Málaga AVE, Bori Fati arrived in Herrera in 2003. An occupational accident ended with the Portuguese company in red numbers and with Fati out of work. "The City Council provided them with a home and among the neighbors they helped him to move forward," continues Moreno. He worked in the field, at the waste treatment plant and as a chauffeur for the mayor of the nearby town of Marinaleda. Integrated in the landscape of houses as white as picturesque of Herrera, Fati was missing his wife, Maria de Lourdes Viera, and her children, Braima and Ansu.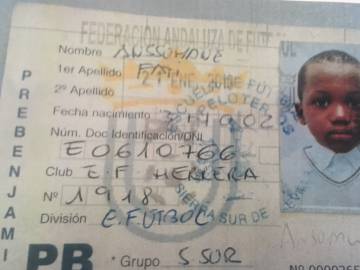 It was precisely Juan Manuel Sánchez Gordillo, mayor of Marinaleda, who helped him in 2009 to bring his family to Spain. "We talked with the ambassadors of Guinea and Spain to process family reunification. Poor people are invisible in the eyes of capitalism, "says Sánchez Gordillo under Ernesto's gaze Che Guevara, a painting on a wall in his office since 1979. Gordillo says that he has helped more than 5,000 immigrants to "solve their papers." He does not forget, however, Fati: "How his youngest son played football!" And Bori, a former soccer player in Guinea, at that time a forward in the Herrera veteran team, didn't even know it. In fact, I didn't even know him. The last time Fati had passed through his country to visit his wife and son Braima had been in 2002. "They told me that I didn't know how good Ansu was, that he hagged everyone," says Bori Fati. An unprecedented talent for Herrera, raised in the dirt streets of Bissau.
"Africa is Africa," recalls Albert Puig, former director of the Barcelona quarry, responsible for Fati's arrival in La Masia. "We are talking about the third world. Or espabilas or espabilas. They are boys who are in the street 24 hours with the ball. And based on repetitions, being all day playing, is how they understand football naturally, "says Puig. What worked in Guinea as an escape route in Spain was its integrating engine. "All the children were going to look for him at home, they wanted to play with him. They are not fools, they want to win, "explains a school teacher.

He surprised with the ball on his feet, as with the pen in his hand. "He learned Spanish very quickly and was a good student," adds that teacher from the school where Ansu was between 2010 and 2012. "For me he always spoke with an Andalusian accent," adds Mario Luna, brother of Antonio Luna, player of Rayo Vallecano, partner of Ansu Fati in Los Peloteros, the first school of Barca in Spain, in Herrera. "Something similar happened to what happened in Barcelona here. He arrived and we had to put him with the children two years older. It made a lot of difference, "says José Luis Pérez Mena, director of the Peloteros. "We went to play against Sevilla and we won 2-5. He scored all goals ", completes Cañas, his first coach in Herrera.
Sevilla did not want to let go of that talent that was able, in solitude, to ridicule its seven best Benjamin. He signed it but it only lasted a year. Barcelona appeared and took his brother Braima first, and then Ansu. "Sevilla did not want to release him and he was a year without playing. It was a positive thing because he enjoyed his father, with whom he had lived together for a short time, "says Albert Puig. In the 2012-2013 season it premiered at Alevín A del Barça, a generation remembered in Sant Joan Despí in which Take Kubo (Mallorca), Eric García (City) and Guille Amor (Leeds) agreed. "When I saw it I thought:' Can this make a fry? "Says Marc Serra; "It is an unrepeatable talent, yes; but also a very professional boy ".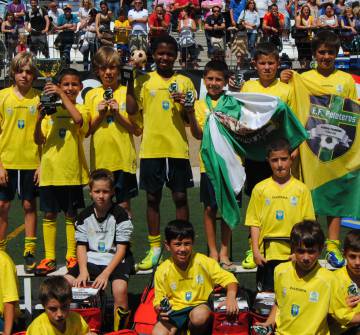 "I'm worried about Ansu," Bori Fati surprised Franc Artiga. His concern was a relief in La Masia. "Study hard, you have to think more about football," complained Bori Fati; "Stick it." Fati's father's illusion that his children became soccer players did not interfere, however, in the work of the coaches. "He always supported all our decisions. I went to Mass what I said, "returns Albert Puig. Ansu did not have it easy in the Barca quarry. Vicissitudes always oblivious to his football. A FIFA sanction against Barça for the signings of minors, a broken tibia and fibula, plus the precipitous goodbye of Braima de la Masia, got in the way of the Guinean. "I saw a very big change in Ansu when Braima left (today he plays at Calahorra B, in the Third). I didn't want it to happen. Much more effort, each training was to the death, "explains Denis Silva, his coach at Juvenil B Barca.
Sponsored by Messi
Ansu Fati touched Juvenile A, stood out in the preseason at Barça B and settled in the Camp Nou. Before, yes, we had to scare away the wealthy tentacles of the Premier. Chelsea offered 1.5 million euros last summer. He stayed at Barça for less than half. "They were tough conversations, but they prioritized the growth of the son," sources of the negotiation say. They count in the offices, that everything accelerated with the intervention of Rodrigo Messi, brother of the captain, now also an advisor to Fati.
"Shouldn't you be at school, baby?" Luis Suarez asks jokingly. His integration into the first team has been with his seal: fast and surprising. "He's very smart, shut up and listen," say those who know him. He hides his nerves – "he could not eat in his first week with the first team," says his father -, clings to his mother – the only one who speaks it in Creole – and enjoys. "Aren't you afraid of Camp Nou?" Pérez Mena asked. "It's a game," Ansu Fati replies on WhatsApp.
"Recently we couldn't summon him for nationality," explains David Gordo, coach of the U17. The passport arrived and went to the sub-21. Even Robert Moreno, coach of the senior team, surrenders to his talent. "It's in a folder for the European Championship," he says. From Bissau to Las Rozas, with the past in Herrera and the future in Camp Nou, Ansu Fati's frantic and fabulous trip has its destination in La Roja.
You can follow EL PAÍS Sports in Facebook, Twitter or subscribe here to the Newsletter.