La Real yields a draw against Rijeka and leaves the duties for Naples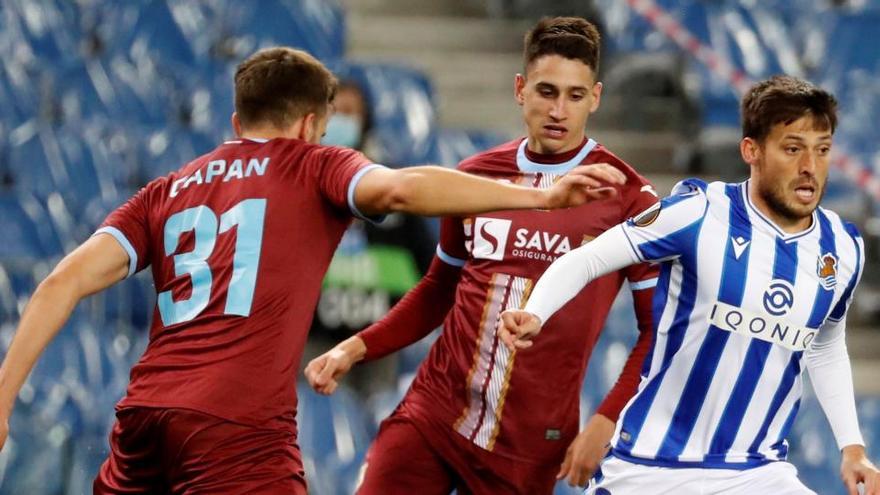 The Real society missed a great opportunity to get his access to the round of 32 on track Europa League, yielded a suffered draw (2-2) before the bottom of the group, the Rijeka, and the classification will be played in Naples.
The San Sebastian team locked up his rival for the first 45 minutes and clearly dominated him, but the problems facing the goal that he suffers in Europe, not in The league, prevented him from expressing his superiority.
Swedish Alex Isak had lights and shadowsHe did things of great merit, but he showed little inspiration in three clear shots, especially in a heads-up with Nevistic in which he did not hit the mark and which could have changed the sign of the match.
A penalty pointed out by the Portuguese referee Pinheiro in the first instance in favor of Real, rectified before its launch at the request of his assistant, cooled the locals who, jerkily, still had options to get ahead.
The one who did not forgive was the Rijeka, and in his first shot with intention on Remiro achieved the goal by means of Velkovski, with a header, at the exit of a corner from Menalo that the locals failed to defend.
La Real, with their nerves on the surface with a result that left them very pressured for the last game, kept trying but the ball did not want to enter another shot from Isak and two in a row from Oyarzabal, with Nevistic saving his team.
The Real coach with Willian José and Jon Bautista put all the offensive powder into the game, who in the 68th minute tied the match and scored his second goal against Rijeka, after which he gave the victory to his team by the minimum in the first leg.
New mistake in another local corner kick, Loncar was left alone and the Bosnian midfielder scored a great goal that again forced the Basque team to swim against the current.
They did it again but halfway, with a goal from Monreal with 10 minutes to go that left the meeting exciting and intense, although the Real wasted everything they had to have won.
Data sheet:
2 – Real Sociedad: Remiro; Zaldua (Gorosabel, min. 67), Le Normand, Zubeldia, Monreal; Zubimendi, Merino, Silva (Willian José, min. 67); Oyarzabal (Portu, min. 79), Januzaj (Roberto López, min. 79) and Isak (Bautista, min. 58).
2 – Rijeka: Nevistic ;; Tornecak, Velkovski (Joao, min. 86), Galovic, Capan, Stefulj; Muric (Pavici, min. 74), Halilovic, Loncar, Menalo (Anastasio, min. 79); Andrijasevic (Yateke, min. 86)
Goals: 0-1, min. 37: Velkovski. 1-1, min. 68: Jon Bautista. 1-2, min. 73: Loncar. 2-2 min. 78: Monreal
Referee: Joao Pinheiro (Portugal). He admonished Merino, Andrijasevic and Halilovic.
Incidents: match of the fifth day of the Europa League group stage played without an audience at the Reale Arena.