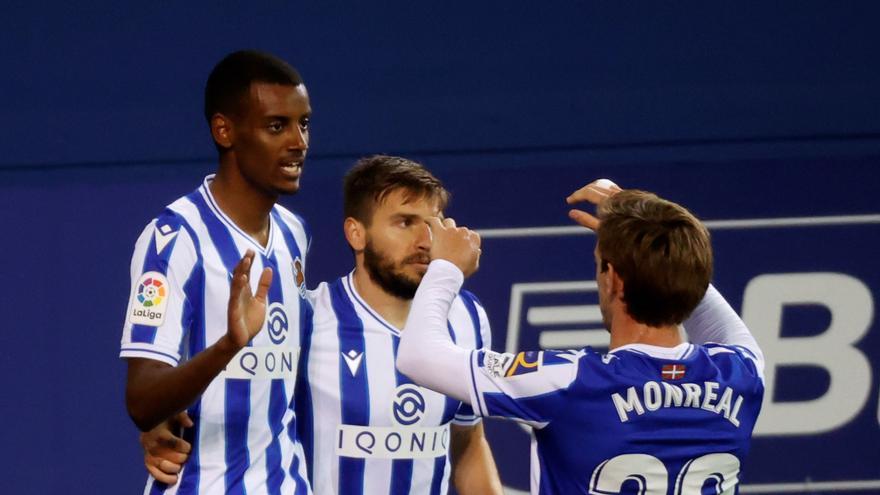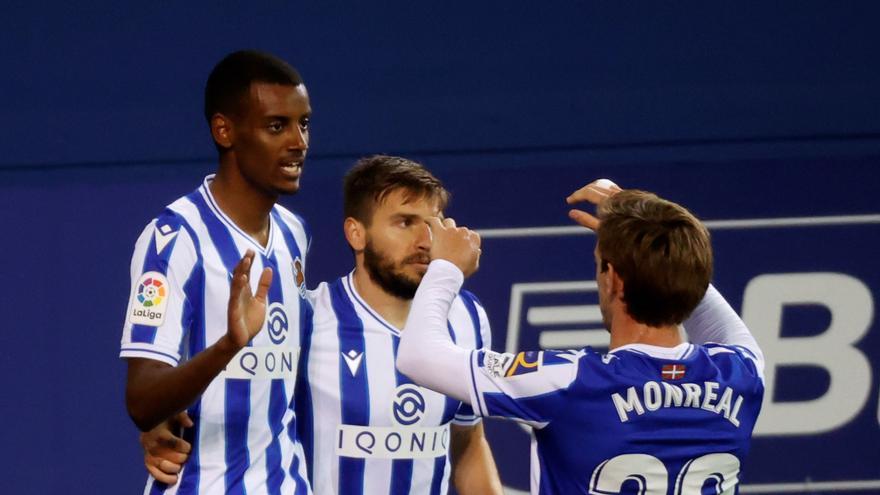 The Real society has taken a giant step forward in its fight to play the Europa League next season by defeat Eibar in Ipurua by a single goal, scored by Isak and that points to the gunsmith box, which sinks even further into the last square and has very difficult to save the category.
Eibar came out in a whirlwind, with great aggressiveness in search of a quick goal, but Real soon warned with a quick counterattack led by Oyarzabal that was invalidated by the offside of the Eibar player of the San Sebastian team. Bryan Gil warned in minute 6 after taking advantage of a defensive failure by Guevara and faced the goal alone, but his point-blank shot hit Remiro on the clearest occasion up to that point.
Shortly after, the relentless fight of Kike García allowed to take a shot from Pedro León, who went very high in a new opportunity for the gunsmith team, who clung to the field with nails and teeth in search of surprise to the Donostiarras. Eibar played without complexes against a very calm Real Sociedad, who waited patiently in their field, in search of errors that would allow them to break the defensive lines of arms.
La Real failed to enter the game and their usual combinative tasks were conspicuous by their absence in this first leg of the game. The pressure was from Eibar, although the danger it generated was not much. It was not until minute 25 when the quality of the Real appeared through Isak, who in a gallop was about to give a displeasure, but Oliveira stopped the play and sent the ball to corner. The subsequent corner kick by Oyarzabal was headed back by Le Normand and the ball reached a totally brand-free Isak who shot at pleasure overtaking the Real and thus achieving his fourteenth goal of the season. Two minutes later the Swedish striker had it again, but his shot saved him with his leg with a great save Dmtrovic, avoiding the second goal that would have been lethal.
A skinny dog ​​is all fleas and then Sevillian side Pozo suffered an injury, which forced him to retire and was replaced by Rober Correa in the 31st minute. More problems for Mendilibar, who had to rebuild his team after only half an hour had been played. Eibar tried to take the blow, but was totally harmless in attack. Only Bryan Gil showed any intention of breaking through the Blue and White defense, but he was met with very little support from his teammates.
After the break Edu Exposito took to the field After being injured for several games and his was the first opportunity, but he was unable to overcome his marker when he went straight to the goal. Shortly after, a shot by Pape Diop that Remiro stopped well became the first shot between the three clubs in this second half. Eibar was aware that time was running out, but Real were in no hurry and played without nerves. A clamorous failure of Cote in a pass ended with the ball at the feet of Isak, who threw himself at the goal of Eibar, but in his hand-in-hand with Dmtrovic, the Serbian goalkeeper took the ball from under his legs in the last gasp avoiding the final sentence for the Royal. Eibar's reply was given by Kike García when heading a good cross from Diop that was about to surprise Remiro.
The locals kept looking at Remiro's goal, but without great offensive ideas. Mendilibar introduced the Japanese Yoshinori Muro, another player who had been injured for many games, in search of more offensive bite. His entry was a shock, since on the next play Kike García headed again, brushing the crossbar of Remiro's goal. Eibar insisted and Real seemed to settle for that minimal victory.
Imanol introduced new sap with the entry of Bautista and Januzaj for Portu and Isak, but it was Eibar with a triple chance in the same play by Exposito, Muto and Gil the team that could tie.
Eibar kept insisting, but without success and the Donostiarras no longer concealed their intentions to let time pass. A shot from Arbilla after a free-kick in the 87th minute ended with a save by Remiro on a very clear occasion from Eibar in this second half, but even so the gunsmiths could not draw and already until the final minutes their inoperative attacks and the result of impotence were defended without problems by the San Sebastian team, who are increasingly looking at Europe with greater clarity.
0 – Eibar: Dmtrovic, Pozo (Correa, m. 31), Oliveira, Arbilla, Cote, Diop (Muto, m. 67), Atienza (Enrich, m. 79), Pedro León (Exposito, m. 46), Recio, Bryan Gil and Kike Garcia.
1 – Real Sociedad: Remiro, Gorosabel (Zaldua, m. 84), Zubeldia, Le Normand, Monreal, Barrenetxea (Guridi, m. 62), Guevara, Zubimendi, Oyarzabal (Merquelanz, m. 84), Portu (Bautista, m. 72), and Isak (Januzaj, d. 72).
Referee: The referee Jorge Figueroa Vázquez of the Andalusian Committee. Warnings: He showed the yellow to Recio in minute 3, who will miss the next game due to accumulation of cards. In 30 he admonished Oliveira and in 42 Cote and Bryan Gil. In minute 79 he showed the yellow card to Muto. In the 81st minute he admonished Zubimendi.
Goals: 0-1 m. 26 Isak.
Incidents: Match of day 32 of Laliga Santander, played behind closed doors because of Covid-19.