La Real exhibits its authority against Celta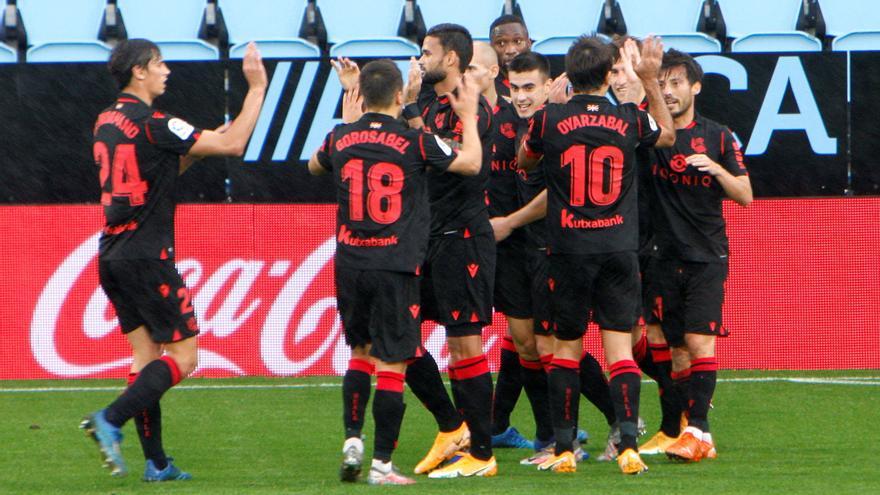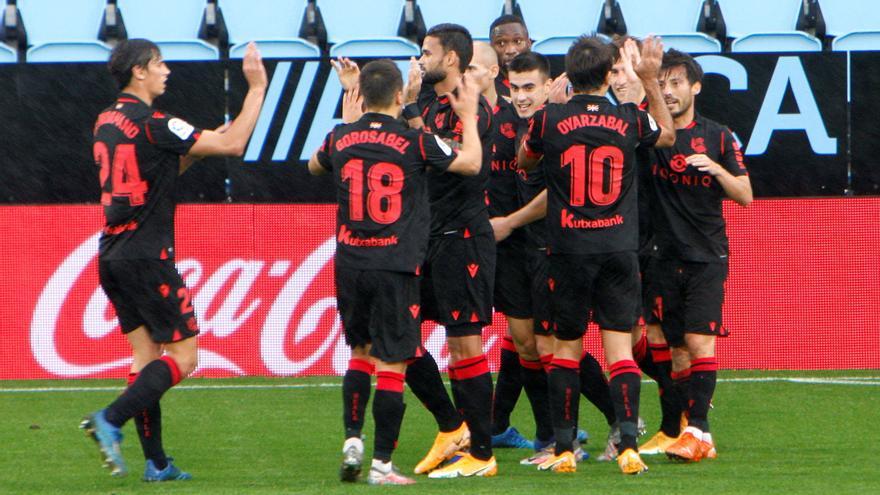 The Real society exhibited the authority of his attractive football in Balaídos with a win against the Celtic (1-4), in a Spectacular game by Imanol Alguacil's team With which he adds his fourth consecutive victory to continue leading LaLiga Santander, while exacerbating the crisis of the Vigo team, with four defeats in the last five days.
Real Sociedad, which made five changes to the team that faced Napoli on Thursday, seized the ball and set the pace of the match during the first part. It did not create much danger but its control was absolute. With Celta well positioned, Imanol Alguacil's team had patience. His harmonic, vertical game was closing in on the celestial team.
La Real moved the ball judiciously. He waited for the moment. And midway through the first half came: the ball circulated from right to left, Aihen Muñoz crossed and David Silva headed a goal, somewhat simple but beautiful, coral, which represents the footballing spirit of the Basque team.
The goal enlivened the game for a few minutes. Celta responded with a counterattack action that Denis Suárez started, Nolito continued and Beltrán closed with a loose shot. Moments later, Oyarzabal took advantage of a defensive error by Murillo to test Rubén Blanco with a powerful shot. Then, the Galician team answered with a deflected launch from Aspas, hindered by Sagnan.
The Royal Society exhibited more vigor, a showy authority over Balaídos that exemplified with the second goal, where Oyarzabal was more forceful than Araujo in the area, lethal against Rubén Blanco, more attentive than Beltrán to touch a ball rejected by the post. That second goal definitely annulled Celta, who only had a side shot from Aspas before the break.
Óscar García tweaked the team and Celta opened the second half with more rhythm, a small improvement that crashed against the punch of the Real. A mistake by Murillo was taken advantage of by Portu to steal the ball - the striker was more intense than the defender - and then, in front of the goalkeeper, he assisted so that Willian José scored the third goal free of charge.
Celta was left without reaction, completely surpassed by Real Sociedad. It only generated in attack a very high shot from Brais Méndez and a header from Tapia. More dangerous was the Basque attack: each approach was a scare for Rubén, like a corner that William José finished off. However, a disputed penalty from Le Normand to Brais Méndez allowed Celta to score, with a goal from Aspas.
That goal did not disturb the Royal Society. He responded forcefully. He recovered in his field a clearance from goalkeeper Rubén Blanco and a quick triangulation Guevara-Portu-Willian José sealed the Basque win, an action that ridiculed the Galician team, a goal that symbolized the enormous authority with which Imanol Alguacil's team walked by Balaídos.
Data sheet
1. RC Celta: Rubén Blanco; Carreira, Araujo (Aidoo, min. 46), Murillo, Fontán; Beltrán (Santi Mina, min. 56), Tapia; Baeza (Brais Méndez, min. 46), Denis Suárez, Nolito (Emre Mor, min. 66); Blades.
4. Real Sociedad: Remiro: Gorosabel (Arambarri, min. 64), Le Normand, Sagnan, Aihen; Zubimendi, Guridi (Guevara, min. 65), David Silva (Roberto López, min. 79); Barrenetxea (Merquelanz, min. 71), Oyarzabal (Portu, min. 46) and William Jose.
Goals: 0-1 Silva min. 24; 0-2 Oyarzabal min. 3. 4; 0-3 William José, min. 54; 1-3 Blades min. 77; 1-4 William José min.81
Referee: Cordera Vega (Cantabrian school). He expelled Fontán for a double yellow card (min. 47 and min. 93) by Celta; Guridi (min. 37), David Silva (min. 55), Zubimendi (min. 58), Aihen Muñiz (min. 63) by Real Sociedad were cautioned with yellow.
Incidents. Meeting corresponding to the eighth day of the Santander League played at the Abanca Balaídos stadium.