La Real closes a great 2020 winning the derby against Athletic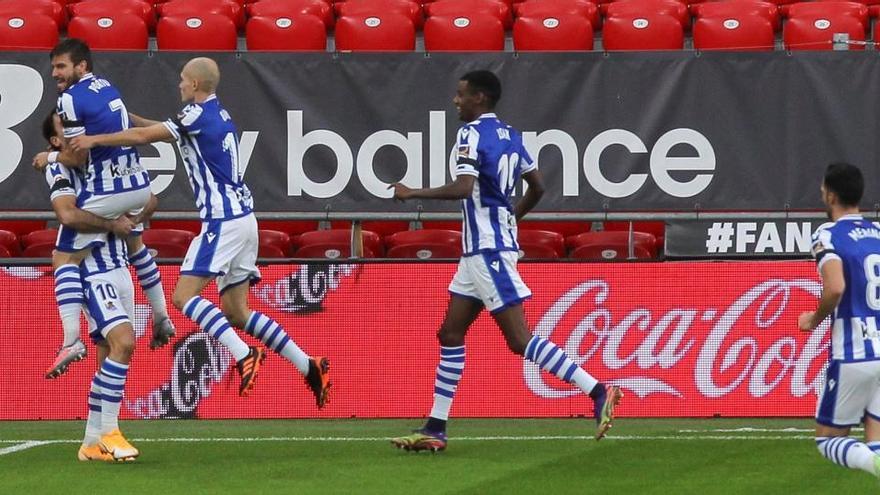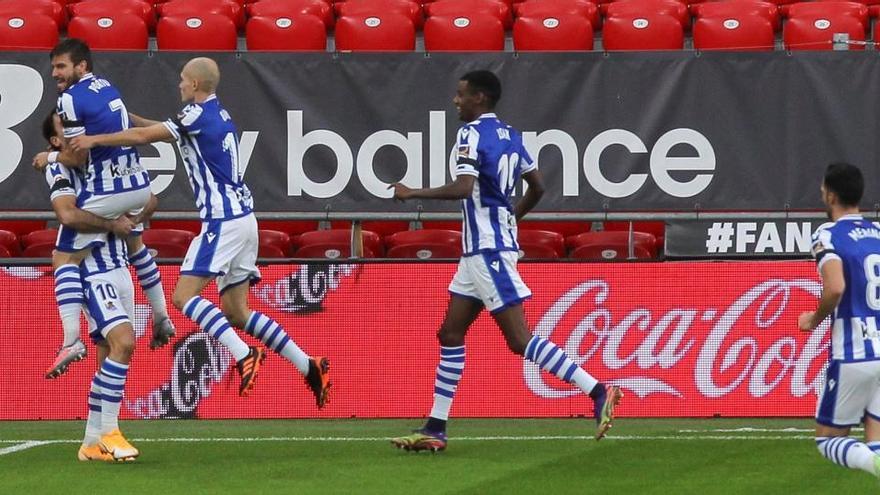 A goal from Cristian Portugues 'Portu' In a perfect counterattack at the start of the clash, this Thursday New Year's Eve in San Mamés reflected the clear superiority of the Real society over Athletic Club, in a Basque derby that could end with a greater advantage for the visitors.
Portu finalized a book counter that was born in a robbery by Andoni Gorosabel of Alex Berenguer, who continued as they should Jon Guridi, Mikel Merino and Mikel Oyarzabal. The captain to assist, unbeatable, the speedy Murcia forward.
The best victory, without a doubt, for a Real that closes a losing streak of nine games without winning, six of The league, and strengthens its third position in the table.
For Athletic a very tough defeat, even more so because of the way in which it came, showing a total inability to respond to its neighbor in the most classic of the Basque derbies, which keeps it only three points from relegation and will once again question enormously a Gaizka Garitano whose future hangs by a very fine thread.
The return of Oyarzabal after his injury was immediately noticeable, already for minute 5. With a precise assistance to Portu so that the Murcian opened the scoring in a perfect counterattack and in which they also had a lot of meritor Gorosabel, recovering before Berenguer in a possible foul, Guridi and Merino giving continuity to a play that defines this Real and the quality it has.
He threatened again a superior Real with a triple arrival in 10 in which Guridi failed to finish off a cross from Isak and Athletic was unable to get rid of the visiting danger.
The losses of the ball, especially from Berenguer, penalized the rojiblanco game against an opponent who was not in more trouble than a center again wasted by the Navarrese extreme and high, blunt headbutt from Vesga. This one already within half an hour of shock.
The feeling that the visitors were more capable of generating danger was confirmed again in a wash down the bottom line of Portu that ended up blocking Yuri after a local mismatch in the area.
Íñigo Martínez wanted to surprise his former teammates in the set pieces, but the only dangerous thing that Athletic generated in the rival area was a ball that Villalibre picked up that ended up with a corner kick.
What happened in the first quarter of an hour of the continuation was revealing of what was happening. La Real chained four arrivals, the first without reaching the minute of play, and Gaizka Garitano made three changes at the same time. Almost few for what their players had done.
The most dangerous of visiting occasions a header from Isak well answered by Simon.
Local changes did not change the situation and those of Imanol Alguacil followed their own, creating danger. Now in two set pieces that did not end in a 0-2 miracle.
In the first, it was the crossbar that prevented a direct free-kick from the Swedish international from entering; and in the second Simon the one who got in the way Oyarzabal's hard shot. Zubeldia could not get the rejection between the three suits.
Athletic tried to appear on two occasions too, But in the first Sancet was stopped by Zubeldia with a grip on a counter in numerical superiority and in the second neither Sancet nor Morcillo could reach a good tense center from Yuri.
They got there those of Garitano, incapable of fighting In a final section in which the 02 was more present with the cons of the Real than an 11 that would have been more than undeserved by both parties because Donostia's superiority was irrefutable.
– Data sheet:
0 – Athletic: Unai Simon; Capa, Unai Nuñez, Íñigo Martínez, Yuri; Winner (Unai López, m.55; Raúl García, m.73), Vesga; Williams (Sancet, m.55), Muniain, Berenguer (Morcillo, m.55); and Villalibre (Kodro, m.84).
1 – Real Sociedad: Remiro; Gorosabel (Sagnan, m.68), Zubeldia, Le Normand, Monreal; Guridi, Guevara (Zubimendi, m.46), Merino; Portu (Barrenetxe, m.74), Isak (Willian José, m.85) and Oyarzabal (Merquelanz, m.68).
Goals: 0-1, m.5: Portu.
Referee: José María Sánchez Martínez (Murcian Committee). He showed a yellow card to the locals Vencedor (m.23), Yuri (m.55), Unai Nuñez (m.61), Íñigo Martínez (m.81), Capa (m.84), and to the visitors Guevara (m. 8), Barrenetxea (m.21, standing in the stands), Merino (m.39), Zubeldia (m.67).
VAR Referee: José Luis González González (Committee of Castilla y León).
Incidents: Match day 16 of the First Division, played in San Mamés behind closed doors. All the players of the team wore black armbands. Those of Athletic in memory of ex-manager Antonio Muñoz and those of Real in memory of former international player José Agustín Aranzabal 'Gaztelu', father of the also former international player of the San Sebastian team Agustín Aranzabal. He also kept a minute's silence for them.