La Real beat Rijeka 'in extremis' in their European debut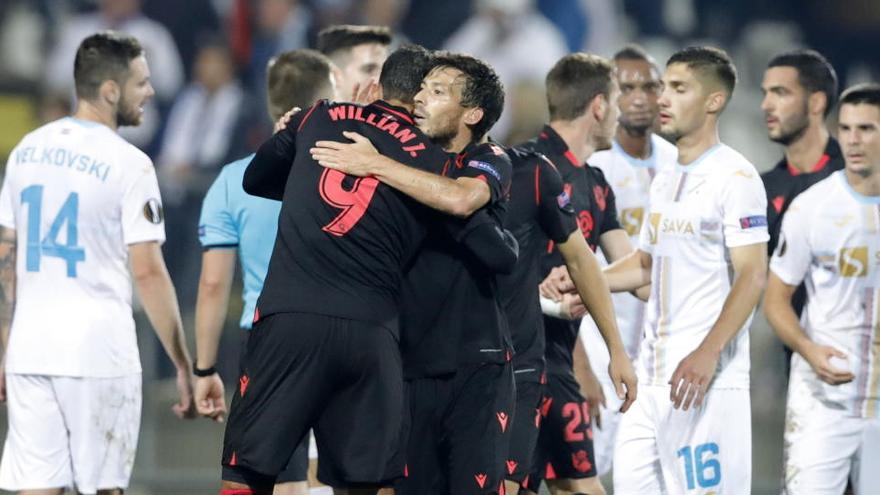 The Real society offered a good image in his debut in Europa League and won a just victory on his visit to the Rijeka (0-1) Although he made himself wait too long since he arrived in injury time with a goal from Jon Bautista, just entered the field of play.
Rijeka has not beaten a Spanish rival in Europe since he did 35 years ago against him Real Madrid Juanito and Santillana, even if he lost that tie, and he will still have to wait at least until the second leg in December in San Sebastián to try again.
The donostiarras dominated the first half, unable to neglect any of the cons of their rival, who had in a double shot from Kulenovic and Loncar their option to go ahead after meeting the best version of a solid Remiro.
The team of Imanol Sheriff He did not go to the dressing rooms with an advantage because the continental start seemed to weigh on his forwards, who had occasions in the boots of Isak and Portu, although it would be a defense, the Frenchman Le Normand, who had the best opportunity in a header to the crossbar.
La Real wanted the victory, as their coach had warned the day before, they maintained supremacy in the second half and continued to wear down the Croats with a game on the wings that did not bear fruit in another shot from Portu touching the Nevistik post at the start of the second weather.
I know he encouraged La Real even more in the final stretch with the entry of the Brazilian Willian José, Elustondo had another great opportunity in a set piece with the Donostiarras overturned on the Nevistic area,
Before the end of the match, another shot hit the posts, in this case from the international Oyarzabal to the post and the last attempts, with the entry of Januzaj and Jon Baustista, would finally find the long-awaited prize.
Merino connected with Bautista when the match seemed finished and the youth squad finished with quality to give victory to Real, which did not reach two goals because the blue and white striker would miss a heads up with Nevistic moments later.
Data sheet:
0-.Rijeka: Nevistic; Tomecak, Escoval, Velkoski, Smolcic, Stefulj; Pavicic, Cerin, Andrijasevic (Yateke, min. 61), Loncar (Capan, min. 87); Kulenovic (Lepinjika, min. 77).
1.-Real Sociedad: Remiro, Monreal, Le Normand, Aritz, Gorosabel; Zubimendi, Merino, Silva; Portu (Januzaj, min. 89), Oyarzabal (Bautista, min. 85), Isak (Willian José, min. 72).
Referee: Bartosz Frankowski (Poland). Yellow cards to Andrijasevic, Pavicic, Capan, Lepinjika and Merino.
Goals: 0-1, min. 90 + 2: Jon Bautista.
Stadium: match with the public at HNJ Rijeka, with thousands of fans in attendance controlled in terms of numbers due to the health crisis. The local fans were noted throughout the game.