La Palma volcano ruins a couple from Los Llanos de Aridane for the second time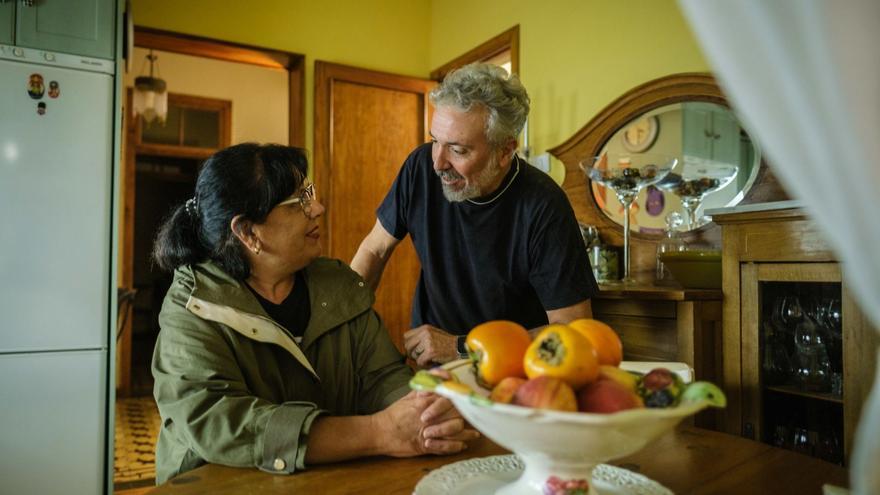 The stories of families in limbo are countless, but each one contains a trajectory of dreams, struggles, falls and progress that, now, face the vertigo of reinventing themselves on scorched earth. The couple formed by Toni Melián and Eve Hernández, 63 and 62 years old, who have resided for years in the heart of Los Llanos de Aridane, treasure a long journey in front of different shops and photography studios between the municipalities of El Paso, Santa Cruz de La Palma and Los Llanos de Aridane, which experienced their golden age in the last decades of the last century.
But the digital boom that put traditional analog systems in check gradually forced them to lower the blind on these businesses and reinvent themselves in the abyss of the crisis. Then, Melián undertook the titanic task of converting a ruined banana farm, inherited from his father, located in Las Hoyas (Tazacorte) into a new sustainable ecological farm, in order to get ahead.
After years immersed in an arduous conversion process, the farm was already bearing fruit and was consolidated as their only way of life. "At last things were going well for us again, because the farm was working very well and, moreover, it was on the best terrain on the island," says Toni.
But today, this farm no longer exists. A tongue of lava that emerged from nowhere, "very tall, like a five-story building," he recalls, guided this refloating ship that was already sailing at full sail. "Day-to-day now is battling the ashes and dealing with ongoing paperwork for nothing," Eve notes. "At least we have this house to mourn."
The complex bureaucratic framework for accessing aid that does not reach the spirit of resilience between continuous orders and requirements that contradict each other, and that, on the other hand, do not allow us to see any greening forest. "Now we need the aid, because we have no source of income," says Toni. "But what we ask ourselves, with each passing day, is: are we going to depend on aid forever? Who can live on aid when they have spent their lives working to have a future and, in addition, to generate wealth? And how much are these lava-ravaged lands now worth?
«When I have gone to the Massieu House [sede de la Oficina de Atención a la Ciudadanía por la Emergencia Volcánica], we are talking about some damages and others, and La Palma trees know that the local economy neither lives nor refloats with aid ", he adds, since he points out that" the weight of bananas in La Palma economy far exceeds that official 50% ». «I would say that, with what is produced in the Aridane Valley, we could speak of 15 or 20% more, because the banana moves a lotfrom the greenhouse factory to irrigation, equipment or transportation.
Red Cross
Thus, once their data has been registered in the office dedicated to the losses of the agricultural exploitation, where the accreditation of the destruction of the production is required, both continue with the search for temporary support resources, such as, finally, the credit cards. purchase for supermarkets distributed by the Red Cross. "My brother told me about this system, which I think is what is working best now on La Palma," says Toni. "He did lose his home under the lava and now he receives rent subsidies so that he can continue to relocate to another house."
The banana farm that corresponds to the latter and his sister, which is also exploited by Toni and Eve in the Las Hoyas area, is only 200 meters from one of the stopped streams, "which, when nothing overflows, takes it" Eve says. In addition, both highlight that the deterioration of these crops due to the incidence of ashes and gases have not only condemned this annual production, which he's already late for the first winter rains, but also that of next year, since "the water no longer arrives and the accumulation of ashes will not allow the pineapples to come out; And even if they did, in the end, they would be useless. "
Along these lines, both highlight the "unhealthy conditions" in which workers in the sector, today, must continue to carry out production in the poisonous atmosphere of Cumbre Vieja. "You can't even walk, because everything is dirt and you can't even see the bandanas," says Eve. "Not even protective equipment is enough against the toxicity of the air or that slippery floor."
As in the Los Indianos carnival in Santa Cruz de La Palma, when doors and windows were closed against the white dust of the festivities, his house in Los Llanos de Aridane has been "completely sealed" in recent weeks. Some days brighten the horizon a little more, while others you have to allow yourself to collapse and then dawn, which is not little. "I feel that, As time goes by, you get more dejected, because you do not see the end", Reflects Toni, to which Eve adds:" is that, when you retire, either you have a good time or you die. "And this was going to be our time to enjoy."