La Maña: oral memory of the great 'vedette' of the Transition | Babelia
Gentlemen, I am La Maña. / The one that you expect / of baturra or gypsy, I am La Maña. / And the ugly ones die. / Dalí has ​​said of me: / 'You are the lover of Spain / amazement of the whole world / like a thistle from Puerto Rico / with the nickname Maña". This sings about herself Emilia Giménez, true name of the charismatic vedette Spanish known as Lita Claver, The Mana, in the memoirs he just published in audiobook format within the collection of autobiographies of the AISGE Foundation, which are much more than a collection of memories. Read by the artist herself, peppered with anecdotes and songs a cappella like the one that begins this article, they are also a portrait of Spain in the last decades of Francoism and the first years of democracy, when variety shows were one of the few entertainment spaces that were completely free of prejudice: Feathers, jokes and light clothing showgirls attracted both lonely men, well-to-do couples, politicians, businessmen, bankers and the progressive intelligentsia of the moment.
Maña herself remembers it in these memoirs, which she presents under the title Stories of a star, in which he reviews his beginnings as vedette in Zaragoza in the sixties to become one of the great stars of the Parallel, the great axis of leisure in Barcelona during the 20th century. "I remember the illusion he made me see in a box in El Molino [el teatro más emblemático del género de variedades en el Paralelo] Rafael Alberti, Manolo Vázquez Montalbán, Salvador Dalí (who was very assiduous), film directors Milos Forman and Federico Fellini, with his wife and great actress Giulietta Massina, writers such as Terenci Moix, athletes such as golfer Severiano Ballesteros and footballer Enrique Castro, Quini, actresses of the stature of Núria Espert and Sara Montiel, and countless singers, politicians and all kinds of personalities from the world of art and culture ", he explains in a fragment. And in another: "One night, when I went out to act, what would be my surprise to see Vittorio Gassman, an impressive actor, sitting in the audience. He came to greet me in the dressing room. He left me almost unable to speak, due to his simplicity and the respectful way in which he hugged me. He congratulated me and made a great impression on me, I loved it! "
Born in Zaragoza in 1945 to a gypsy family, she soon had to contribute to the household finances because her father died when she was four years old and her mother was left alone with 16 children. At the age of five he began to accompany an uncle of his who played the guitar in some bars, dancing flamenco and passing the dish afterwards. With eight she performed for the first time in a theater, participating in some children's morning shows that were held on Sundays at Fleta and the Principal in Zaragoza, in which she was not the only one who would later make a name for herself on the Spanish scene: Víctor Ullate, Fernando Esteso and Corita Viamonte, among others. From there he went to the Oasis room, where he debuted as vedette, much to her mother's chagrin. "When I had to perform with my solo number, she would go down to the audience and shout:: Don't applaud my daughter! With how well he dances flamenco and is showing his claws! ' And he cursed me: 'Bad misfortunes you have. Your head will see you gallop. As your brothers come, you will see. ' People were laughing out loud. I think part of the audience repeated to hear her, "he recalls.
And that's how La Maña's long career as a variety artist began, in which she would stand out not so much for her physique as for her ability to improvise and her skills to put the public in her pocket. "I was a lizard next to the vedettes from El Molino, "he says. I was never a good aunt and I laughed at myself. "For example, she managed to get El Molino to install a staircase between the stage and the audience for the first time so that she could go down to dialogue with the public. With her stage power she showed that the genre could survive financially without the need for artists to alternate with clients, something that she refused since her first contract and that made it no longer obligatory for her colleagues in El Molino since the mid-1970s.
There are also stories about Franco's censorship in the memories of La Maña. "The famous red light bulb freed me of more than one fine. It was strategically located and warned me when the censors came. In 1969, this work was carried out by the police, who, by the way, I have a very bad memory of, since When the show was over, they would take the dancers, put them in a van and put them in the dungeon where they would spend the whole night. Reasons? Being gay. What nonsense, "he says.
Her fame gradually spread throughout Spain thanks to the long tours in which she embarked with her husband, Rafael García, also a variety artist. Some he did in those traveling magazine theaters that were installed in the surroundings of the fairs of attractions during the festivals of cities and towns, the Lido and Argentina basically, that gathered a more popular audience. Then came television, a movie appearance, a season at the Muñoz Seca in Madrid and a return to the Parallel in Barcelona, ​​where she settled as an Arnau businesswoman until the genre began to decline at the end of the century.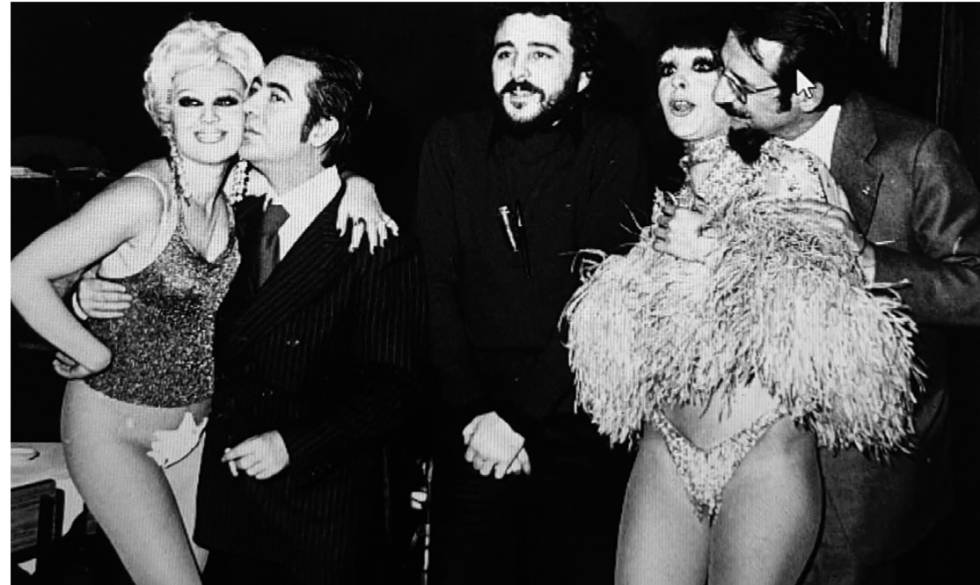 He also made some forays into the text theater and even reached premiere a play at the National Dramatic Center in 1996, directed by Juan Margallo, but this genre was not his thing. They called me to perform other works, but I was missing being able to address the public, hear them laugh, collaborate with me, the truth is that I was very overwhelmed having to cry every day in the works, that they were so hard. I was used to making the public happy, not seeing them cry, "she explains in the memoirs.
With the turn of the century, La Maña's performances became increasingly sporadic, but it was not officially withdrawn until 2017, with no less than 72 years old. "I have always been happy and I do not want to feel sorry. I do not want it to happen to me as it did when I went to the reopening of El Molino [en 2010]they had stolen his soul with such a cold rehabilitation, "he declared in a interview with this newspaper when he said goodbye to the stage.
The AISGE Foundation planned to release the memoirs of La Maña in a printed book this spring, within its Memory Workshop collection, made up of autobiographies of actors and singers, but the coronavirus crisis forced it to be postponed until September. Until then, the entity has decided to publish it as an audiobook, narrated by the artist herself, available for free on their website. And it is not the only one that advances in this format, because each week they will launch a new one until they reach six. This Tuesday you can hear the second one: the story of the actress Maribel Altés.