La Jeny: "No more being the fairground monkey, the 'drag queen' is an artist"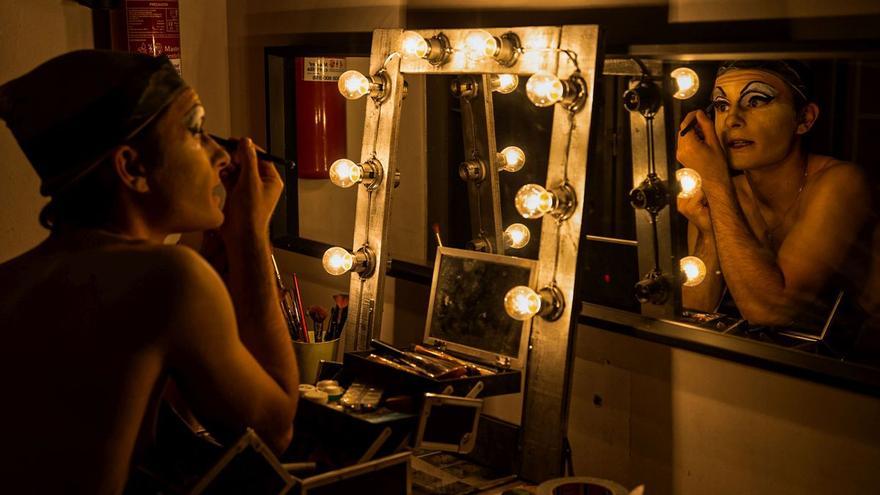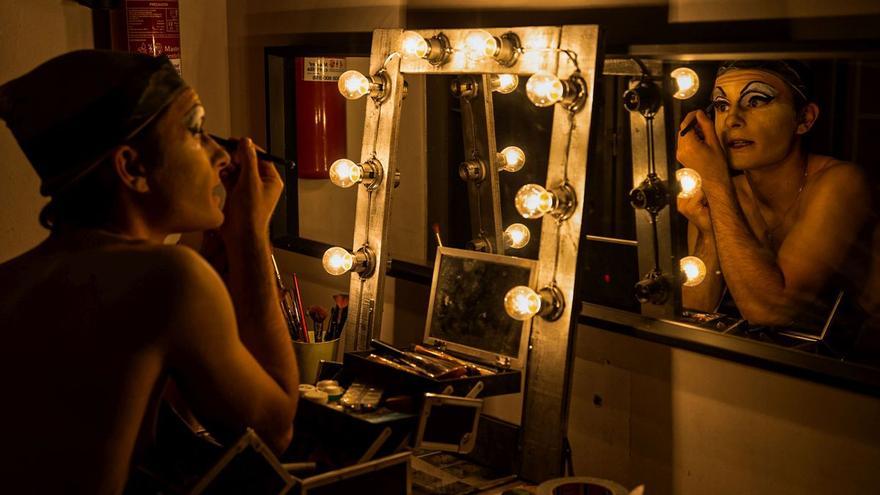 "You can have a 'socionormative' life and at the same time be 'drag'. And it is correct. And that's fine ", the young woman underlines (if it is too much to ask that they refer to her as 'elle', the formula with which she feels most comfortable, she feels more identified with 'her' than with 'him'). Adrià does not comply with the canons of what a homosexual man is who plays a 'drag queen'. "I get up every day at seven in the morning and I go to work, in a suit when necessary, a way like another to dress up," he exposes without placing his life option above any other, but putting in value the many realities what's behind the 'drag' world, that Adrià, artist 360 –He is also a magician and an actor, he sings and plays the cello– vindicates as one more artistic discipline. "There are those who write poems, those who paint pictures and those who do 'drag'," he says.
Practically everything she knows about makeup, which is a lot, is obvious when you see how she transforms after an hour in the dressing room (an hour now, which has tables, at the beginning there were three) she learned it at Tibidabo, working in the Hotel Krüeger. "The first day they made you up. The second you had to do it," he remembers. Since school, Adrià had been very fond of theater. He did theater both inside and outside of school and also sang and danced. He did ballet and ballroom dancing, as well as studying cello. Disciplines, all of them, that she shows in one way or another in her shows as a 'drag queen', just like magic – she's also a magician – that comes from her uncle.
From the age of 15, Adrià began to discover breaking barriers. The first of a lot. First he realized that he did not like women, that he liked men more "and that was fine." Almost in parallel, with each passing year more bowling came out of everything: actor, entertainer, magician … Not from 'drag' yet. The first time he got on platforms was on Halloween in 2916. "Ya They say that all 'drags' start either at Pride or on Halloween. I went in the latter because I love terror, "he remembers. They had a party with some friends and bought some '43 boots for Ali Express." A classic.
Thus, with the beautiful memory he kept of that Halloween, when the company you work with, the Espai Milnotes, He suggested in 2018 the possibility of making a gig, a private animation of 'drag' he did not think about it. He did it and he loved it.
That is where La Jeny was born, his 'alter ego', with whom he has acted since then – despite the break during the hardest part of the pandemic – at private parties, bachelorette parties, birthdays, weddings … everything. Right now she is one of the main actresses of 'Red hot divas', own assembly of his company, in Granollers. "A show in which the majority of the audience are couples or heteronormative families," he says.
A giant step to take drag from being a discipline considered from the underworld and place it as a successful show is the Drag Race program, an international phenomenon that began, like so many things, in the United States and which premiered in Spain last week in Atresplayer Premium. RuPaul, the 'drag' that started the original program, strongly promoted the paradigm shift, breaking down many myths. In fact, if you search RuPaul in Google one of the searches that the machine suggests is "Can you be a drag queen and straight?" (Can you be drag and straight? ").
Visibility space
One of the things that Adrià liked the most about the first chapter of the Spanish version [este domingo se emitió el segundo], was that it gave a lot of visibility to the non-binary genre. Four participants presented themselves as such already in the first chapter. "As a non-binary person, I was very grateful," she commented sitting on a bench in Gaudí's square at lunchtime, the time that a person who works seven days a week has scratched for the interview.
"RuPaul made quality shows visible and changed many preconceptions. That people when they see a boy or a girl or a trans person who does 'drag' realize that they have an undertone; that when that artist wears those clothes it has a meaning; wants to express a message through her makeup, her dresses, her acting, that it goes far beyond making you laugh because he is a man with a wig", reflects Adrià, convinced that that of being the monkey of the fair is already behind." The 'drag' is an artistic expression -he insists-; to RuPaul was heard because he won EMIS".