'La Campos mobile' crashes with Ayuso in front of 'Pasapalabra' and 'I'm alive' returns worse than ever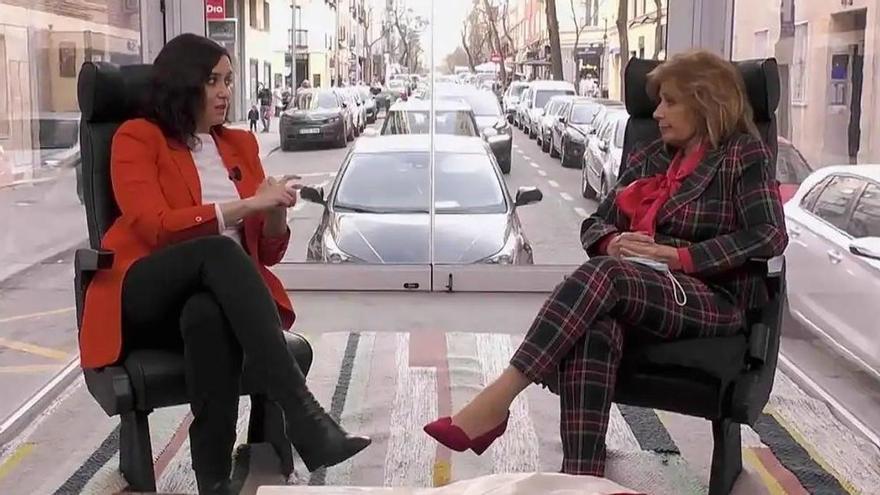 María Teresa Campos' truck started engines making less noise than 'Save me tomato'. The premiere of 'La Campos mobile' scored a 12.6% and 1.9 million viewers, thus worsening the data of the preceding program, which signed a 14.2% and 2,032,000 faithful. In addition, the Campos interview with Isabel Díaz Ayuso, on a day of full political news, was more than ten points behind 'Pass word' on Antena 3, which brought together a huge 22.9% and 3,243,000 followers.
When it comes to prime time, 'The Hormiguero' scored a powerful 17.4% and 2,972,000 faithful and later 'Woman' returned to lead with a great 19.5% and 2,121,000 viewers. Antena 3's offer far exceeded Telecinco's, since 'Love is in the air ' settled for a 9.8% 1,666,000 viewers in its first chapter and a 12.9% and 1,299,000 In a second.
For its part, 'I am alive'in La 1 premiered its fourth season equaling its worst historical record, a 7.9% and 1,306,000 faithful, a number of viewers similar to last season but a worse share when broadcast in access, which confirms the downward trend of TVE series due to their time change. Then the movie 'Hangover in Las Vegas' settled for a poor 5.1% and 545,000 viewers.
In laSexta, 'The intermediate' scored a season high with a 10.5% and 1,827,000 viewers. Then, 'The objective: Special motions of censure ' scored a good 6.6% and 913,000 followers, who won the game to 'Horizonte' in Cuatro, who signed a 6.1% and 625,000 followers.
–'Al rojo vivo' yesterday reached a great 15.7% and 968,000 viewers thanks to the motions of censure. 'It's already noon' was left with 12.4% and 1,059,000 viewers and 'Things clear' with 7.9% and 811,000 followers (382,000 in its first installment).
-'The roulette of luck 'was not harmed and yesterday it scored a great 17.4% and 1,597,000 spectators, preceded by 15.3% and 922,000 faithful of Karlos Arguiñano.
–Antena 3 took the day again with an average of 15.7%, with Telecinco in second position with 14.3%. However, as far as the month is concerned, Telecinco continues to lead with 15.7%, followed by Antena 3 with 15% and behind La 1 (8.7%), Autonónicos 8.4%), laSexta (7, 1%), Cuatro (5.1%) and La 2 (2.8%).