La Caixa allocates 11.5 million euros to its social work in Euskadi | Society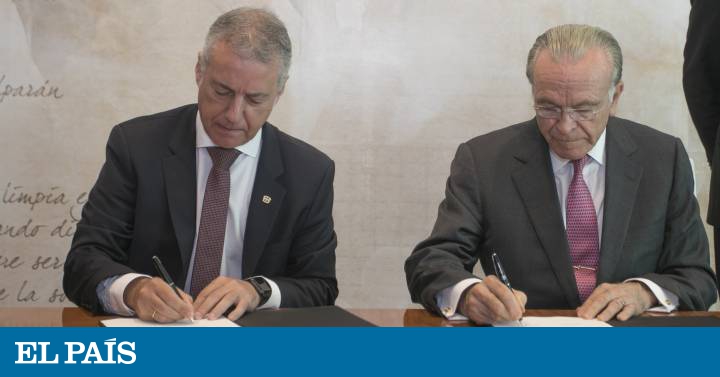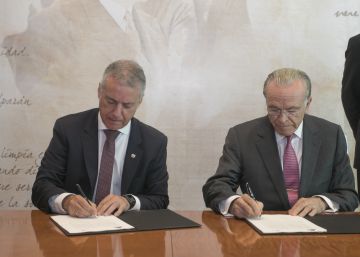 Children in vulnerable situations, the elderly, those who suffer from any disease that makes them have special needs, disabled or those at risk of exclusion will be the main beneficiaries of the budget that the Banking Foundation La Caixa will allocate this year in the Basque Country to social work: 11.5 million euros. The agreement, signed on Tuesday by the lehendakari, Iñigo Urkullu, and Isidro Fainé, the president of the organization, establishes a collaboration between both institutions in social, educational and cultural matters. "The signing of this agreement ratifies and reinforces the historical commitment of The Caixa with Euskadi and its citizens, especially with those who go through difficult situations. The increase in investment (half a million more than last year) makes clear, once again, our solid and growing link with this community, "said Fainé.
Some of these commitments are made through the specific programs that the banking entity has in place. CaixaProinfancia, for example, aims to combat child poverty, is aimed at children and adolescents aged 0 to 18 whose families are at risk or in a situation of exclusion and last year reached 682 minors and had 960,000 euros of investment. Another of the most strategic for the financial organization es Incorpora, aimed at the labor integration of groups with special difficulties in finding work – long-term unemployed, youth at risk of exclusion, women victims of gender violence, immigrants and ex-prisoners, among others; In 2018, 452 Basque companies participated in this project that created 906 jobs.
The Program for the Comprehensive Care of People with Advanced Diseases, 5 CiberCaixa Hospitals for hospitalized children, the Seniors Program, the Social Housing Program, Reincorpora (for the socio-labor integration of prisoners and prisoners), the Calls for Project Aid Social Initiatives, the Volunteer Program and the promotion of citizen coexistence are the rest of the initiatives of the foundation, which not only contemplates the development and improvement of the living conditions of these social groups. Among the objectives are also education, culture, research and knowledge.
In 2018, 418 activities were carried out through the La Caixa network of offices in these areas, with more than 1.35 million euros. Exhibitions like Georges Méliès. The magic of the cinema, in Vitoria-Gasteiz; Art and myth. The gods of the Pradoin Donostia, and The Arctic breaks, in Bilbao, they had more than 220,000 visitors; concerts were also scheduled to be attended by 2,090 people; and there were activities around the performing arts for more than 2,000 schoolchildren with the CaixaEscena program. In addition, EduCaixa, which encompasses the entire educational offer of the social work of the bank, reached 283 schools and 47,619 children.
. (tagsToTranslate) caixa (t) allocate (t) 11 (t) 5 million euros (t) social work (t) euskadi (t) vulnerable (t) childhood (t) elderly (t) sick (t) ) disabled (t) person (t) risk (t) exclusion (t) be (t) principal (t) beneficiary



Source link