La 1 leads the end of the year chimes with 7.3 million viewers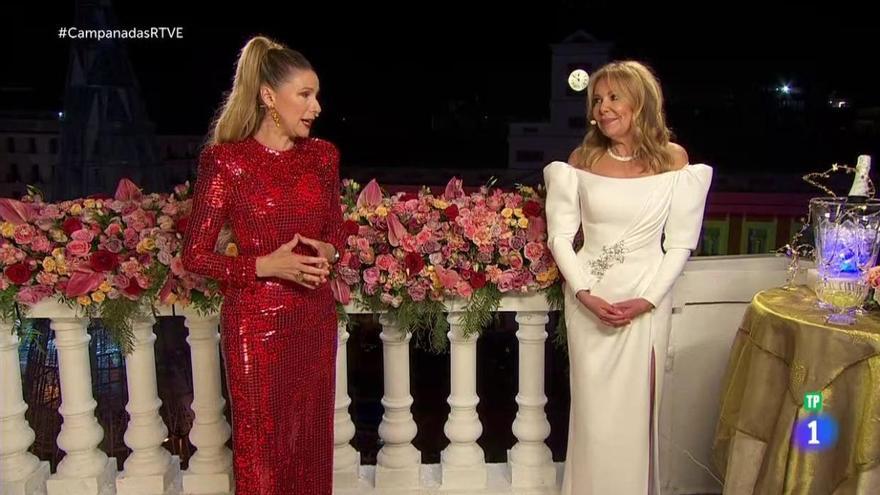 The 1st of TVE maintained its leadership to dismiss 2020 with 7,365,000 viewers that followed the chimes in the final minute of the year with Anne Igartiburu and Ana Obregón, although the screen share fell 2.2 points compared to 2019.
According to data provided by the audiovisual consultancy Barlovento Comunicación, the public channel achieved 33% of screen share, followed by Antena 3 with 6,123,000 viewers, 27.5%. A historical record for this chain, where Cristina Pedroche and Alberto Chicote were in charge of giving the bells.
The Catalan regional TV3 was the third most watched with 1,512,000 viewers and a 44.5% share of the screen in the field of its broadcast, which is up 5.5 points compared to 2019.
A total of 21 million viewers followed the end of 2020 on television and the entrance of the new year. In this classification of audiences, Telecinco was placed in fourth place.
Up to 1,445,000 viewers chose this channel to say goodbye to the year with Sandra Barneda and Christian Gálvez from the Canary Islands. 6.5% of the screen share, which, in this case, drops 3.5 points in relation to 2019.
At 24:00 hours on December 31, the 2 of TVE had an audience of 1,155,000 viewers, 5.2% share.
The Sexta was the favorite channel for the 968,000 viewers who decided to watch the bells with the presenters Cristina Pardo and Iñaki López, who achieved a 4.3% audience share, 1.4 points more than the previous year.
The following posts have been for South Channel808,000 viewers and 19.2% in its broadcast area; A Punt 349,000 followers and a 13.4% share of the screen and Cuatro, 269 viewers and 1.2%.
The last minute of the year kept in front of Galician television TVG 162,000 viewers, 13.3% share in its broadcast area; and 132,000 viewers chose Aragón TV to say goodbye to 2020, 18.7% of its share.
Basque television ETB1 added 113,000 viewers, 9.6%; the 24-hour channel achieved an audience of 101,000 at the end of the year, 0.5% of the state quota.
The audience of Telemadrid it was 98,000 viewers, 3.2%; and the same number who opted for ETB2 in the Basque Country, although the Basque quota was 7.9%.
The television of Castilla la Mancha (CMM) retained 69,000 followers at midnight on December 31, a 6.5% share of the screen and Asturias television (TPA), 55,000 viewers, a 10.6 percent share.
Other chains like FDF, Energy, 7TV and BEMADtv they moved their audiences between 52,000 viewers and 37,000.
Telemadrid Internacional and Divinity added audiences of 18,000 viewers in each case and 14,000 stayed with Balearic television IB3.